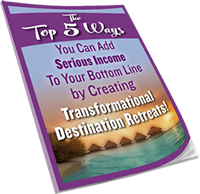 Get our TOP strategies for adding serious income to your bottom line!
LEARN HOW TO CREATE LIFE-CHANGING,
LUCRATIVE RETREATS THAT CLIENTS RAVE ABOUT!
They say a photo speaks a thousand words! We agree…
Check out some of the work by Theresa Kibler, our Website Developer. And Ted & Peggy Raess, our Graphic Designers.



HUGE Sale!!
30% OFF any Retreat Web Pack until March 31, 2019!
Interested in an Awesome Retreat Website?
Retreat Web Packs are the perfect option for getting your modern, effective website online quickly! Feel confident that your website will not only look great, but will be completely tablet and mobile friendly.
There are FOUR beautiful templates to choose from and THREE installation options to fit your needs and budget.
BONUS!!
For a limited time – Retreat Web Packs will include a FREE Website!
Already have a Divi themed website? Ask me how to get an additional $99 OFF.
Business Website Redesign
Gayle was looking for a fresh, updated website for her business. Ted and Peggy designed a beautiful banner image. Theresa rebuilt her website to be modern and fully responsive–equally clear and accessible on laptop, tablet, and mobile phones.