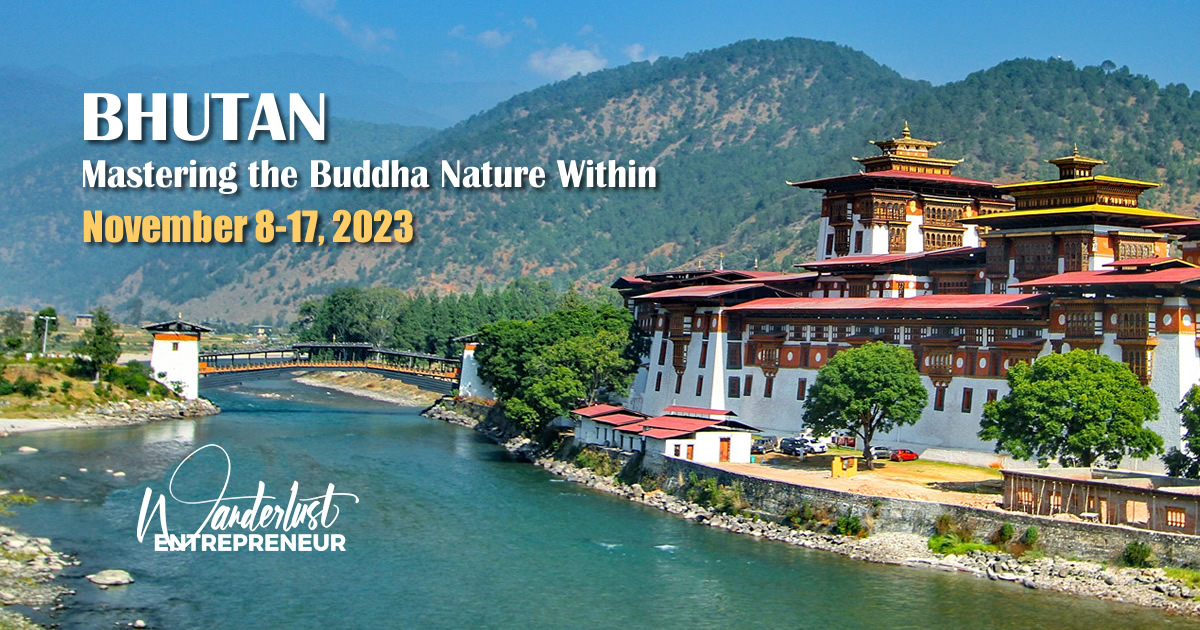 Your Investment
Trip Dates: November 8th-17th, 2023
Double Occupancy: $12,997 USD per person
Single Supplement: $1430 USD per person (add this amount to the double occupancy pricing, spots are limited)
How To Join Us:
Choose your room type, then place your non-refundable deposit of $1000 USD below.
50% of your balance is due by July 1st, 2023
The balance is due in full by October 1st, 2023
Not sure if this trip is for you? Or need a custom payment plan? Feel free to conect with Mel at awesomeness@wanderlustentrepreneur.comand she can help!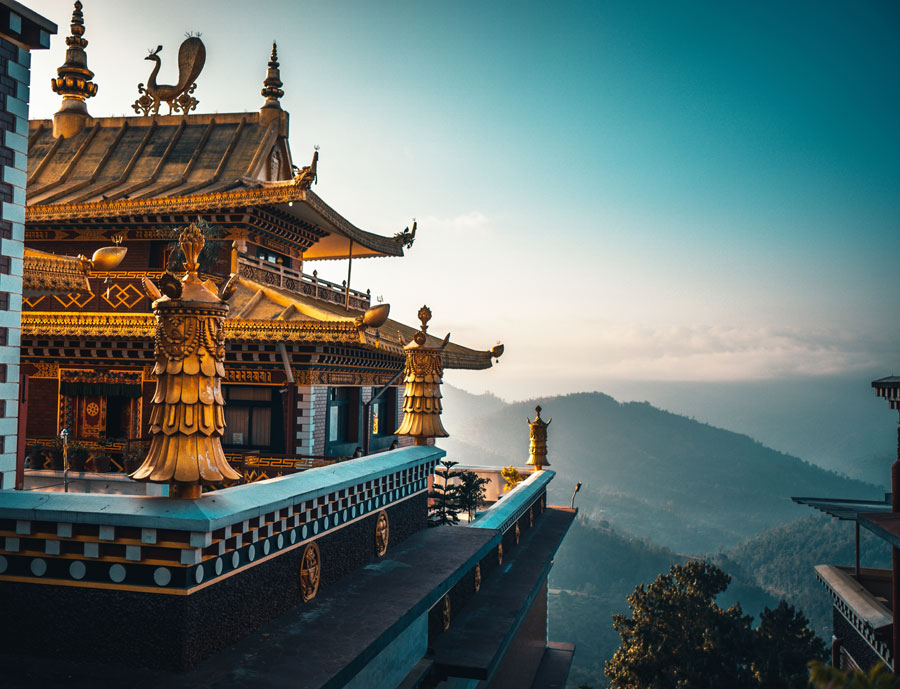 What's Included:
ALL our amazing Bhutanese meals are included in this program starting with lunch on November 8th and ending with breakfast on November 17th.
Three nights at the beautiful 4 star riverside Termalinca Resort in Thimpu
Two nights at the 4 star Dhensa Resort in the heart of the tranquil and lush Punakha Valley
Two nights in the stunning 5 star luxury Zhiwaling Hotel the last 2 nights of our journey in Paro
Two nights at the charming 3 star Kichu Riverside Hotel in Wangdi
Your Sustainable Development Fee ($1800 USD) paid to the Bhutanese Government ($200 USD per person, per night)
All spiritual teachings, meditations, and ceremonies
All ground transportation in Bhutan with our amazing driver
Your local guides – and they are remarkable (I'm serious about this)
All admission fees to the temples, Tiger's Nest, the Black Neck Crane festival: all sites and activities are included listed in our itinerary.
ALL tips for the drivers and bell boys (I'm including $210 USD per person for our guides and our driver)
Special blessing prayer ceremony with the Lama
Bottled water throughout our journey
A pre-trip Zoom class to teach the Guru's mantra and to set the intent for our journey
Your roundtrip flight from Bangkok to Paro, Bhutan on Druk Airlines ($1200.00 USD)
Your visa to enter Bhutan
Farewell dinner and celebration at a family farmhouse
**Hotels are subject to change by the government, if so they will exchange for an equally rated hotel
What's Not Included:
Your round-trip airfare from home to Bangkok, Thailand.
Personal, medical or trip cancellation insurance (REQUIRED!)
Alcoholic beverages and sodas at our hotels.
Souvenirs, phone calls, laundry, etc.
Any lunches and dinners you buy during your trip to and from Bhutan.
If you come early to explore Bangkok, that is not included in our trip, however our travel agency can plan all that out for you!
You will need to stay overnight in Bangkok at the Novotel Suvarnabhumi Airport Hotel at least two nights, probably three nights to be safe (~ $170 USD per night).
Other non-included items would be excess baggage charges & airport taxes if applicable.
The incredible spa services at the 5 star Zhiwa Ling hotel, drinks from the tea house, or any extras that are not included in our package.
Tips for the maids (we recommend you leave $1-2 USD per person per day)
Any extra tips you'd like to give for your amazing local guides and our driver (beyond what I am gifting them)
What You'll Take Home:
A more direct connection to your ocean of inner wisdom and inner guidance.
A rekindled energy and excitement for your business and your life.
A deeper sense of peace and calm that you can bring into everything you do.
A relaxed, rejuvenated and re-inspired body, mind and spirit.
An exciting sense of optimism and inspiration about your business and your life.
Deep connections with a dedicated group of heart-based entrepreneurs.
A newfound love Bhutan and its people.
Incredible memories (and pictures!) of your adventures and new friends.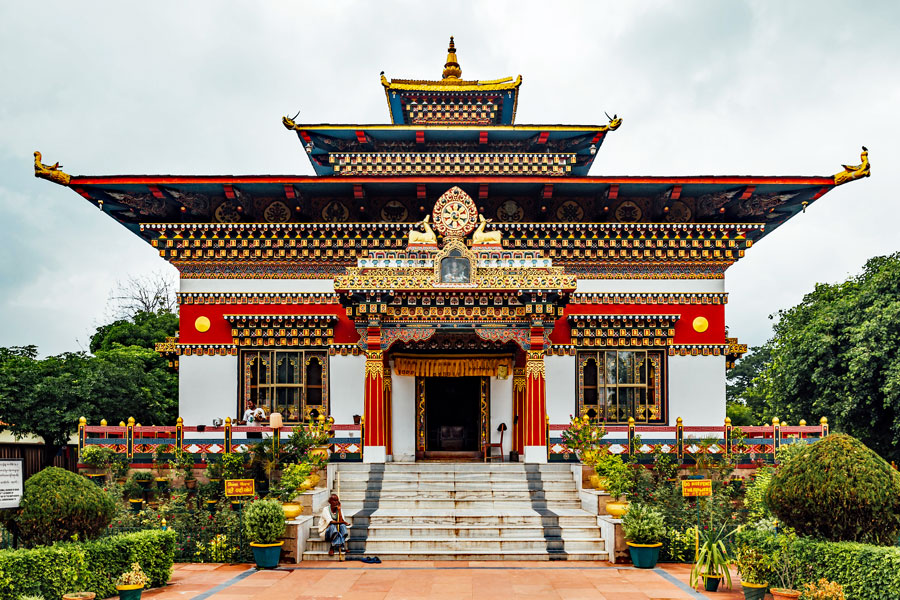 Cancellation Policy
Any cancellation will result in a total loss of the $1000 USD deposit. Cancellations made between July 1st and August 31st will result in a loss of 50% of the trip price. Any cancellation made between September 1st, 2023 and the trip departure will result in a total loss of funds. We reserve the right to cancel the trip if it is not meeting the trip minimum. (If we do so, you will be refunded in full.)
Trip cancellation insurance is REQUIRED for this journey. You can use our suggested Travel Guard Insurance online and choose from several policy options. If we find that the trip is not a good fit for you, we reserve the right to cancel your reservation, in which case your payments will be fully refunded.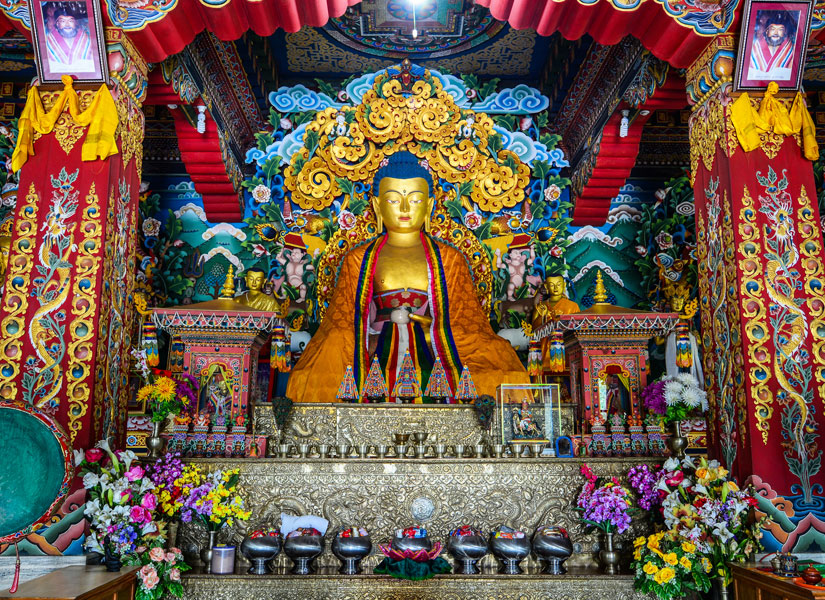 Your Flights
If you take a flight leaving the USA (for example) on Monday November 6th to Bangkok, you should arrive in Bangkok on November 7th when you MUST arrive (having crossed the international date line). You will then overnight in Bangkok and together we will catch the Druk Airlines flight to Paro, Bhutan in the morning on November 8th when our journey begins.
Flying home you will catch Druk airlines flight on November 17th leaving Paro in the morning flying back to Bangkok. I recommend staying overnight again in Bangkok and catch your international flight in the morning of November 18th arriving in the USA in the morning on December 19th (you get your day back here).
It's no problem coming from anywhere in the world – simply make sure you're in Bangkok the night of November 7th so you can meet the group at the Novatel Hotel in the airport.
Keep in mind that we did not include the hotel room in Bangkok in our pricing because many of you will be arriving early to hang out in Thailand and different people will be staying a different amount of days.
Feel free to make your own flights, but please confirm them with us before booking! If you need help – no worries, Ales in Custom Travel is our travel guru – feel free to ring him at: 866-866-5566 or email him (the quickest option) and it will be his pleasure to assist you!
COVID-19 Information
Your safety and wellbeing are very important to us! We will adhere to all COVID-19 travel requirements at the time of travel and will keep you informed of any updates.
The best way to avoid ruining your trip once you arrive is to wear an N95 mask in the airports while you are traveling to Bhutan!!
At the time of this writing (February 2023), there are no requirements for vaccination or masks on this retreat, but you should make sure you have several masks with you just in case!
We will be providing N-95 masks in case you forget. We also ask that you bring a couple of rapid Covid tests please.
If you're concerned about rooming with someone who has made a different vaccination choice than you, please let us know your needs in the pre-event forms and we'll do our best to accommodate you.
Copyright © 2023 Sheri A Rosenthal DPM Inc.