FINALLY! The blueprint for creating a retreat that actually sells.
Learn how to avoid all the pitfalls that cause most coaches, authors, and facilitators to lose money on their retreats.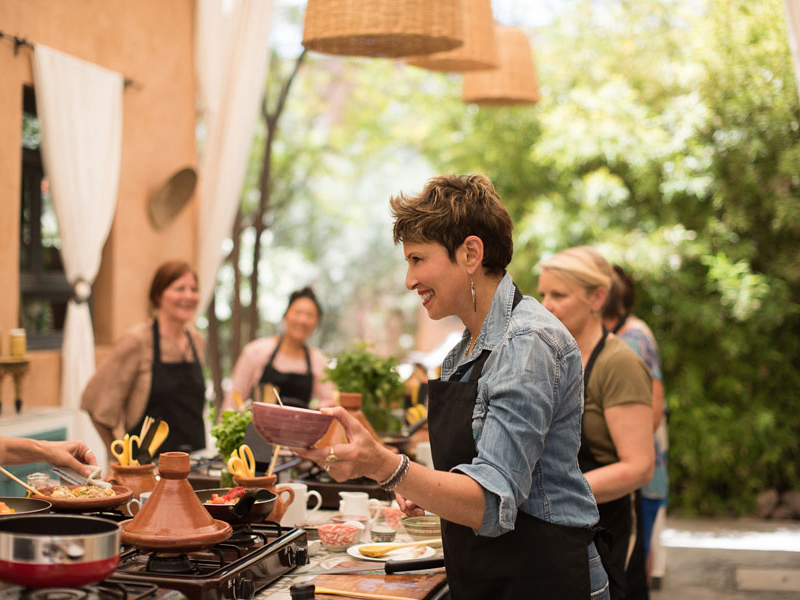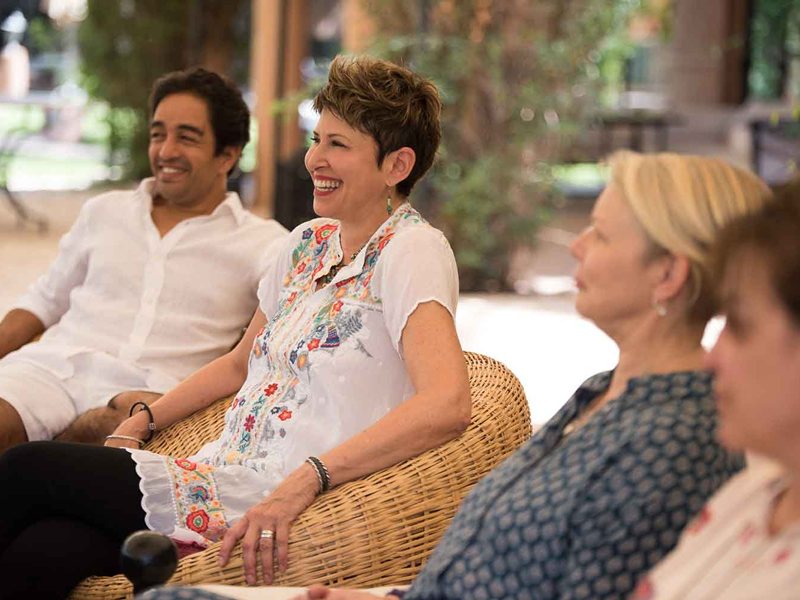 By working with us you're getting…
….the very BEST Retreat training you can buy!
Whether you're a total retreat newbie or have run over 30 retreats, you want state-of-the-art information AND you want it being taught by people who
KNOW
retreats.
Yup, there are plenty of folks teaching about retreats out there. But ask – how many international retreats have they designed and planned? Just because someone has RUN a few retreats – that does NOT make them an expert!
Through our travel company, Journeys of the Spirit, we have planned and managed over a thousand retreats – and we've educated thousands of retreat leaders through our Retreat Blueprint Programs.
We know what it takes to launch a successful and lucrative transformational retreat that's deeply life-changing. We know the law. We know the problems that can arise on a retreat.
We've seen the good, the bad, and the ugly – and we're here to share our expertise so that YOU don't have to experience the mistakes and issues that we did when we started back in 2003.
OUR MISSION IS: For you to design, price, market, sell-out, and monetize a retreat that makes you a profit of at least $10K so that you can travel the world (if you want to!), transform lives in a huge way, give back and be of service, and have the income you desire from the expertise that you share. Are you in?
Here's what you'll learn…
Module One – Retreat Basics
In this module we're going to cover the details of creating an amazing retreat that's deeply transformational, absolutely unforgettable, and nets you a GREAT profit! 
We'll dive deep into:
What makes retreats unique as deeply transformational events and how to align your dream location, decide what you're teaching, and create deeply experiential activities.
How to stand out from the crowd so your retreat will be different and easily fill with the perfect paying participants.
How to deal with all the logistics from picking the right location and venue, length of time for your retreat, size of your group, and how to find the perfect help and support for your retreat.
What must be in place to set yourself up for success – including insurance, legalities, taking money, websites, social media and more!
Tips on avoiding the worst types of venues, unsafe locations, crazy weather, bad times of the year run a retreat, and locations that are disastrous duds!
…and so much more!
Module Two – Your Ideal Avatar
In this section we'll be discovering who your ideal client is, what you are teaching them, and how to ensure that you're delivering value so they'll want to register for your retreat!
We're going to explore:
Nailing down who you want to work with on your retreats, their pain points, and what problem you solve for them so they know your retreat is for them.
Wording the benefits of coming on your retreat so you excite your audience and have them dying to come on your trip!
Making sure you have a clear title for your retreat – one that tells your tribe exactly what they are going to walk away with.
How to improve your copywriting skills for your retreat sales page so folks want to pay you whatever you are charging for your retreat.
Laying out your retreat itinerary day-by-day to create that transformational experience.
…and so much more!
Module Three – Pricing Procedures
Pricing your retreat correctly is bar none the most important and critical factor in making the kind of money you deserve from your retreat. You can't afford to miss this module!
My system teaches you:
The PROPER formula for pricing your event's expenses and figuring out your net profit the correct way (so you don't LOSE money and get paid what you're worth)!
How to gain the courage and confidence to charge what you are truly worth and not worry about folks saying "no" to your retreat price.
The exact script to contact your venue and negotiate your contract so you'll sound like a pro
Creating your cancellation policy (this can save you thousands!).
How to make money long after your retreat is over so you're not constantly struggling to find clients!
…and so much more!
Module Four – Promotional Practicalities
Once you price your event, unless you can promote and sell it – it's dead in the water. This module will give you the tools to create a MARKETING PLAN for your retreat so it can SELL-OUT!
You'll learn:
Our proven template for creating a retreat sales page to sell your retreat and to protect yourself (including what NOT to include if you want your retreat to fill).
How to create scintillating sales copy that inspires & sells!
Ways to grow your tribe so you'll have eager, ready-to-buy clients who you can promote your retreat to.
Our top basic and more advanced strategies to market your retreat (simply advertising your retreat won't do it!)
How to use Facebook ads & a retreat promotional calendar
… and so much more!
Module Five – Facilitating Your Retreat
In this module we're going to cover how to handle any situation that arises, amp up your confidence to lead groups, and best nurture your clients' transformational process and emotional experience.
We'll explore:
How to show up for your event, facilitate the group's well-being + give your very best.
The scripts for what to say when participants question your leadership or experience messy emotions.
How to be professional, prepared and organized for emergencies, conflicts and unexpected logistical problems.
How to deal with sick or injured participants, political or natural disaster issues, lost reservations, trouble makers on your trip, or bad guides.
Know how to screen applicants, establish trust, listen to your intuition and have a support system during and after your retreat.
How to collect testimonials, reflect on your experience, and improve your retreats year after year.
…and so much more!
Module Six – Legalities & Business Basics
You can design the greatest event but what about the LEGALITIES? Do you have the proper insurance to protect you? And are you using legal forms that cover you? I hope so! 
We'll cover:
Professional Liability Insurance (are you coaching without this? I hope not) & General Liability Insurance (when do you need this?).
Trip Cancellation + Medical Insurance (you never know what's going to happen…).
What is Seller of Travel and how it applies to you (you may be operating illegally without realizing it)
All the crucial legal forms for your trip (this is worth the entire cost of the program)! We'll dive into legal forms and tell you the key phrases that need to be in your forms – since waivers are not appropriate.
How having a corporate business structure, visas and income tax knowledge can help protect you!
…and so much more!
$22,170 A YEAR LATER!
I knew it was time to get out of offering educational retreats on massages and share myself in a bigger way.
I took your program and got so much clarity that, a year later, I'm running a retreat as a lifestyle consultant to Peru. Thank you so much!
$19,760 FROM ONE RETREAT
I used to think that I was a winner if I broke even on a retreat.
After taking the Retreat Blueprint Program, I now know that I am worth charging good money and deserve to make a profit from my retreats.
The best part is that I'm now making enough to work, travel and enjoy what I do without feeling resentful about all the time, love and energy I put into my amazing retreats.
I am so grateful and so are my clients!
When you sign-up for the Retreat Blueprint you'll receive:
♥ 
FOREVER ACCESS to our 26 LIVE Implementation Coaching Calls
 per year, given every other week 
all year, every year
 (all recorded, just in case you miss one).
♥ LIVE Calls alternate meeting times to accommodate our international students.
♥ FOREVER ACCESS to our Facebook Mastermind Group and community, where you can share ah-ha's, resources, ideas, and revelations — AND where you post your homework and get our famous coaching and individualized care.
♥ FOREVER ACCESS to our Legal Forms (we upgrade them as needed and you have access to all upgrades).
♥ FOREVER ACCESS to our SIX course training modules with videos you can watch anytime.
♥ TRANSCRIPTS of our core trainings so you can print them out and create your own guide book.
♥ ALL our amazing proprietary forms & worksheets!
♥ As soon as you register, you can start the online course and work at your own pace.
Consider this…
What program do you know of (or have) that offers continuous live coaching year after year?
In other words, if you need us to check your sales page next year for another retreat, we're here for you.

And if you need us to review your venue's contract 5 years from now, we're here for you.
If you're in the middle of your retreat and things go sideways or you have a problem, we're here for you.
If you need a dose of confidence and love, we're here for you.
When you join the Retreat Blueprint program you're joining a family, and we mean that with all our heart.
Not sure if this program is right for you? No worries – book a call with us and we can chat about it.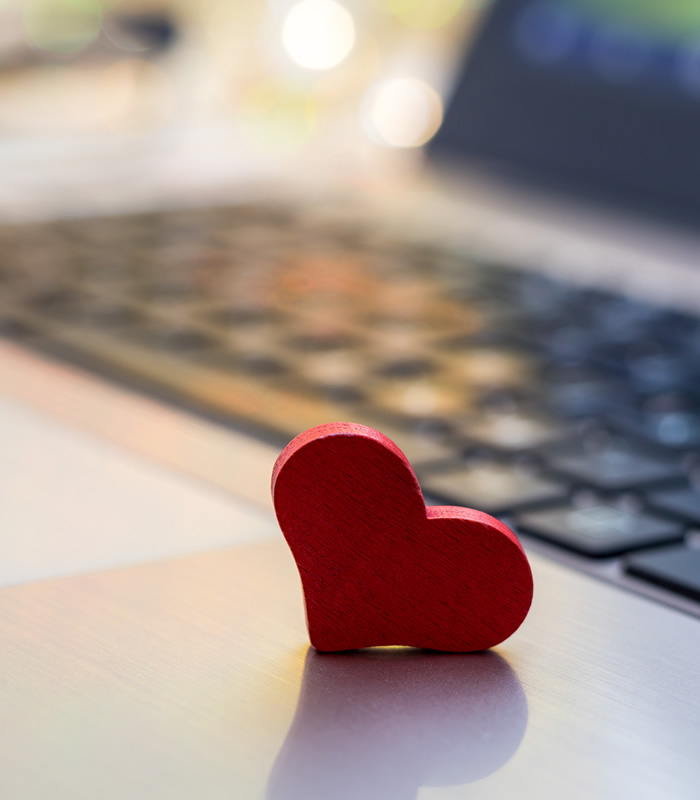 PLUS: Not To Be Missed Killer Bonuses!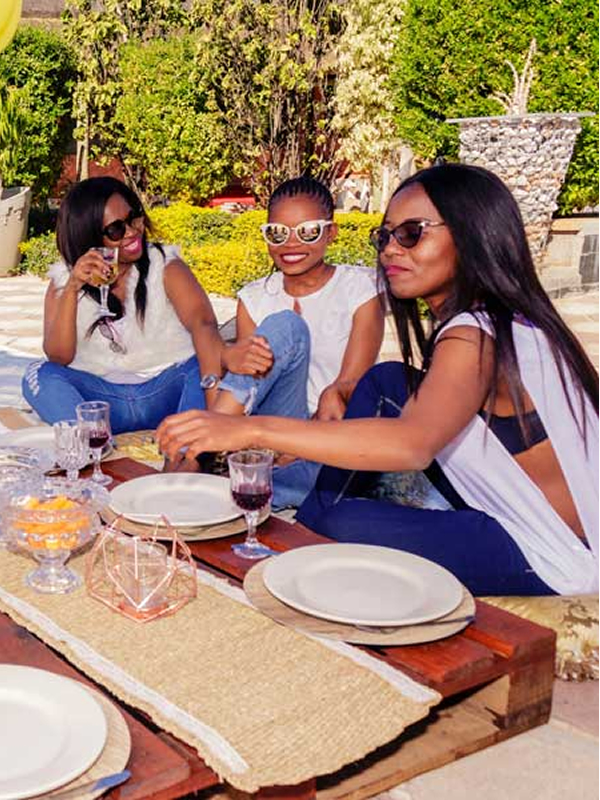 BONUS #1: You'll Receive Our Ultimate Retreat-Savvy Business Forms
Which contains ALL the worksheets
that we've been using our travel biz
for the past 20 years!
  PLUS you'll receive our list of over 2000 retreat centers, villas, and boutique hotels worldwide.
You'll get our: Retreat Countdown Checklist, Retreat Registration form, Don't Forget Me form, and Statement of Psychological & Health Conditions Forms, Attendee Tracking form, Media Release, Post-Retreat Survey Form, Promotional Calendar, Pricing Formula Worksheet, Cancellation Policy Worksheet, Payments Worksheet, Retreat Reconciliation Worksheet, Retreat Sales Page Templates, and so much more!
We've got every form you could possibly need, and forms and templates you didn't even KNOW you needed!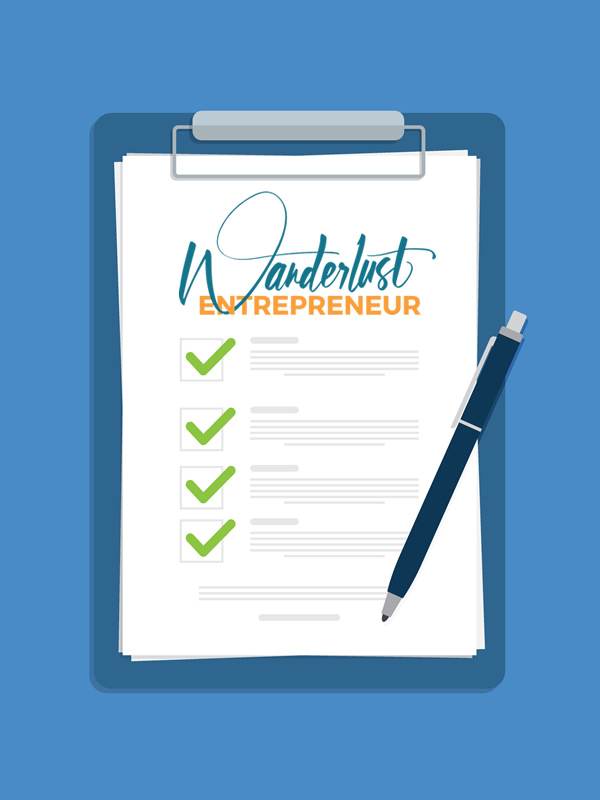 BONUS #2: Our Legal Forms Designed Specifically for Retreats!
These forms have the correct wording for international and in-country retreats and you can use it in any country. Simply take it to a local lawyer to make sure you add in the proper wording for your locality.This is applies for the USA and all countries since every state, province and locality has slightly different wording.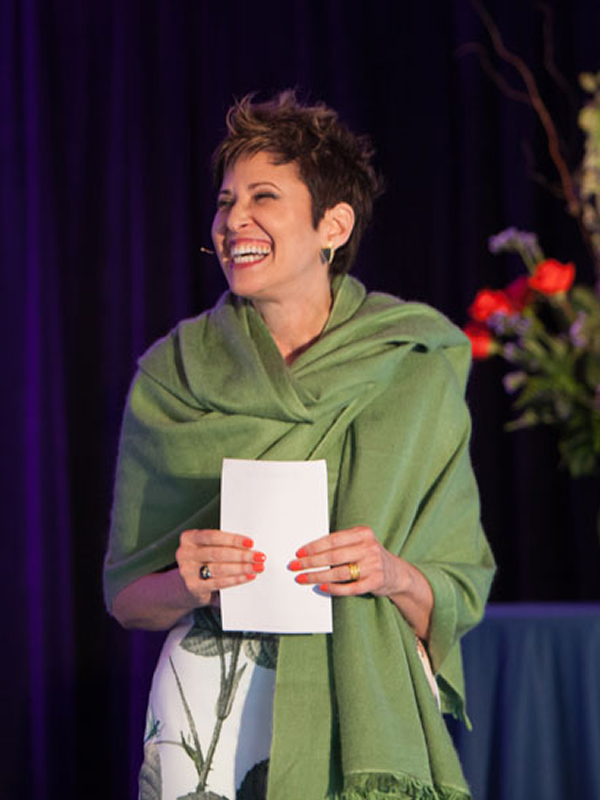 BONUS #3: The Entire Wanderlust Business Bootcamp Video Training Series!
This bonus is perfect for all our retreat leaders who need help building a lucrative retreat-ready business! We know many of you feel like your business is not ready for retreats yet and we don't want you to delay planning your retreat just because you have a small or a brand new business.
So this is the perfect business training to go along with the Blueprint so you can grow your business while you're planning your retreat!
Let's review what you're receiving in this course…
FOREVER ACCESS to the Retreat Blueprint program (and all program upgrades)
Our personal vault of Retreat Specific Legal Forms that have safely covered our back-end from Panama to Tibet!
ALL our done-for-you worksheets, forms and templates that will keep you on track for success!
Our Ultimate List of over 2000 Retreat Centers, Villas, & Boutique Hotels Worldwide — a fabulous resource that will save you HOURS (if not DAYS) of time.
FOREVER ACCESS to our 26 LIVE Implementation Coaching Calls per year designed to give you the support you need to create the retreat of your dreams!
FOREVER ACCESS to our private Facebook group, where we'll be reviewing your homework, coaching you, and answering questions year-round.
Our Wanderlust Business Bootcamp Training – perfect for any retreat leader who needs help building a lucrative retreat-ready business!
FOREVER ACCESS to coaching is PRICELESS!
…for being with us on our webinar training we're offering the Blueprint for the special price of only $3497

$2997

USD paid in full
($500 off our regular tuition!)
…Or…
for only

$275 USD

for the next 12 months!
OVER $150,000 ON RETREATS IN 3 YEARS
I have invested over $100,000 in coaching programs and trainings over the years, and NOT ONE has been as effective, helpful, and thorough as The Retreat Blueprint Program.
The level of individual care, insight, and expertise that Sheri and the team offer in the program has made all the difference — not just on my retreats but also in my coaching and healing business.
After taking this course, I netted over $55,000 on my retreats in one month and since then, have made in excess of $150,000 on just retreats, making back my investment many times over.
If you want to plan a destination retreat, don't hesitate to sign up today. You'll get more than you possibly can know!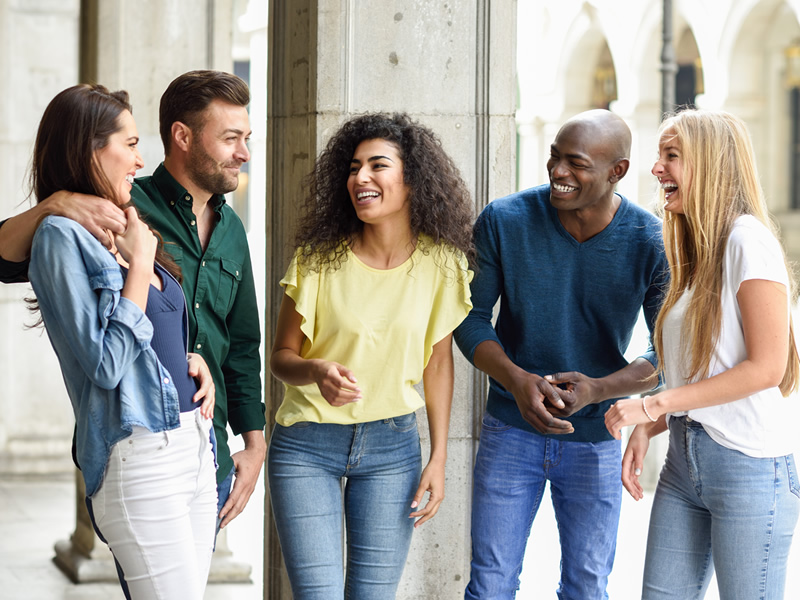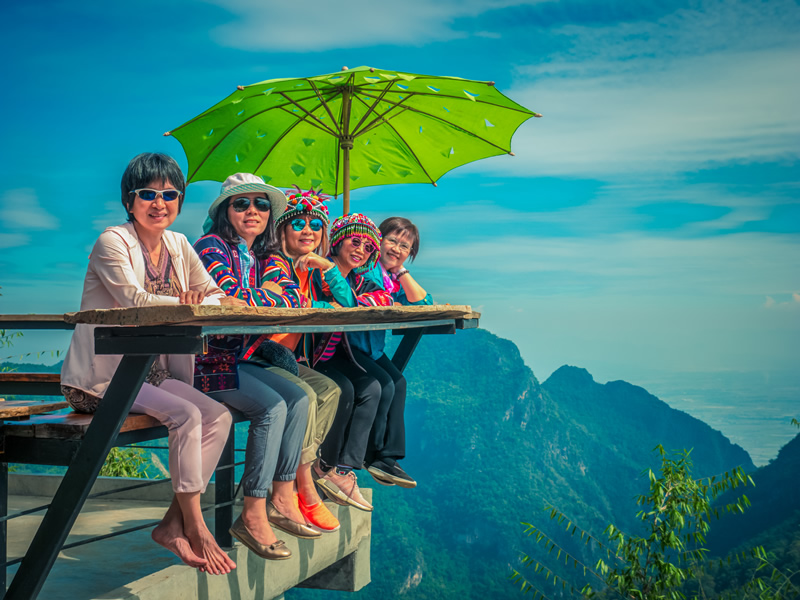 Who will you BE at the end of this program?
♥ You're going to be a confident retreat leader who has the tools and support to design a stellar, 5-figure transformational retreat that actually sells-out and that people can't wait to sign up for.
♥ You'll be able to travel anywhere in the world knowing that you can deal with any kind of crazy situation that arises – and that in an emergency all you have to do is post in the group and we will be there to help you.
♥ You'll know that if you create a retreat that you're going to make a great income – one that reflects the level of transformation that you share.
♥ And you'll know the joy that comes from watching people grow and change before your eyes and the gratitude that comes from being part of that amazing, life-changing process!
Not sure if this program is right for you?
No worries – book a call with us and we can chat about it.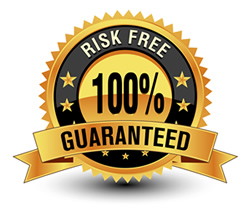 30 Day Money-Back Guarantee
Everyone here at Wanderlust Entrepreneur is 100% committed to you offering successful and profitable retreats within your business. We know our program is the best on the market and it works. That's why we give you 30 days from date of purchase to review and use the first 3 modules within the Retreat Blueprint Program. If you do the work and don't feel we've delivered on our promise, we'll happily refund 100% of your tuition.

To be eligible for a refund, you must submit ALL your completed homework from the FIRST COURSE MODULE in the private Facebook group to show us that you did indeed take action within our program. We do this because we want committed, action-taking retreat leaders and travel professionals in our course and in our community!
9 Retreats IN 3 YEARS!
Before taking your Retreat Blueprint Program, I didn't know how to budget properly and include a profit for myself.
I also didn't know how to incorporate a powerful website to help market my retreats.
With those amazing tools, I'm running 3 retreats a year and have filled 9 retreats in total! Thank you so much for helping me with my marketing – not to mention all the other amazing support from you, Meghan and the entire team.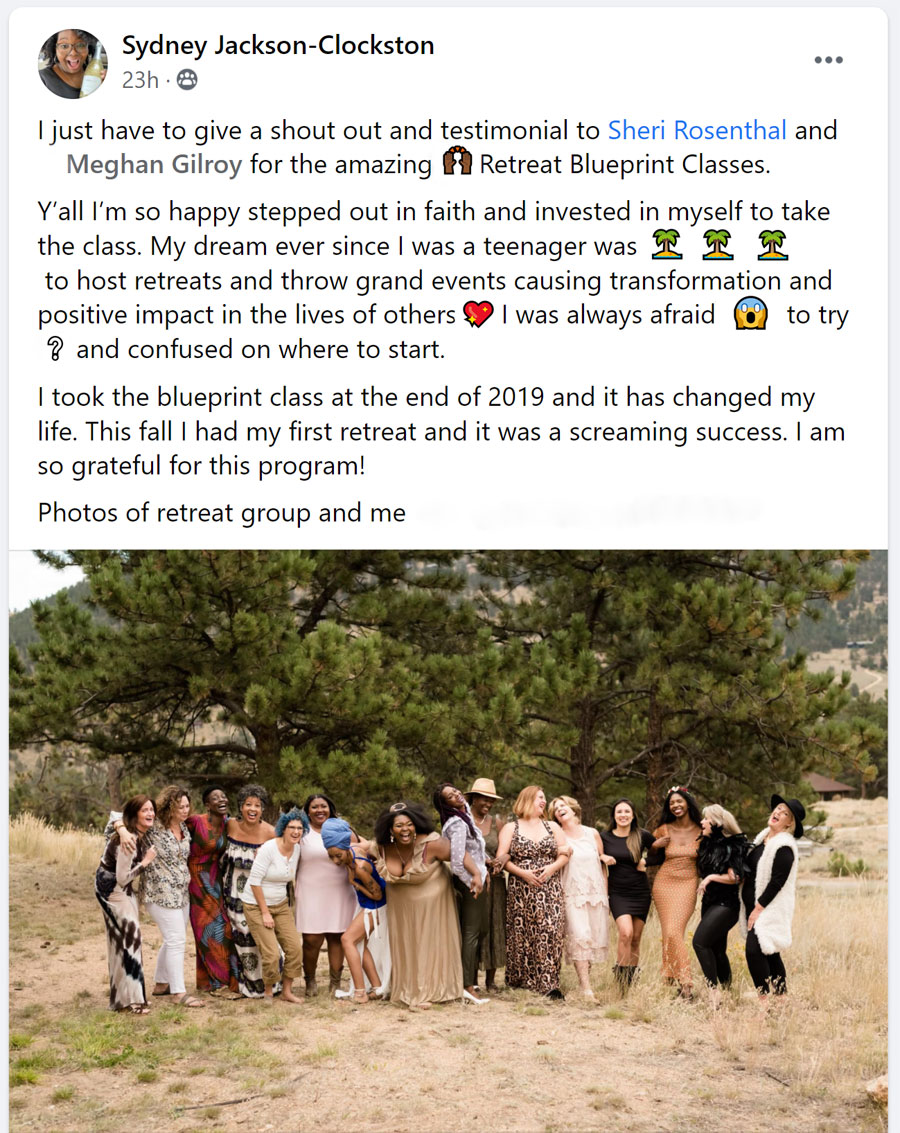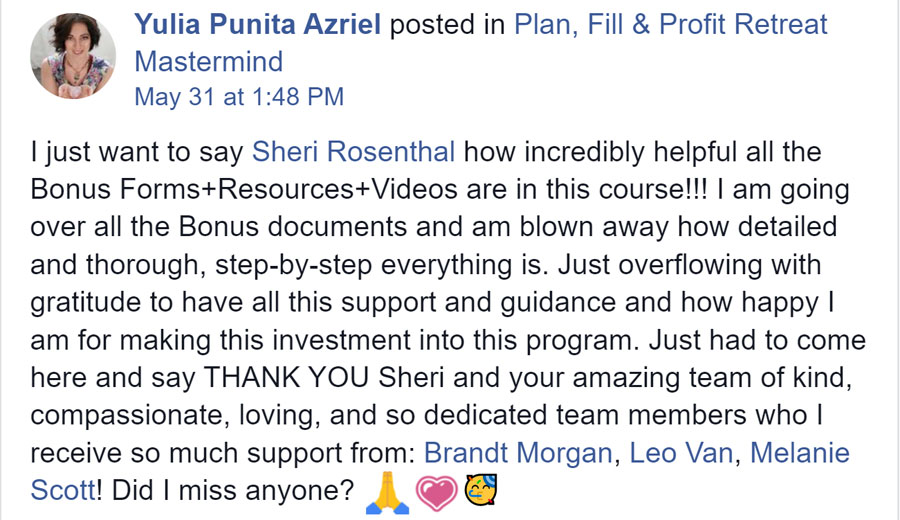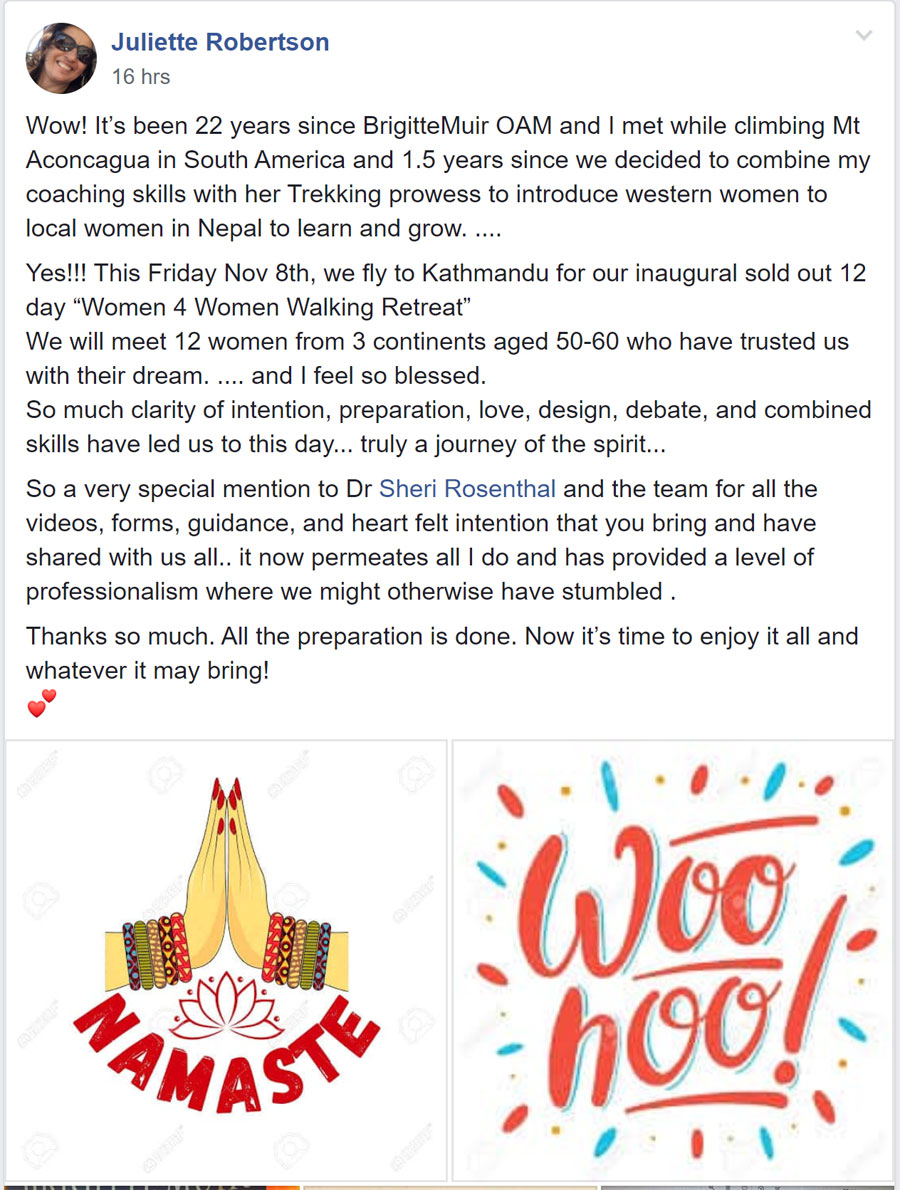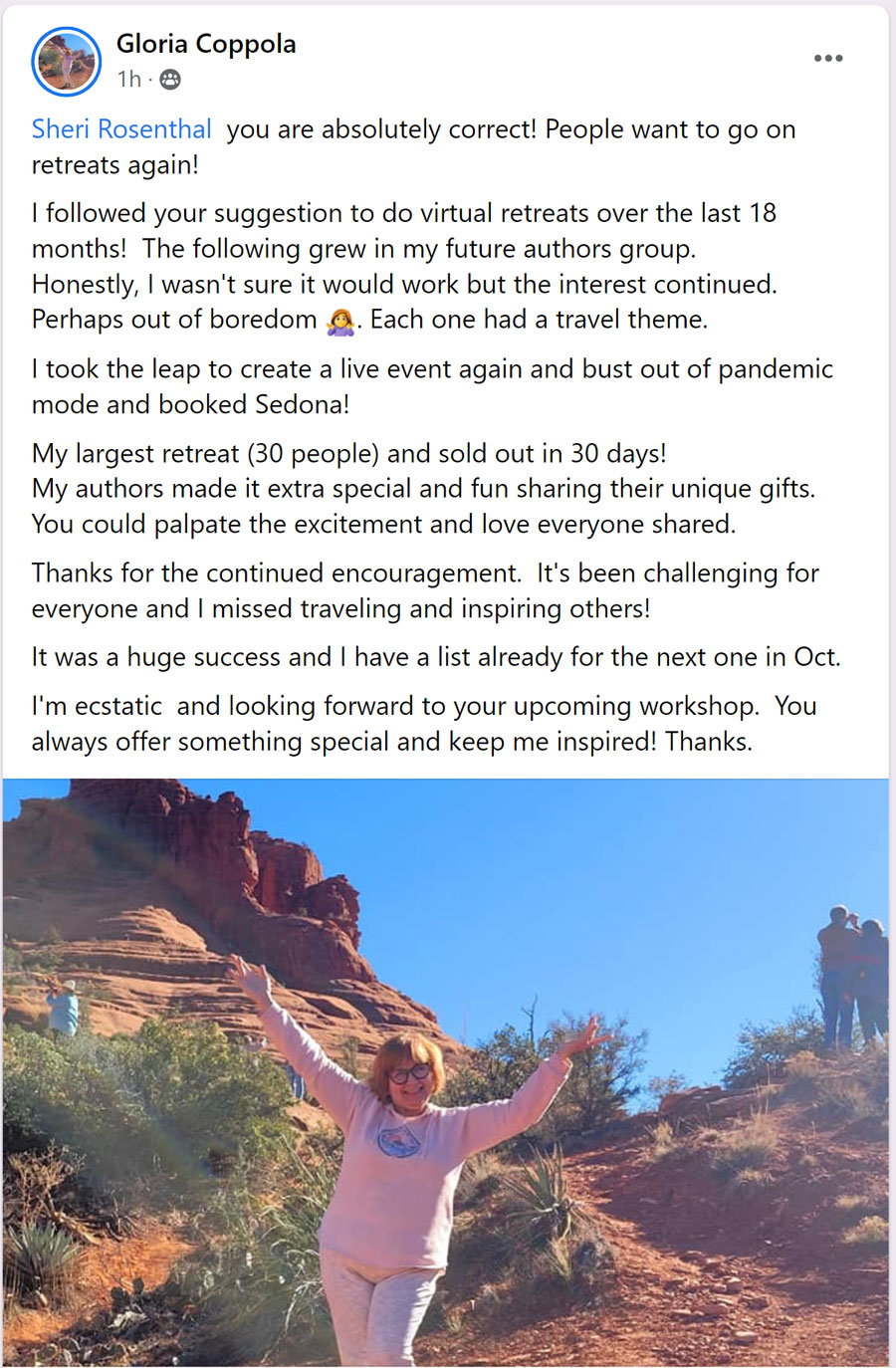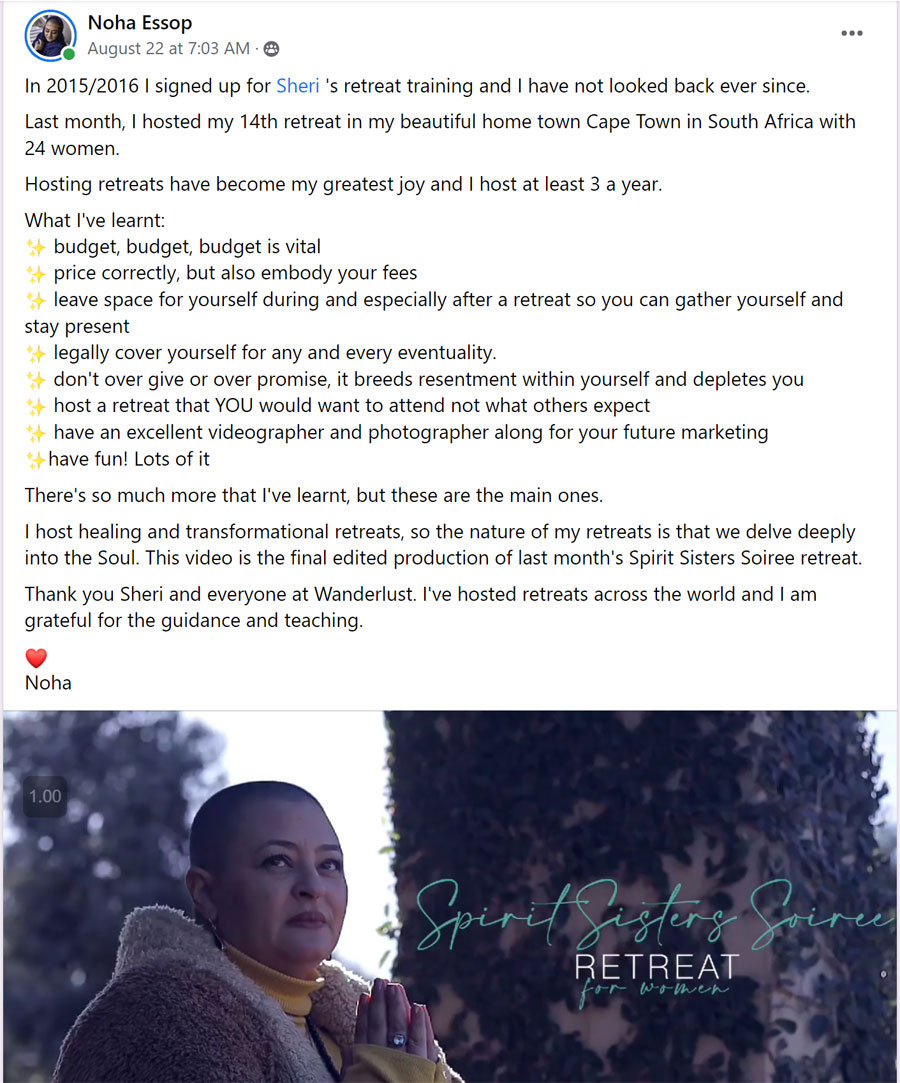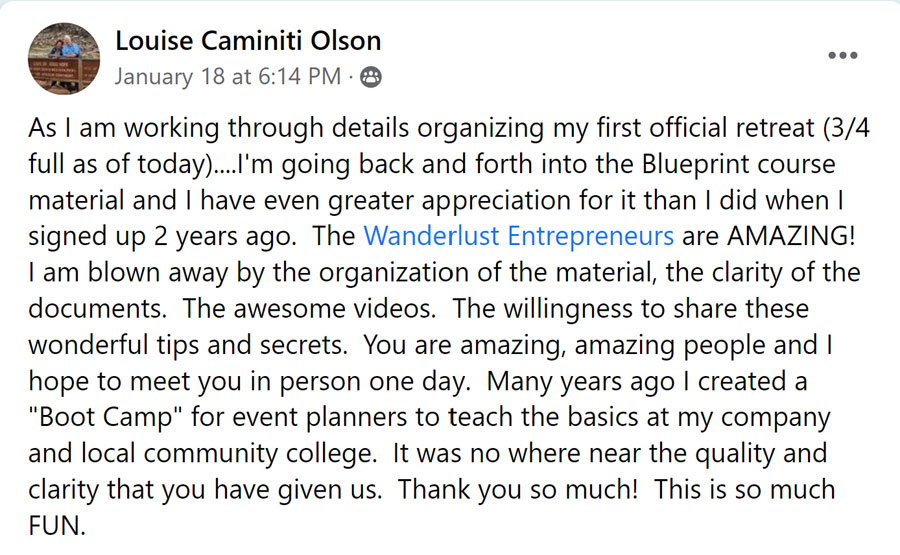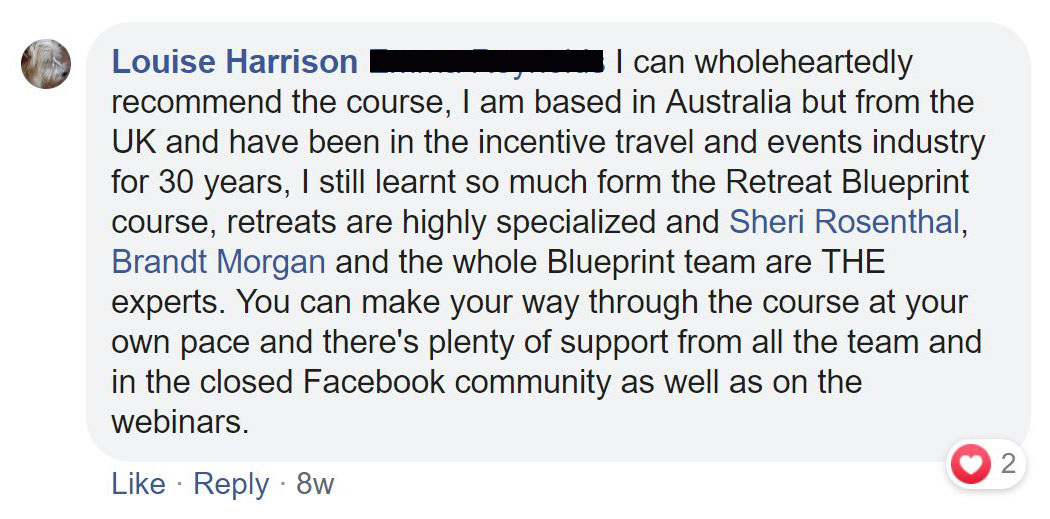 Sheri, I've got questions…
I want to know why this program is so special!
Simple. This is the most inclusive program for folks who are just starting out planning retreats and who need all the critical basics for creating a retreat while they are still building their business. Sure there are a couple of courses out there that teach how to create and fill a retreat but we don't even consider them competition. Why? Well most folks who are teaching about retreats have only run a few of them or have done so for only a couple of years.
Would you rather be a newbie learning from another newbie OR – would you rather train with people who have been in the business of retreat management since 2003 (through my travel company, Journeys of the Spirit), and a team of coaches that have been running retreats for around 22 years?
At Wanderlust Entrepreneur, we've been training retreat leaders since 2014 and we have seen it all – literally!  We've seen practically ever kind of retreat you can imagine, as well as every kind of problem you would want to avoid.
So it's your choice whether you want to buy a cheap program or train from the best. I can promise you that you'll make up the cost of our program in the money we'll save you in costly mistakes and missing information from the other programs out there.
Not sure if this program is right for you? No worries – book a call with us and we can chat about it.
I don't plan on creating a retreat for at least year. Can't I wait until then?
Absolutely NOT! To fill a retreat properly and do all your planning I recommend giving yourself a year out to plan for your event. That way you can create a launch strategy that will guarantee that your destination retreat will sell-out. In addition, you will give yourself enough time to work through the course and be able to learn and apply the concepts – plus have the time to do your research without feeling rushed.
You'll want to make sure that while you are taking the time to create your retreat that you also work on building your list and social media following so that you can fill your retreat with folks that know, like and trust you rather than strangers. After all – these are intimate retreats, not generic workshops!
What if I miss one of the live coaching calls?
No problem! We know everyone has a busy schedule. Each of our LIVE coaching calls will be recorded and placed in our private site so you can review it at your leisure. Of course, you'll get the most benefit from showing up live to get your questions answered, but the material will always be available for review afterward.
Can I access all the modules as soon as I sign up?
To keep you on track, the course modules open weekly until by the sixth week – all are open. We prefer you don't skip around the program, and once you begin you'll understand why. If you have extraordinary circumstances that require access to information that is in a later module let us know and we will do our best to work with you on this.
It's just me. Can I plan a retreat all on my own?
Yes you can, I've done it for years! However – once you learn the system I do recommend you eventually get help with the areas you truly do not enjoy doing or that you feel are not your genius. We do address this issue in the course. In fact, my travel company, Journeys of the Spirit® has a special program where we can take over the management of your retreat for you so you can focus on teaching if that makes you feel better. What is really important though is that YOU learn everything so that you fully understand the financials, legal issues, and marketing so that you can properly inform and teach your future staff. 🙂
Sheri, what if I fall behind?
No worries!
 You can't "fall behind" because you have FOREVER ACCESS to the online modules, the live coaching calls and the Facebook group. So once you join you can always go back into the course, watch the videos at any time and get our help when you need it.
To make sure this is clear: you have FOREVER ACCESS to the 26 LIVE coaching calls that run all year long, each and every year as well as our amazing Facebook mastermind group coaching. Keep in mind that this is not a course group for folks just to meet each other – it's where you post your homework and trip pages for us to comment on and help you with. This is one of the most powerful aspects of our course. I don't know of any online course that offer our level of one-on-one interaction and we're proud of that.
Also, we're not going anywhere and you can take your time in learning the material.  We're not looking to stress anyone out here – after all this is about creating relaxing, transformational retreats with our expert guidance!
Am I on my own here? Will you be able to help me with my retreat?
There are 26 LIVE coaching calls running all year-long each and every year where you can get in the "love seat" and we can work one-on-one with you on your retreat ideas! You'll have FOREVER ACCESS to our expert support in the Facebook private group where you can ask questions and get help and ideas from each other – plus from me and my team. No one is leaving you to fend for yourself here. You also have the option to have private time with me or my team to discuss and plan your retreat if you need it – and that can be arranged at an additional cost.
$38,464 IN 9 MONTHS
I went from living paycheck to paycheck to increasing the price of my coaching packages, starting an online program and charging double what I used to so that I actually made money on my retreat!
As I have shifted my pricing, everything is changing.
I'm calling in a whole new level of clientele and I'm becoming more comfortable accepting that I deserve that much money.
So much good is happening – and there's more to come. Thank you so much for this incredible program and all your personalized support!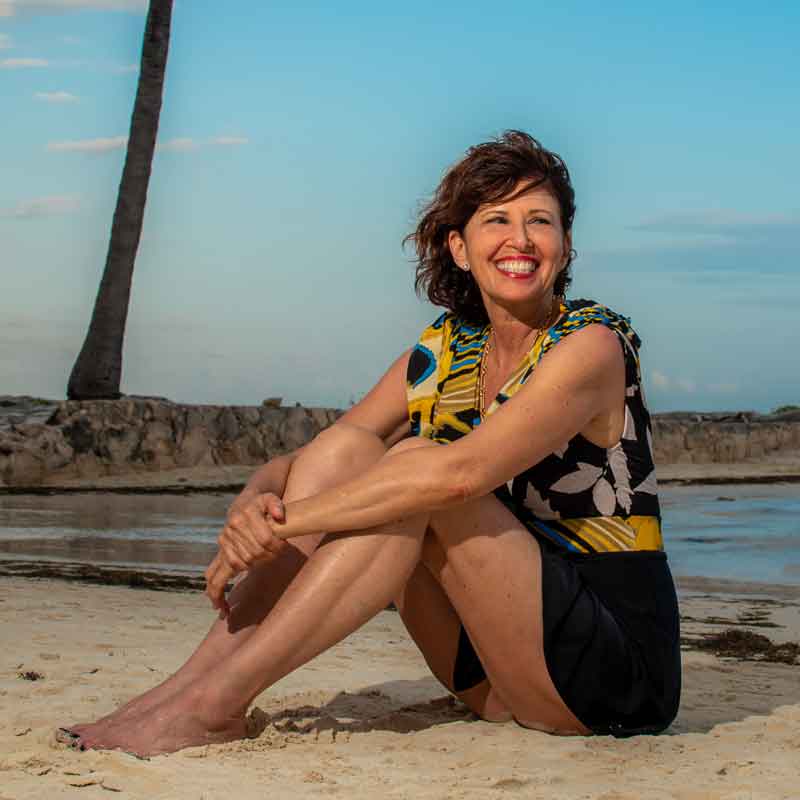 I'm Sheri Rosenthal, and I've been a serial entrepreneur and world traveler my entire adult life.
So back in 1999 I was really struggling in my life. I had gone through two divorces and was working hard each stress-filled day as a podiatrist (a foot doctor) and surgical residency program director. 
I always loved the idea of having my freedom and being able to travel more than my 3 weeks of vacation time every year. But I had no idea how to make that a reality so I buried my dreams and kept my head down. 
Finally, depressed, unhappy, and hating my life and business, I decided to sell my practice and everything I owned – including my boyfriend – at the time. (Well, I really didn't sell my boyfriend, but I would have liked to if I could.) My family and the medical community were horrified at my decision.  
Yet in my heart of hearts I knew I had a greater purpose and was meant for so much more than living a mediocre life. It was a drastic leap of faith – and yes, it was very scary. 
During this time, I received the New York Times bestseller The Four Agreements by don Miguel Ruiz. I saw that he had an upcoming retreat to the sacred pyramids of Teotihuacan Mexico during the exact time I normally took my vacation.
I had never been on a retreat in my life – but I took a chance and went anyway despite my doubts. The retreat ended up being a pivotal moment where the trajectory of my entire life changed direction. It was SO much more effective than therapy!  
While in Mexico, I met incredible friends from around the world, opened my heart and mind, and experienced a truly magical part of Mexico – all in just 6 days! Plus my point of view, perspective, attitude, direction, level of self-awareness, confidence, self-love all shifted! 
Well, my practice finally sold, I moved to California, started studying with don Miguel, and serendipitously began running his retreats, workshops and his overall business. 
Now I just want to digress from my story for a moment to point out something extremely critical to you about the power of retreats. I want you to understand that from that one initial retreat don Miguel gained a student for 8 years who attended every workshop, program, and retreat that he created. 
Think about that for a second from a business perspective – I easily spent around $75,000 on follow up programs with him over the following 8 years and I would do that again in a skinny minute for the changes it made in my life!
Now multiply that by all the other participants on that retreat who continued to work with him too – and there were around 50 on that trip, so that probably added an additional million dollars or more to his bottom line over the following years! (And we want the same for you!)
Fast forward to 2014… By this time, I had been running my own retreats and helping hundreds of heart-centered facilitators run their amazing retreats since 2003 through the boutique travel agency that I created, Journeys of the Spirit. 
I was totally smitten with retreats and the effect they had on the participants – not to mention that YOU as the retreat leader also grow in your own self-confidence in what you share with the world and your ability to stand in your power. Gosh I get so emotional about this.
Then it finally dawned on me that I could help others much more effectively if I created a program to help my retreat leaders end their troubles with filling their retreats AND start making the kind of money they should be making.
And that's how and why Wanderlust Entrepreneur and the Retreat Blueprint Program were born. 
We've had participants add tens of thousands of dollars to their income and take their clients on their first retreat to a place they've always dreamed of going. And others have doubled the number of people who have attended their retreats. 
In our course, we'll explain how you can avoid the most common mistakes retreat leaders make – and this applies to both newbie retreat leaders and highly experienced ones – and of course ALL the solutions to fixing these.  I hope you join us!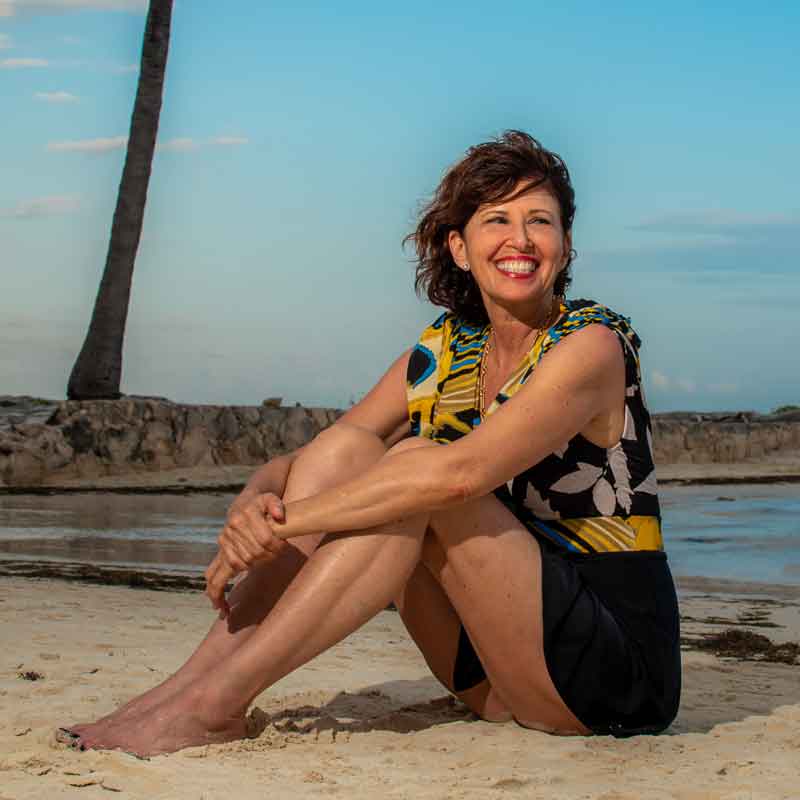 In the Retreat Blueprint Program…
You'll learn our proven strategies to design, promote, sell out, and monetize your transformational retreats so you can:
Design the destination retreat or journey of your dreams.
Create the perfect retreat page that sells.
Have a specific system to price your retreats so you never lose money.
Create a marketing plan to get your retreats filled + never have to cancel.
Have the proper legal forms to protect you + your company.
Understand how to deal with the crazy issues that come up on retreats.
Monetize your events so that you add 10k, 50k or even 100k extra to your bottom line!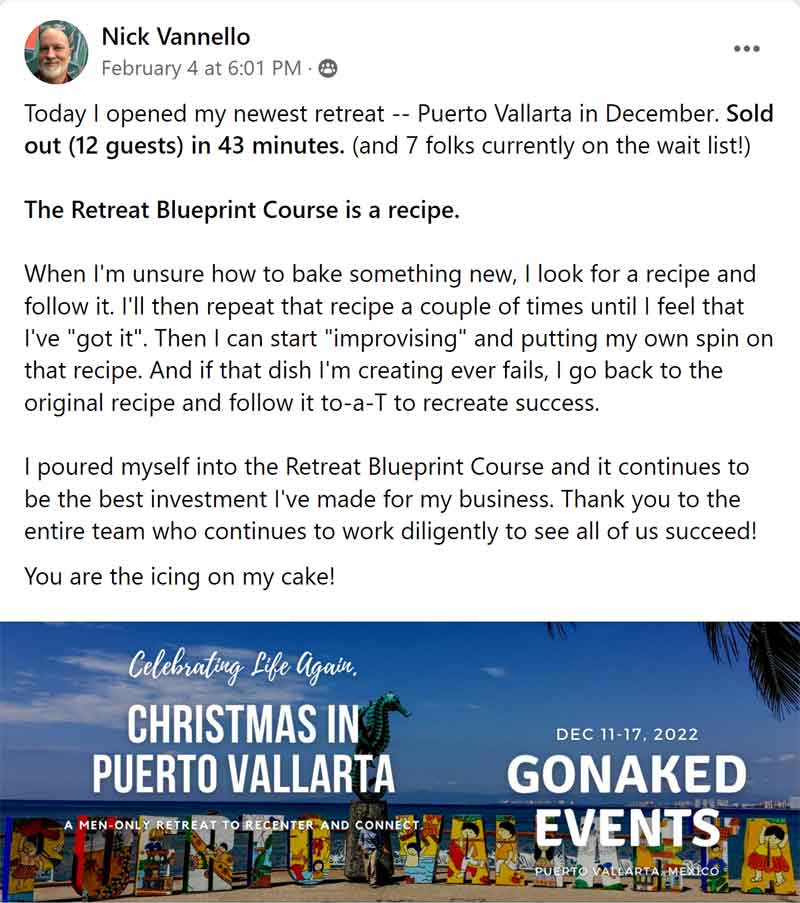 Copyright © Wanderlust Entrepreneur