Launch + Uplevel Your Retreat-Ready Business Group Coaching Program
Become Profitable, Mobile + RETREAT-READY!
Here's what you'll learn…
…in the Launch + Uplevel Your Retreat-Ready Business Program!
The Big Picture
It's time to share more of your gifts with more people, build your tribe and finally go global, while earning more money, more easily in a biz that lights up your soul! Join us and discover:
The A-B-C 1-2-3 Step-by-Step Instructions to Create a Profitable Online Business so You're Ready to Fill Your Retreat in 6-12 months
Simple Solutions to Stand Out Online, Start Making More Money + Super-Size Your Tribe while Adding 1000 People to Your Tribe in 90 Days
The INTUITIVE Sales Script that Effortlessly Overcomes Objections + Signs Up Clients
An Easy Website Template that Showcases You + Your Services
The Only Technology You Really Need to Make Your Biz Work so You Can Automate + Make Sales (Tech overwhelm be gone!)
And much more!
Module One – Stand Out Online
We'll dive deep into:
Envisioning the Perfect Business for Your Lifestyle
Relaxing into Quickly + Easily Explaining What You Do
Knowing Your Ideal Client Body, Mind + Soul
Unearthing the Twist that Makes You Stand Out from the Crowd Online
Showcasing Your Gifts + Story So Your Folks Will Know, Like + Trust You
And much more!
Module Two – Make Money
We're going to explore:
How to Value What You Do + Get Paid What You Are Worth
Brainstorming What To Teach or Offer
Packaging Your Services So Your Clients Can Choose from a Variety of Offerings
The Steps to Developing a Low-Priced Product or Signature Program
The Formula for Calculating What to Charge So You Make Good Money
And much more!
Module Three – Intuitive Selling
My system teaches you:
How to Prepare for a Sales Call + What to Send Your Client to prep them to be a buyer
A Sales Call Script that Accesses Your INTUITION (and doesn't feel icky!)
The Exact Replies to Overcome Any Client Objections to Working With You
9 Creative Solutions to Help Clients Find the Money to Start Paying You
Plus a Generate Quick Cash Challenge!
And much more!
Module Four – Working Website
We'll explore:
What Works – Creating a Simple Website that Showcases You + Your Services
Demystifying How to Present Yourself as a Brand with Authenticity
Ditching the Boring Resume! Write a Sizzling Bio So Your Peeps Want to Buy from YOU
How to Collect Kickass Testimonials – Even if You've Never Had a Paying Client
The Only Technology You Really Need to Make Your Biz Work (there's only 3 – whew!)
And much more!
Module Five – Grow Your Tribe
You'll learn:
Let's Pick the Best Strategy for YOU to Build Your Audience + Email List (one you'll enjoy doing!)
Our Reuse + Repurpose Weekly Marketing Map to Add 1000 People to Your Audience, Social Media Following & Email List in 90 Days 
The Formula for Writing an Enticing Freebie so Your Tribe Can't Wait to Opt-in
How to Write + Set Up Automatic Emails to Nurture Your Relationship with Your Folks
How to Create a Promotional Calendar that You Use Consistently
And much more!
Module Six – Business Basics
We'll cover:
Stop Mixing Business with Personal + Set Up the Proper Bank Accounts
Accounting Basics – in Plain English!
The 2 Types of Insurance You Need and Where to Get Them
Finally Figure Out the Right Business Structure for YOU So You're Legally Protected
Ways to Build Your Credit So You Can Build Your Business
And much more!
Not To Be Missed Killer Bonuses!
I'm giving you ALL the worksheets, templates and scripts that I've been using in my biz for the past 19 years – the same ones I use with my private VIP clients!
PLUS – a bonus guided meditation for each module to tap into your intuition and amplify your clarity and confidence (you'll be amazed at how you can super-size your progress with these visualizations).
Here's what you'll receive:
Envisioning Your Business Worksheet – a fabulous way to pick the right business structure for YOU
Stand Out Online Worksheet – finally know how to explain exactly what you do and who you serve so you can easily market your services
Your Avatar Interview Worksheet – a fantastic way to understand your ideal client body, mind and soul 
Your Core Teachings Worksheet  – it's time for crystal clarity on what you uniquely teach or share
Developing Your Programs Worksheet – saves you countless hours in designing your programs step-by-step
Pricing Your Offerings Worksheet – you CANNOT price your programs and services without this
Your Business Ascension Model Worksheet – a great tool that will bring in more clients and money
Rocking Your Intuitive Sales Calls Script – clients saying "I don't have the time or money!" will be a thing of the past!
Email Templates to Prepare Clients to Work with You – save yourself time with having all your communications systematized
Paying Clients Contract – look professional and be legally covered
An Enticing Freebie Template – lays out how to have your clients happily opt-in to your email list
Your Nurture, Low-Priced, Retreat + Webinar Email Sequence Templates – know exactly what to say in your email funnels
Your Promotional Strategy Worksheet – makes committing to consistent marketing easy
Website Inspection Checklist – know exactly what's working – or missing – from your website
Business Website Templates – to make it easy to create a great website that brings in income quickly
Successful Photo Shoot Instructions – finally create a branded look and feel to your website
A Sizzling Bio Worksheet  – write a bio that makes your peeps want to buy from YOU
Collecting Kickass Testimonials Worksheet – harness praise that helps you sell your services
Launch Webinar Template – a life saver! Saves tons of time AND can make you tons of money
Facebook Ad Cheatsheets – so you can get the basics for Facebook ads in place and ready to go
Build Your Business Foundation Checklist – dot your i's and cross your t's with legalities, insurance, banking and credit cards
Along with supportive resources and blogs galore!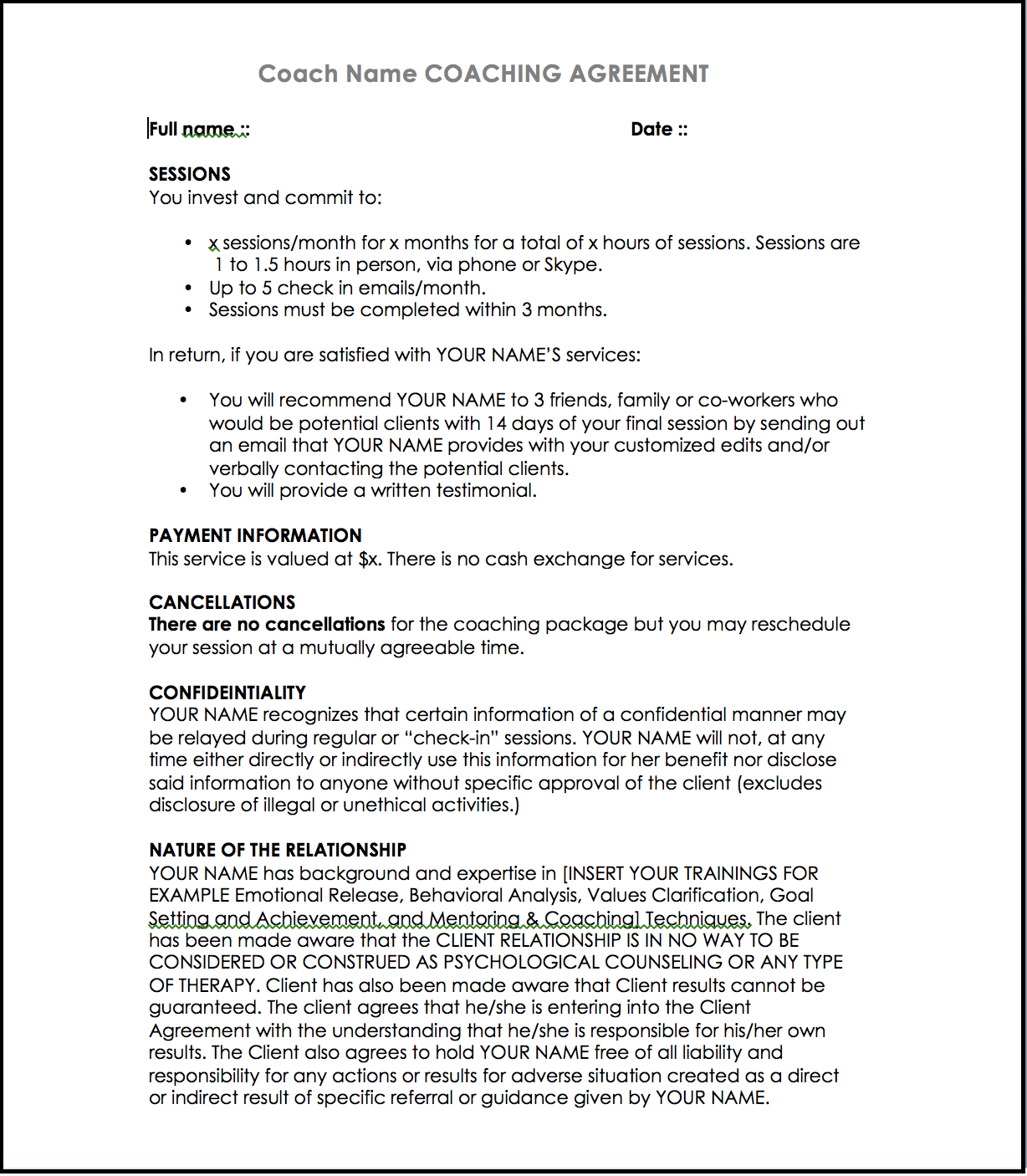 Meghan, how are you going to deliver the six course modules?
TRIPLED INCOME TO $30,000 IN 1 YEAR
Just booked a new client for a private 3-day VIP Retreat! I had my trusty "Rocking Your Intuitive Sales Call" outline, from the Launch + Uplevel Program and it was so very easy.
As I step into my own strength and own my passion – this is more than a sale, it's an opportunity to be in service and to make a difference in someone's life.
My retreat income has doubled, my VIP Retreats have more than tripled and my overall income is 3x what it was a year ago. Thanks for the help/handouts and support!
When you sign-up for "Launch + Uplevel," you'll receive:
Z Access to over 15 hours of online trainings! (you have FOREVER lifetime access).
Z Three month's access to our private course Facebook group, where you receive personalized feedback and coaching on your assignments, resources — PLUS get answers from us. (And please, share your a-ha's!)
Z Bonus video trainings on Pricing + Packaging Profitably and How to Create a Launch or Retreat Webinar WITH an additional guided meditation for every module (to access your wisdom and intuition and boost your confidence and clarity)
Z All our CRAZY bonuses, proprietary forms & over 30 worksheets, scripts and templates!
Z You can work at your own pace and print out the worksheets if you'd prefer to work offline.
PLUS a Bonus "Manifesting Miracles" Mindset Class:
Expand Your Message + Harness Your Power as Part of the Heart-Based Business Revolution
Why Blending Intuition + Strategy is the Key to Your Success
Identify + Overcome Your Self-Doubt + Limiting Beliefs about Business + Money
Why Your Business is the Next Phase of Your Personal Evolution
How to Eliminate Overwhelm with Self-Care, Goal Setting + Prioritization
Let's take a moment to review what you're receiving in this course…
Forever access to 15+ hours of online training designed to give you the confidence you need to create the business of your dreams!
VALUE: $1000 USD
THREE solid months coaching in our private Facebook group, where we'll be answering questions and helping you implement the teachings.
VALUE: $1000 USD
Our personal vault of all our worksheets, scripts and templates for positioning, branding, packaging, pricing, program + webinar development, selling, marketing, your website, legal forms and more!
VALUE: $500 USD
Forever access to bonus video mini-trainings in each module. including Pricing + Packaging Profitably, How to Create a Launch or Retreat Webinar and more.
VALUE: $300 USD
Bonus guided meditation for each module.
VALUE: $150 USD
Bonus "Manifesting Miracles" Mindset class.
VALUE: priceless
That's a total value of $2950 USD!
But I'm NOT going to ask $2950 USD for this course (although I could) because I'm passionate about helping healers, coaches and heart-based entrepreneurs share their gifts with the world — and I believe you are, too, or you wouldn't be here!
Considering that coaching with with me one-on-one to learn our entire system would be $7,500 USD – the Launch + Uplevel Program is giving you ALL that juicy goodness in a community format for only $997 USD which is a total no-brainer!
…so I'm offering the course to you for only $2950 $997 USD!
(pay-in-full discount)
…Or…
grab our 6 month payment plan for
ONLY $187 USD TODAY,
then only $187 USD for the next 5 months!
FIRST 4-FIGURE CLIENT IN 2 DAYS
After working on my mindset with Meghan's help, I landed my first 4-figure client in 2 days.
Since I had worked on my programs and pricing using her templates, I was all set to confidently make the offer and close the sale! I'm finally doing the work I've always dreamed of – and getting paid to do so!
NEW CLIENT IN 1 HOUR
After taking Meghan's program, I got very clear and JUST changed my ideal client 2 weeks ago. I adjusted my web page and wording on my website, then put up a sponsored ad on Facebook 1 hour ago.
I received an email from a client who said I described her perfectly and she wanted more information to work with me! Thank you thank you for all for the encouragement to keep going, the inspiration to know I CAN do this and the wisdom to show the way!
What am I going to accomplish in the program?
In the Launch + Uplevel, you'll learn:
Ideal Client/Niche: know who you want to work with, what problem you solve and how to stand out from others online.
Programs + Services: create your pre- and post-retreat follow-up programs that your tribe will buy so you can make money all year long.
Pricing: price your services lucratively – no more guesswork in what to charge.
Marketing Basics: how to pick your marketing strategy + channels that match your strengths and you implement consistently.
Retreat-Readiness: attract enough clients to fill a retreat with a business that makes money AND leaves time to enjoy your life.
Promotional Plan: schedule your promotional plan so you know exactly what to do each day, week and month.
Freebies + Email Funnels: create your free opt-in to build your list and know the exact template for your follow-up emails.
Copywriting: improve your ability to write in a language your ideal clients will resonate with on your sales pages, freebies, webinars, emails + social media posts.
Selling: know how to overcome the "I don't have time or money to work with you" objection on sales calls and amp up your ability to get more reservations and sales.
Mindset: become confident in a business that has momentum, add in more self-care and change your relationship with money.
Webinars: be able to offer your first webinar that sells your retreat or program.
Goal-setting, Planning + Prioritizing: get rid of the confusion, overwhelm and scattered feeling and identify the most important projects that will bring you the biggest results.
How do I know if this program is for me?
This program IS for you if:
You are starting or growing your heart-based retreat-ready business.
You've realized you need more clients and a thought-out year-round business to fill your retreats.
You're tired of not understanding how ALL the pieces of a profitable online business holistically fit together in an efficient system.
You know it's time to share a bigger message and reach more people.

You're tired of programs that don't deliver what they promise and want a program with plenty of coaching depth, detail AND lots of warm, professional support!
This program is NOT for you if:
You're not willing to learn new skills and strategies and put yourself out there.
You're okay with hiding or playing small.
You want a cookie-cutter approach to marketing and aren't open to experimenting with what works for YOU and YOUR clients.
You don't want to take imperfect actions that DO get fast, immediate results.

You'd rather wait another few years to FINALLY get your business organized.
Want to Compare Our Programs?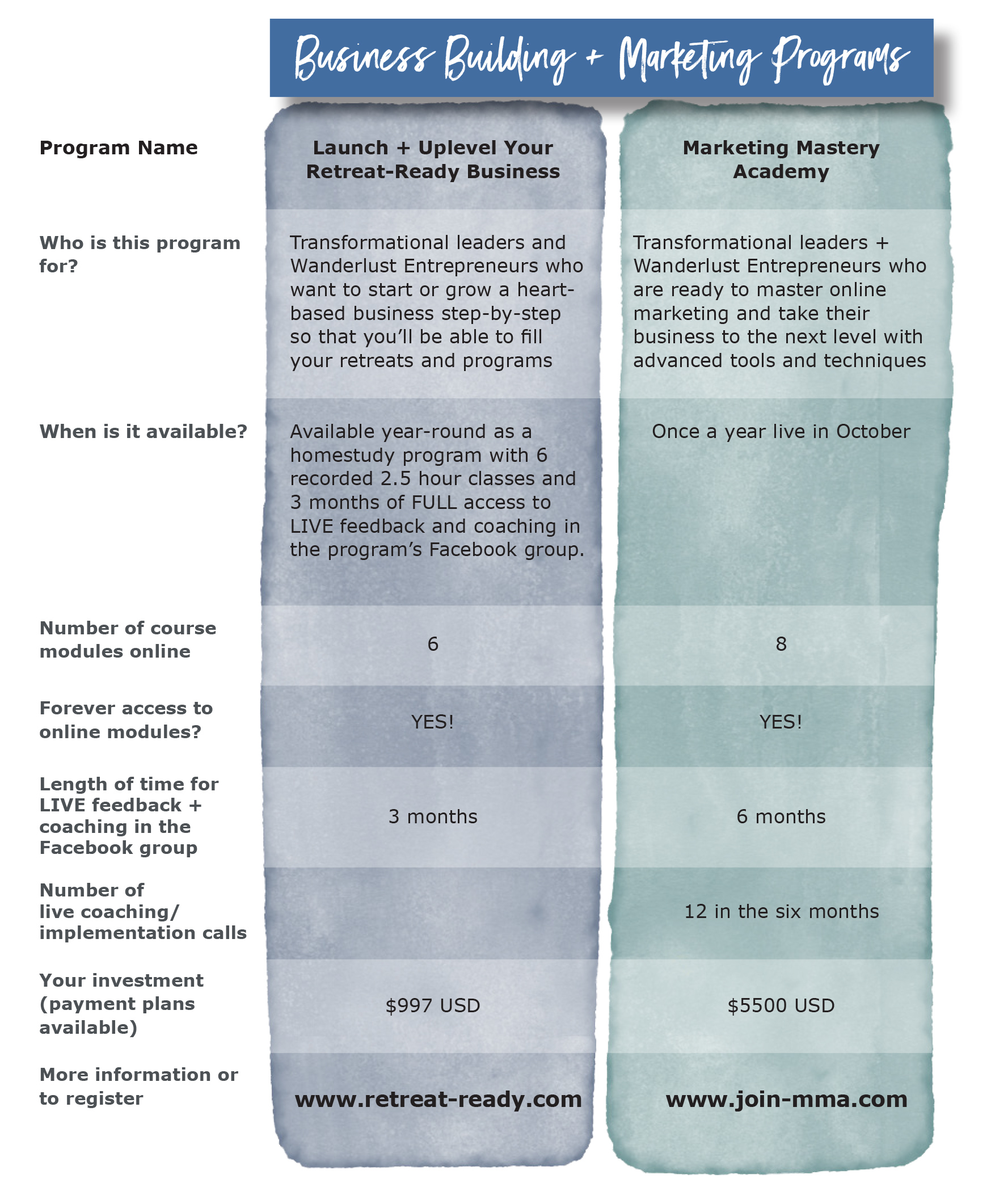 Do you have a money-back guarantee?
100% NO RISK GUARANTEE
30 Day Money-Back Guarantee
Everyone here at Wanderlust Entrepreneur is 100% committed to you creating a successful and profitable business. We know our program is the best on the market and it works. That's why we give you 30 days from purchase to participate in the Launch + Uplevel Your Retreat-Ready Business Program. If you do the work and don't feel we've delivered on our promise, we'll happily refund 100% of your tuition.

To be eligible for a refund, you must submit all your completed homework from the first course module in the private Facebook group or via email to show us that you did indeed take action within our program. We do this because we want committed, action-taking heart-based entrepreneurs in our course and in our community!
Working with Meghan has totally changed my business paradigm to one of ease, joy and intuition. 
I have made great strides in things that once made my head spin – like funnels, reverse-engineering and sales. With her wisdom and step-by-step support, I've accomplished challenging projects and everything has shifted from overwhelm to this feeling of "I can do this!"
She has an impressive font of biz knowledge and know-how combined with an intuitive, considerate, warm, nurturing coaching style that enhances the whole process!
Meghan, I've got questions….
Q: I want to know why this program is so special!
Simple. There aren't any programs out on the market right now like it –period.   Let's face it. Most heart-based entrepreneurs, healers and coaches are AMAZING at guiding our folks through transformation and delivering inspiring teachings that change lives.
But when it comes to the nitty-gritty details of marketing, selling, hooking up technology, strategizing or prioritizing? Creating a business that's "big enough" to fill retreats? Not as much!
I get that selling and marketing yourself can feel icky and technology can be overwhelming. That's why I've designed this course to walk you step-by-baby-step through exactly what you need to do to create a profitable, online business – from soup to nuts so you can offer and sell-out retreats.
It's NOT bits and pieces… it covers just the right amount of in-depth info you need to put all the pieces of your business together. I'm giving you the exact templates, nitty-gritty business know-how AND the loving, intuitive support you need to be successful. Plus I'm making it affordable to boot! 🙂
Q: When does the course start? How long does the course run?
This online training program gives you FOREVER access to 7 two-plus hour classes and over 30 step-by-step worksheets so you can work at your own pace.
As soon as you register for the program, you'll receive an email with your log in info and you can get started today – or tuck it away until you are ready to dig in.
PLUS you receive THREE solid months coaching in our private Facebook group, where we'll be answering questions and helping you implement the teachings. We give you a few extra weeks after the modules are over so you can have plenty of time to turn in your assignments and receive personalized feedback. Makes all the difference in the world!
Q: Meghan, what if I fall behind?
No worries! The online modules have forever access. So once you join you can always go back into the course and watch the replays and use all the worksheets at any time. Plus you'll have a few extra weeks in the Facebook Group after the modules are released to have all your questions answered and homework reviewed!
We're not looking to stress anyone out here – after all this is about creating a business that fulfills your heart and lights up your soul!
Q: I'm in the Retreat Blueprint Program or Retreats Made Easy Program. Why do I need this course?
You know now that you need to create a retreat-ready business so that you can fill your retreats!   The Retreat Blueprint and Retreats Made Easy Program is designed to help you create your transformative RETREAT. This program shows you how to create your retreat-ready BUSINESS. So what are you going to GET DONE by the end of this program?
You're going to:
be ready to offer retreats in the next 6-12 months
know who you want to work with and what problem you solve (your ideal client!)
map out your programs and offerings so you have income all year long
price your services lucratively – no more guesswork in what to charge
schedule your promotional plan so you can add 1000 people to your email list and social media following in the next 90 days
be able to create your freebie, email sequences, website, programs and webinars
feel confident about building your business
AND add in more self-care time so you can show up fully for yourself and your clients.
Who are you going to BE by the end of this program?
A confident entrepreneur who has the tools to create a heart-based business that's stands out online and is actually able to fill and sell out retreats while making a great income and changing many lives.
We share EVERYTHING we've done in our own business to be able to sell-out our retreats quickly and easily.
Q: Am I on my own here? Will you be able to help me with my biz?
In our awesome private course Facebook group, you can ask as many questions as you'd like. Plus it's where you can post your assignments, receive detailed feedback and coaching. You don't have to do this alone.
Q: I am just starting out in my business, is this right for me?
Yes – this program was designed for you! It will walk you through step-by-step A-B-C 1-2-3 in how to create your online business that's profitable, mobile and retreat-ready. The worksheets and templates guide you on EXACTLY what to do and my team and I hold your hand every step of the way.
Q: Is this program only for folks who want to run retreats?
No. Although you will know exactly how to create a retreat-ready business by the end of this program, it also is designed to help any healer, coach or heart-based entrepreneur who wants a profitable, mobile, online or global biz that makes money doing what you love.
$35,000 FROM ONE RETREAT
I hosted a retreat after taking Meghan and Sheri's programs. Even though I ended up with only 3 people on my retreat, because I followed their business strategies and offered a post-retreat program, I reaped $35K afterwards! This lets me help even more people which is what really lights me up.
Keep going – even if you're just starting out!
After taking the Retreat Blueprint Program, I knew Meghan and her approach in the Launch + Uplevel Your Retreat-Ready Business Program was perfect for me: understanding where I'm coming from on the spiritual side, yet a wealth of experience to share on the business side which is what I was really lacking. 
Meghan helped me get past mental blocks and issues that I've had for years and has made it easy to get things done by setting out an easy to follow plan.
I was wary about taking an online course thinking it might feel impersonal but I needn't have worried. Meghan truly cares about her client and you really feel it personally.
I'm Meghan Gilroy, and I love leading sacred journeys as much as I adore an Excel spreadsheet.
I started out my career as a schoolteacher in inner-city Los Angeles until heartbreak, betrayal and an out-of control classroom drove me to study with don Miguel Ruiz (author of the NY Times best-selling book The Four Agreements) for over a decade. I ended up running his business and co-teaching with him in places from the pyramids of Mexico to the top of the Andes in Peru.
Those amazing experiences completely changed my life and inspired me to become a shamanic healer and life coach back in 2000. I started my own healing and coaching practice (as a hobby) while my hubby and I built a 7-figure construction business from scratch in 3 years.
One day I had a major A-HA – what if I applied all my business skills to my healing practice? And SHAZAM!
I became free to set my own schedule, work from anywhere in the world with incredible clients from all over the planet, do what I love AND make a great income – while having the time to travel with my kiddos. A 7-figure coaching and healing business was born.
Now I've helped thousands of heart-based entrepreneurs launch + uplevel their businesses and run both close-to-home and international retreats – 1,724 have taken our programs in the last two years, not to mention all our private clients, the 70,000+ folks on our email list and the over 38,600 folks in our Facebook Group!
I've had folks land new clients within hours, double their income, triple the number of retreats they are offering in a year and add 6-figures to their income after taking my program. Whoot!
More importantly, my clients been able to make a bigger difference in the world and make the income they deserve for their mad gifts and talents – and so can you!
I blend the intuitive + spiritual with the practical + business — in a way that is totally comprehensive and easy-to-understand, from soup to nuts! I'd love to support you in creating a business and life that lights up your soul.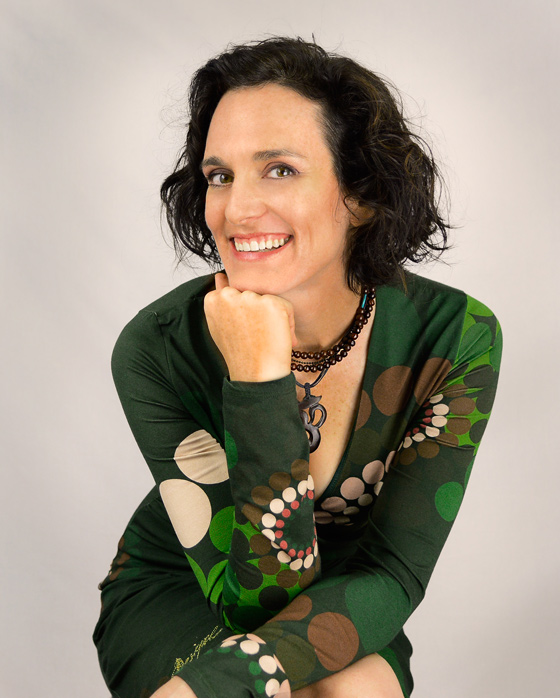 So that's why I created the "Launch + Uplevel Your Retreat-Ready Business Group Coaching Program," the proven strategy to become more profitable, mobile and retreat-ready so you can:
Create the the retreat-ready biz of your dreams – and be able to easily fill your retreats.
Have a specific system to price, package and sell your services so you make more money.
Create a marketing plan that you love so you'll stick with it to grow your tribe consistently (I'd love to see you add 1000 people to your email list and social media following in the next 90 days!)
Figure out what's missing or NOT working in your biz so you know what to focus on with a SIMPLE do-able action list 
Grow your biz, your confidence AND your online know-how while still having time for self-care. (Ah!)
And now I'd like to introduce my fantabulous co-teacher, Melanie Scott!
Melanie knows first hand what it's like to launch & uplevel your heart-based business. She used to be a full-time business lawyer for one of the world's largest law firms, but she walked away from the firm years ago to follow her dream of being a coach.
And, boy was that the right decision!
Since then, she's been a business coach to hundreds of heart-based entrepreneurs around the world who are going for their dreams (and making a big splash and more income in the process). She's helped countless clients narrow their niches, refine their branding & expand their reach so they have all the pieces in place to go global.
For clients who want results, she's the first person they turn to — thanks to her track record of delivering powerhouse clarity with her coaching.
She mashes up her expertise as a lawyer, coach and copywriter to offer her entrepreneur clients a megadose of magic – from freebies and funnels to branding and positioning, she's all about business with heart and soul.