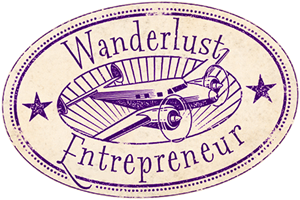 My Wanderlust began a few years ago when my husband and I realized that we didn't have anything but excuses that were stopping us from traveling. Originally from New Brunswick, Canada, we had made our home in the sunshine state of Florida, but hadn't ventured far from there.
Finally, we booked a flight to Paris and that sparked my incurable craving to travel the globe.
Right around that same time began my own spiritual awakening. I realized that the life I had built for myself wasn't exactly what my soul was crying out for – and I could no longer ignore that call. I, like many women, grew up in a world where being in her masculine energy wins, so I hustled, pushed, and forced my way to the top of my career and suppressed my inner voice (which was really the only voice I should have been listening to!).
I found myself in an identity crisis trying to figure out who I was supposed to be and what I wanted to create. I began the deep inner work on my mindset, my energy, and my health. I started a few businesses, became a published author, traveled the world on retreats, and learned a heck of a lot about myself in the process.
In fact, I actually planned and put together my first retreat in Costa Rica using the resources that Sheri and the Wanderlust Team share! So I know this is possible for you too.
Being a part of the Wanderlust Entrepreneur team is such an exciting opportunity for me to bring together my strengths from my corporate world experience and my passion for connecting with and helping others. It's a win-win!
With all my love, Robyn