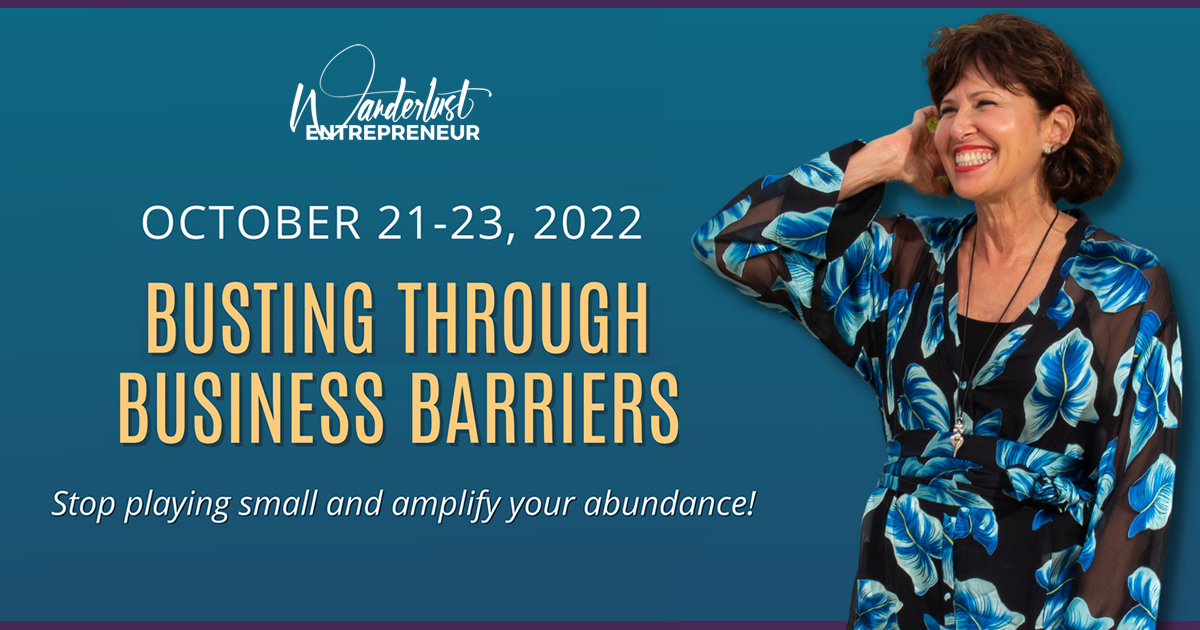 If you're ready to create your FIRST sold out transformational retreat, and get the tips, tools, and strategy critical for planning, promoting, and profiting from your retreat – then join us for this interactive, roll-up-your-sleeves, implementation event.
FINALLY! Folks can't wait to travel – and after 2.5 years of being locked up, losing loved ones, changing jobs, feeling exhausted, and leaving relationships – people are ready to retreat!
I feel that it's OUR job, as transformational leaders and designers of extraordinary experiences – to step up and find a way to help people be happy again, inspired, find their mojo and purpose, learn new skills, get healthier…
…whatever it is they need that YOU have the skills to help them with, even if it's as simple as creating the perfect space for folks to rejuvenate in.
The truth is, we live in uncertain times, and we can either keep waiting for the world to return to the way it was OR…
…we can move forward and learn how to create the most life-changing retreats possible and serve our communities while living OUR purpose on this planet.
It doesn't matter if you're a total newbie – it's critical that you know how to design DEEPLY creative and experiential retreats – because THAT is what folks are craving.
That's why now is THE PERFECT TIME for learning nifty ninja tips and tools for running your FIRST lucrative retreat – and that's EXACTLY what we're going to be doing in this 3-day virtual event and in our post-event bonus session!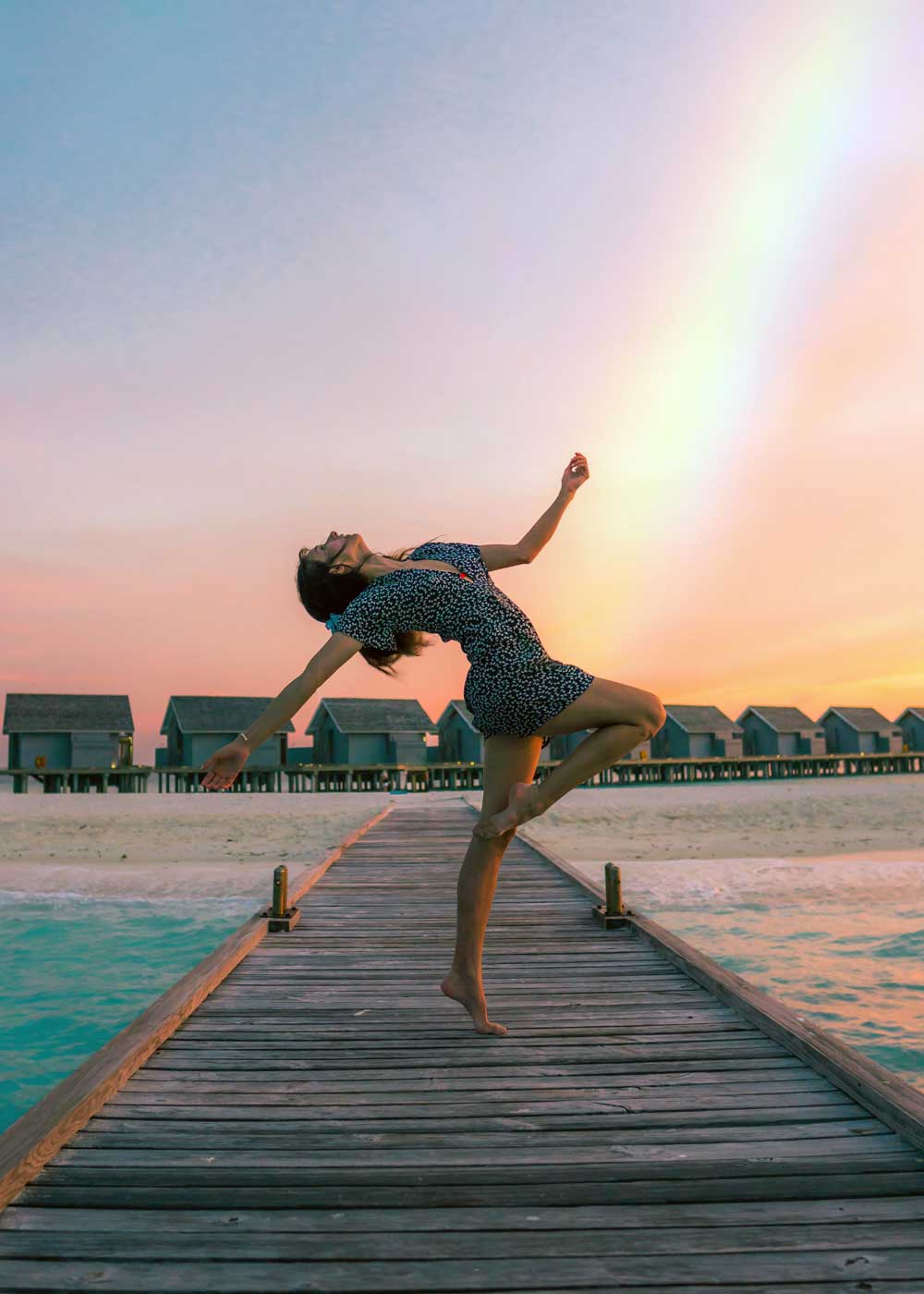 So, are you ready to give people what they need? And are you ready to do so in a truly creative, thoughtful and (most importantly) safe way?
Yes? Because NOW is the time for you to be not just thinking about retreats – but actually planning one that is going to make you an awesome income AND help change the lives of your participants.
Why? Because retreats take a good 6-12 months to properly plan out and market – and that already brings us to the end of this year and mid-way into next year.
Rest assured, the world IS opening up again, slowly but surely.
And there ARE folks out there designing and filling their retreats (you're going to get to meet some of them during this event).
The big question is, are you going to be among them?
(I certainly hope so!)
I'm absolutely loving this retreat training event! 
Sheri seriously rocks!
I've been a professional life and business coach and therapist for over two decades, and so often these trainings leave you flat and still seeking value. However, this training has been invaluable – I can't wait to finish and get started on development. I'm also excited to continue meeting more great people here in the group and find ways we can collaborate and support each other on our journeys!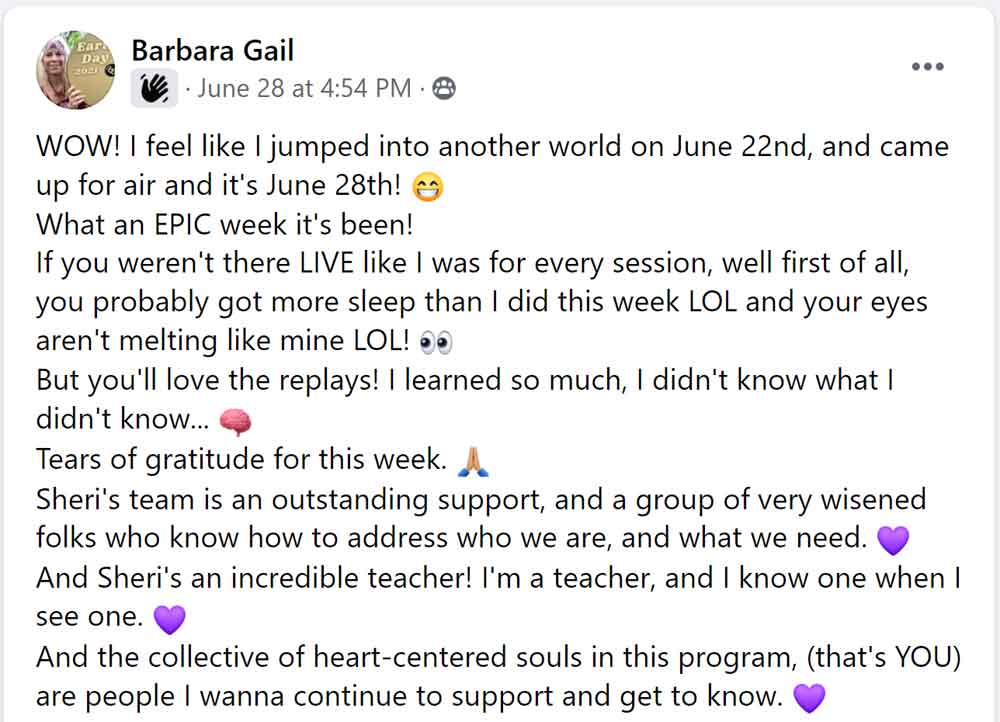 So here's how we're going to roll in this event:
There will be around 12 hours of content. For real. Be prepared to learn and implement!
There will be a private Facebook group to post questions. This is where you will go for personal support during our time together.
Make new friends and even find awesome folks to collaborate with.
You will be inspired, educated, surprised, and most of all your heart will be filled with the passion to serve your peeps in the highest way!
What am I going learn during this event, Sheri?
DAY ONE – SESSION ONE
Tues July 12th
Revving Up for Your First Retreat!

I hope you're ready to rock your first retreat because by the end of this 3-day event, you're going to be absolutely clear on what you need to have in place to properly plan and sell out your first in-country retreat. Our intent is that you know how to create a retreat that stands out from the thousands out there, how to make it deeply transformational, and get the tips and tools critical for running a sold-out retreat safely, creatively, and lucratively.
We'll cover:
How to make the MOST of this event and your time with us (let's rock this!).
The TOP TRENDS in the wellness travel industry right now.
 Why transformational, experiential, and wellness retreats need to be more INTERACTIVE and multifaceted these days.
 What IS a retreat, and what is NOT? (Not every live event is a retreat!)
The power of ALIGNMENT in designing your dream retreat.
DAY ONE – SESSION TWO
Tues July 12th
Our Retreat Power Planning Checklist!
It's surprising how many items need to put in place to be able to plan, price, promote, market, and facilitate your awesome retreat. Our goal is to make sure that you don't get yourself in trouble because you didn't dot your i's and cross your t's! With our Retreat Power Planning Checklist in hand – you'll know exactly what steps you need to take to create your dream retreat safely, legally, and beautifully!
We'll cover:
The FOUR questions you need to answer to be able to promote your retreat.
The #1 question you MUST ask to choose a magnetic location – especially THESE days. (There's nothing sadder than a canceled retreat!)
Where the BEST and WORST places are to run a retreat (Don't make these rookie mistakes!)
To price your retreat PROPERLY and what to include (plus calculating your profit!)
What technology you need to have in place to market your retreat.
What insurance you need for your BUSINESS and RETREATS (Retreat insurance, Event Cancellation/Postponement Insurance, Trip Cancellation and Medical Insurance) and LEGAL FORMS – plus writing CANCELLATION Policies!
DAY TWO – QUESTIONS & ANSWERS!
Weds July 13th
Today you'll have a chance to ask questions and get some coaching in our special session! Ask us anything and let's have a blast together.
DAY THREE – SESSION ONE
Thurs July 14th
Designing Your Magnetic Sales Page!
Today is ALL about MARKETING! First we'll be diving into creating a STUNNING SALES page. Because without one – it's going to be VERY hard to sell out your retreats (unless you're famous of course!). Your retreat trip page needs to have specific elements on it to excite your potential clients and compel them to register for your event. By the end of this session you are going to know exactly what makes the perfect retreat trip page!
In Session One we're going to cover:
The TEN components of a deliciously magnetic sales page that SELLS.
Sheri's top 12 graphic tips for designing the PERFECT retreat trip page.
How to PROPERLY use photos on your sales page
Which items should NEVER be on your page
DAY THREE – SESSION TWO
Thurs July 14th
Strategies for FILLING Your Retreat!
Once your retreat sales page is done, you have to put your retreat out there. People will purchase your retreat as long as they fully understand THREE items:
1) the problem that's plaguing them;
2) the price of staying where they are and not addressing their problem; and
3) why your retreat is just what they need to solve their problem. Yet as obvious as this might sound, most retreat leaders don't take the time to educate their potential clients on these THREE major points. But by the end of today's class – YOU absolutely will!
In Session Two we'll be focusing on:
Why most retreat leaders have trouble marketing and the MISSING ninja strategy.
Education-based marketing – what it is and why you MUST be doing this!
TEN different ways to generate leads for your retreat (so you'll have qualified buyers).
BONUS SESSION
Monday July 18th
Our Wicked Fun Livestream!
We're going to celebrate our time together with a ROCKING 4-hour LIVESTREAM.  We'll be answering questions, coaching you, and speaking with students of ours who have created some fabulous retreats! Feel free to ask them questions and pick their brains. Bring your favorite beverage and come hang with us.


Now you might be asking, WHAT'S THE TUITION?
Just like we did for our fabulous, live, online retreat extravaganza last year – we're offering our "pay-what-you-can" tuition again for this event.
Meaning, you can pay any amount as long as you pay at least $1 USD. (I want you committed to showing up!)
The full tuition for this event is $97 USD. However, if you can only pay $1, $50, whatever – that's fine. Just please don't feel bad about it or judge yourself!
I'm doing this so that EVERYONE can attend
No excuses.
Keep in mind: There's a LOT of content – around TWELVE HOURS – and you may not get to attend all the sessions due to time conflicts. (You can see the exact session times listed in the FAQ section below.)
You have unrestricted access to the session replays until midnight Monday July 18th, New York time (6 days).
This should give you plenty of time to relax and participate in the event at YOUR convenience.
However, if you feel like you need to more time to dive into the material (maybe you're traveling??), then here's the deal:
If you choose to pay the full tuition of $97 USD you'll have "forever access" to ALL session recordings.
That way, everyone can participate fully.
And if you don't feel comfortable about paying in full BEFORE the event because you don't know us (YET!!!) just let us know after the event and you can pay the DIFFERENCE between what you paid when you registered, and the full tuition of $97 USD.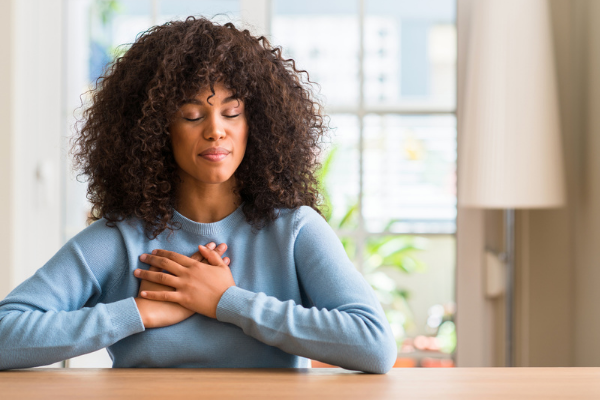 I've invested over 6 figures on education in the last decade from seminars, trainings, and masterminds for business and personal development from the top leaders in the space, and while most of them were amazing, Sheri Rosenthal's way of teaching tops ALL of them. Sheri, you are a Transformational Teacher and you articulate and communicate your topic in a way your people understand clearly. I didn't expect this at all even though my expectations were pretty high – which teaches me to remember the 3rd agreement to NOT ASSUME! I appreciate you Sheri, your event is mind blowing to me…. And for me to feel moved to type this, which I don't do much, tells me a lot. PS: most of the education here is not new to me – but the way you have put it together and deliver it hits home deeply.
WORLD CLASS!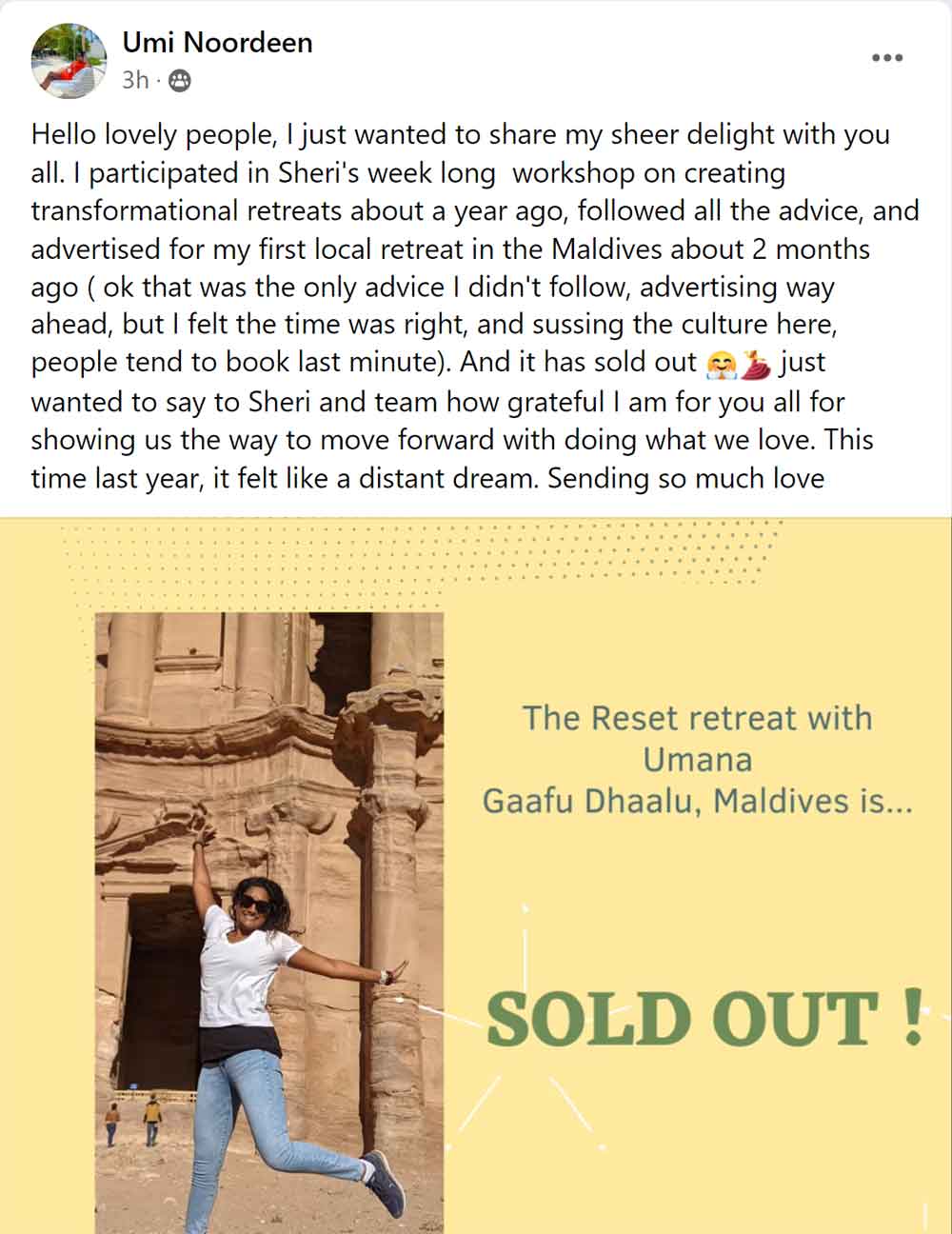 Retreat newbies! Did you know that….
Have NEVER made OVER $10k on a retreat and would like to!
Are uncertain about pricing their retreat & are worried about losing money
Are not sure HOW they're going to market & fill their retreat!
Sheri, is this event for me? The answer is YES if… 
♥​ You're serious about designing your FIRST transformational RETREAT that FEEDS YOUR SOUL, highlights your fabulous gifts, and expresses who you truly are…
♥ You're able to take the time and focus on YOU and your retreat concept, so you can create an experiential event that makes you proud…
♥ You want a better understanding of how to MARKET your retreats so they FILL and make the money you deserve for all the goodness that you give…
♥ And you're open-minded and ready to take the ACTION and TIME necessary to design a truly unique retreat that makes you stand out in your niche and creates lifetime memories!
Need to contact us? You can email us at awesomeness@wanderlustentrepreneur.com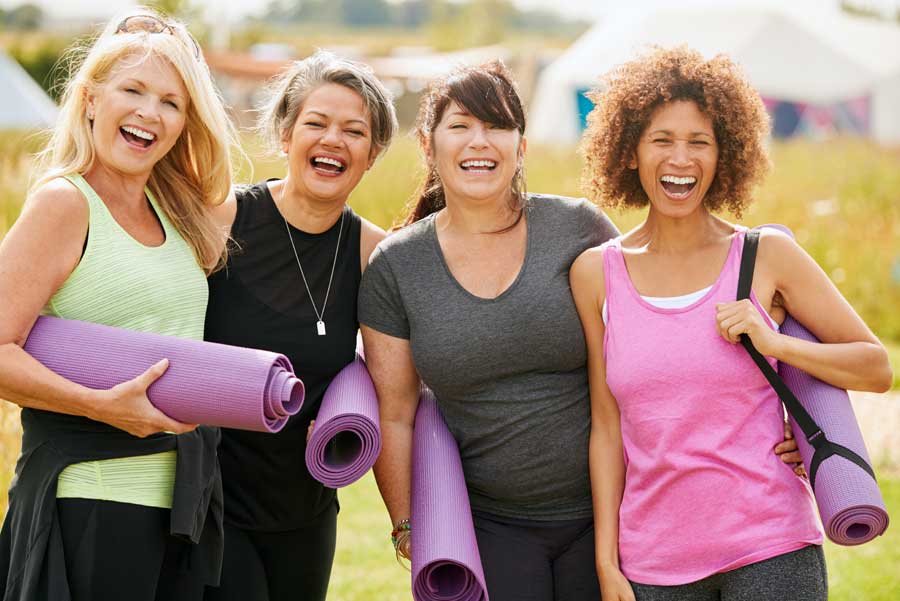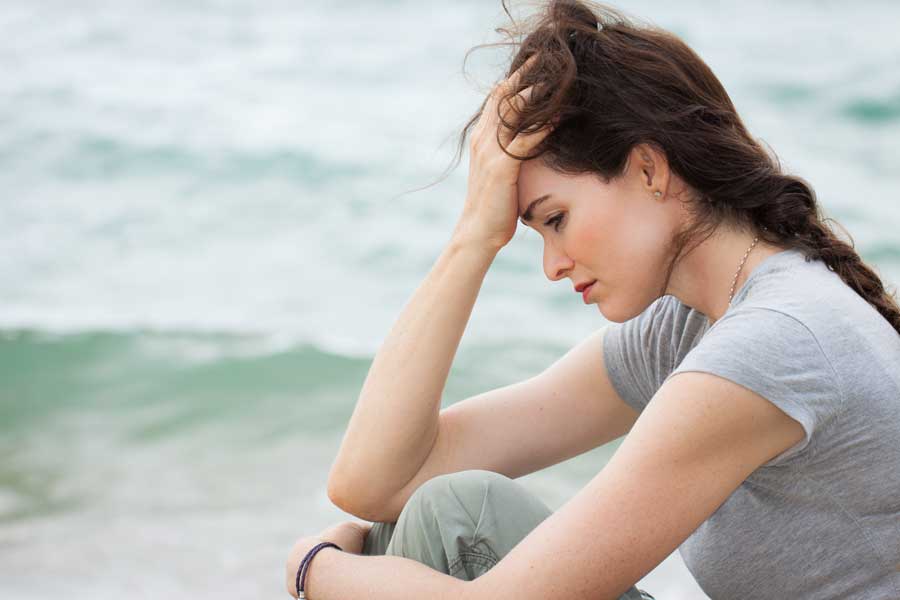 ♥ You don't have that fire in your belly for sharing your PASSION and PURPOSE in a HUGE way through retreats…
♥ You allow every EXCUSE and TECHNICAL ISSUE to stop you from doing what you need to do to succeed…
♥ You're afraid to put yourself out there in a BIG WAY, to show up for your community who needs you, and serve them through these difficult times…
♥And you aren't willing to GROW your retreat MARKETING SKILLS so that you can reach the people who are waiting for your help!
The world needs people who retreat from the world in order to see it more clearly.
~Patrick Shen
Q: Sheri who is this event actually for?
This is for you:
If you're just starting your business and you KNOW you have to be adding retreats to YOUR business model…
If you have a business and you realize NOW is the time to be running that retreat of your dreams…
If you know you want to PLAN and MANAGE in-country or local retreats for others (maybe you're a travel professional, meeting or event planner)…
Then this is the PERFECT event for you!
Q: What are the session times for the event?
Tuesday July 12th: 
Session One: 12pm-1:00pm New York Time
Session Two: 1:30pm-3:30pm New York Time
Weds July 13th: 
Q&A: 12pm-1:30pm New York Time
Thursday July 14th: 
Session One: 12pm-1:00pm New York Time
Session Two: 1:30pm-3:30pm New York Time
Monday July 18th: Bonus Session
Wicked Fun Livestream! 12pm-3pm New York Time
** This schedule IS subject to change and all the main sessions WILL BE RECORDED. Replays will be available until July 18th. 
Q: What if I'm just starting my business? Should I attend?
Absolutely YES! You'll learn everything you need to be properly set up to design, market and fill your retreats. And you'll learn how to do is legally and safely. PLEASE let us save you the time, money and frustration that comes from blundering around trying to figure out how to do it right!
Q: I'm a travel professional, event or meeting planner. Is this for me?
Oh yes!
This event is perfect for travel professionals, agents, meeting and event planners
and folks who want to plan in-country and local retreats for others. That's because you'll be surrounded by retreat leaders, and you'll see very clearly what their needs are and how you can serve them in the best way. You'll better understand THEIR needs and struggles, and how you can best serve them.
You'll be learning to do what my travel company, Journeys of the Spirit, has been doing since 2003. There is plenty of business out there and we are happy to help. We have lots of travel professionals as well as meeting planners at our events and in our programs.
Q: I have a conflict with some (or all) of these dates? What should I do?
This year we're going to offer unlimited access to the
session replays until midnight on Monday July 18th, New York time
(6 days). So there's PLENTY of time to watch the content when it's convenient for you.
However, if you feel like you're going to need to more time to dive into the material, then here's the deal: ANYONE who pays the full tuition of $97 USD will get forever access to ALL the teaching session recordings (we are not recording breakout groups). That way, everyone can fully participate.
And if you don't feel comfortable about paying in full BEFORE the event because you don't know us (YET!!!)  Just let us know after the event and you can pay the DIFFERENCE between what you paid when you registered and the full tuition of $97 after the event.
Q: What topics are you covering, Sheri?
You'll learn what you need to do
NOW
to run a retreat safely and get it marketed, FILLED, and making a profit!
We'll be diving into:
How to structure a retreat that's truly transformational AND experiential.
 How to get clear on WHO your retreats are for and WHAT problems they need you to solve.
 Picking a stellar LOCATION that matches the theme of your retreat.
 How to properly PRICE your event (so you don't forget anything) and have an awesome profit.
 Our TOP tips and tools for promoting and filling your retreat.
 Education-based marketing strategies to help you build and market YOUR BUSINESS so you don't have to "advertise" your retreats to strangers.
What information belongs on your trip SALES PAGE (to sell your retreat and to protect you).
 What kinds of insurance, legal forms, and cancellation policies you need to have in place PROTECT yourself.
 How to make EXTRA INCOME from monetizing your retreats.
You CANNOT miss this event if you have plans to run a retreat this year or next.
Q: If I've already taken the Retreat Blueprint or Retreats Made Easy, is it worth coming to this event?
As you've already experienced, we love peeling back the curtain on how to create a TRUE transformational destination retreat.
You do have all of this material in our programs
, however, if you feel that you could use a refresher, do join us!
Besides, the ability to meet new friends, be inspired, and have fun is just what we all need right about now!!
Thank you! Thank you! Thank you! You've ALL been so wonderful. It's so inspiring to experience this level of care and excellence. It makes me so excited to be learning from all of you – such a great example!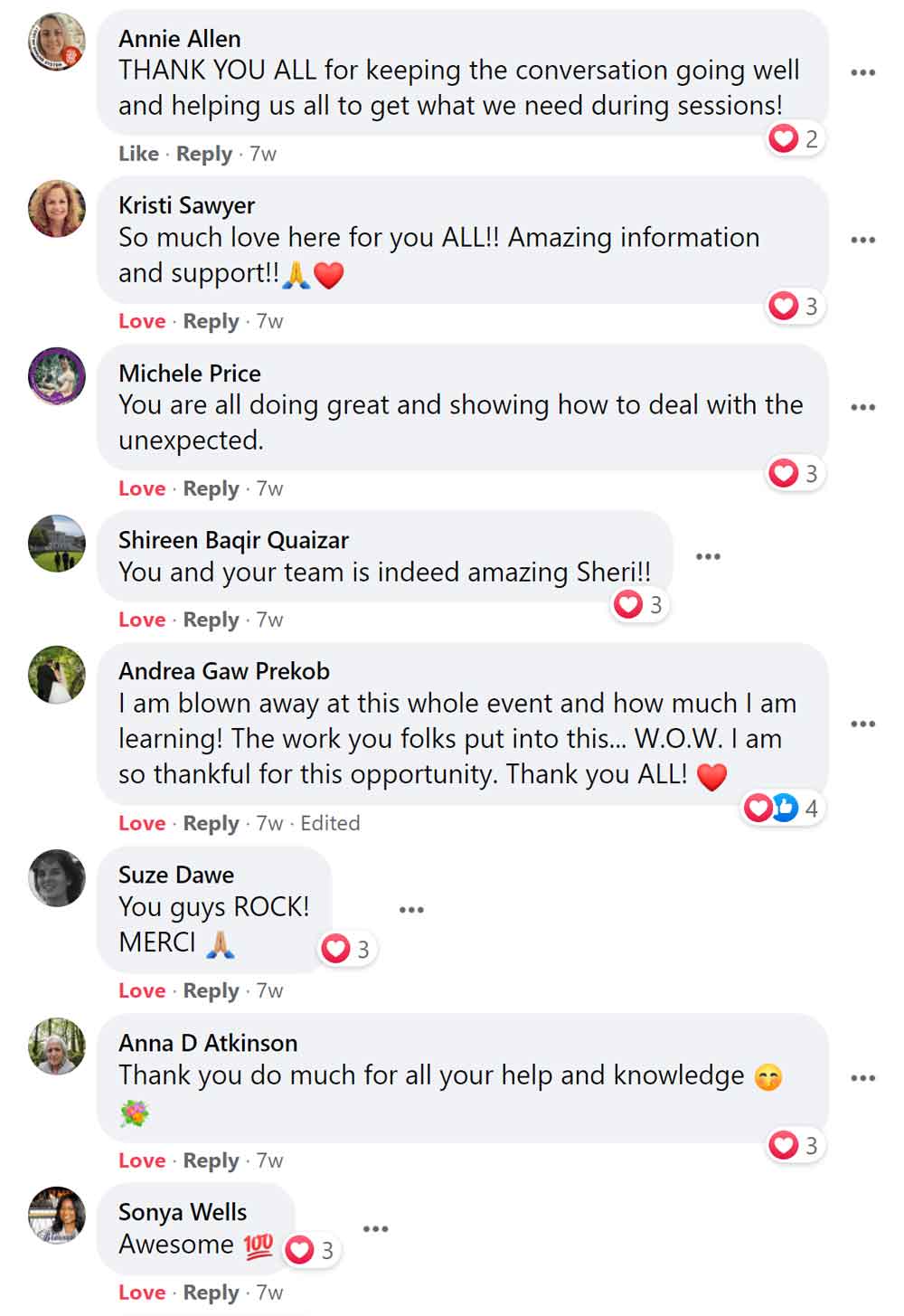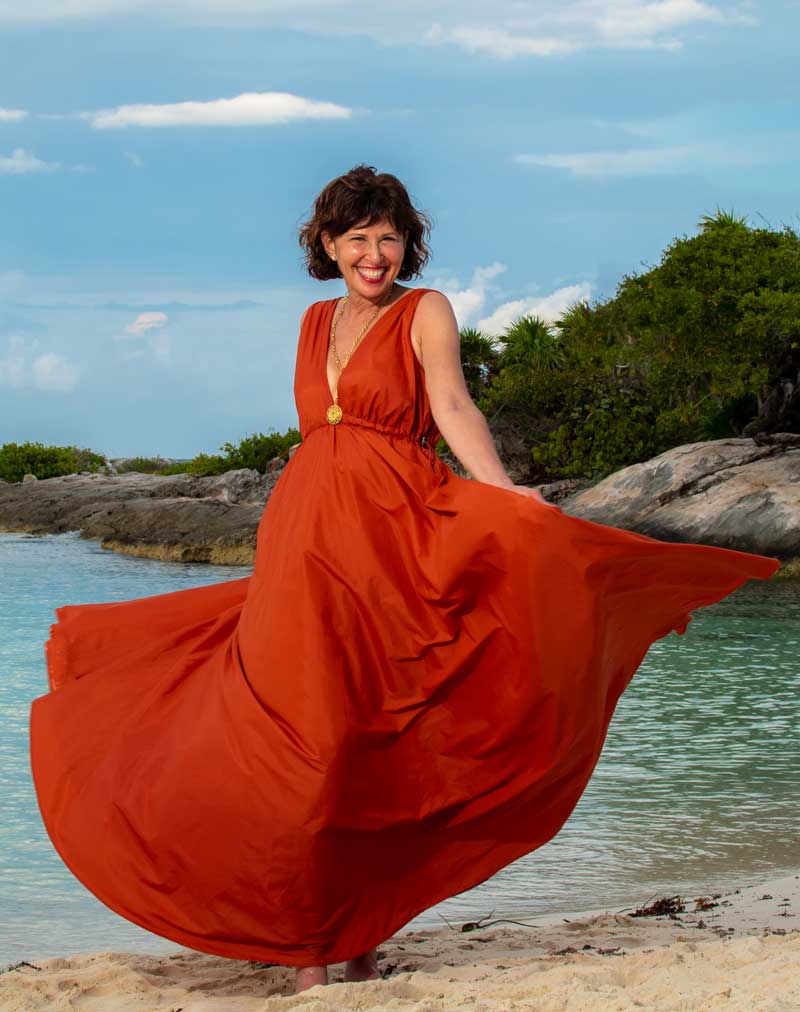 Hi! I'm Sheri Rosenthal, and like many of you I'm a coach, author, speaker, and retreat leader.
After 18 years of practicing medicine and being trapped in an office, my biggest fantasy was creating a lifestyle that allowed me to travel, work, and live anywhere in the world. When I sold my practice, I felt like I could FINALLY create my dream life.
That was back in 1998 and after leaving medicine, I started studying and working for don Miguel Ruiz, author of The Four Agreements. I became a retreat junkie and in 2003, I created my own travel agency, Journeys of the Spirit® – a boutique travel agency specializing in experiential travel and transformational destination retreats.
In 2014 I created Wanderlust Entrepreneur, where I've taught thousands of passion-driven entrepreneurs how to design experiential transformational retreats through our online programs, as well as our live and virtual events (like this one).
Over the past 20 years, my team and I have designed, marketed and facilitated scores of retreats of our own — not to mention the scores of retreats we've co-designed and co-marketed for other retreat facilitators! So truly, there's NOTHING that we haven't seen in the business!
We want to TEACH YOU ALL our hard-earned secrets of the trade so that you can:
Design a retreat sales page that people can't resist signing up for….
Create your very first retreat knowing that you aren't going to have to cancel because you can't fill it…
Feel confident about pricing your retreats properly so you don't lose money…
Fully understand what you need to do to market your retreats…
Know that you're protecting yourself legally while running your retreats!
Meet Your Event Guides & Staff Members!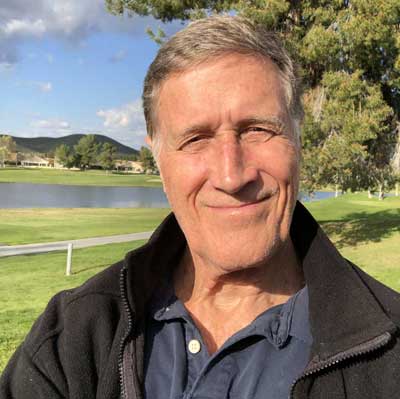 Brandt Morgan – Chief Retreat Coach & Wordsmith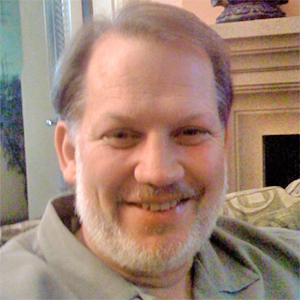 Leo Van – Retreat Coach & Pricing Wizard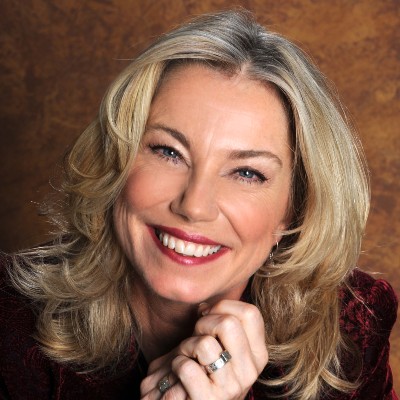 Eva Charlotte – Retreat Coach & Mindset Magician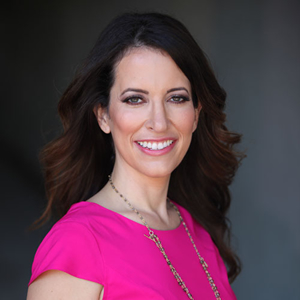 Melanie Scott – Retreat Coach & Copywriting Queen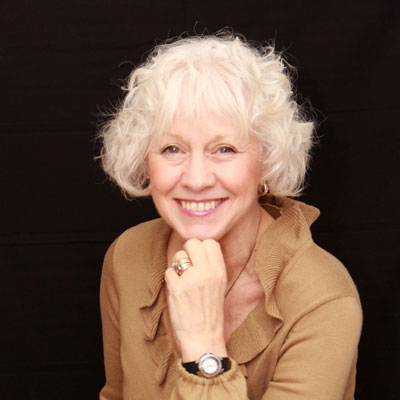 Glenda van Koot – Retreat Leader & Concierge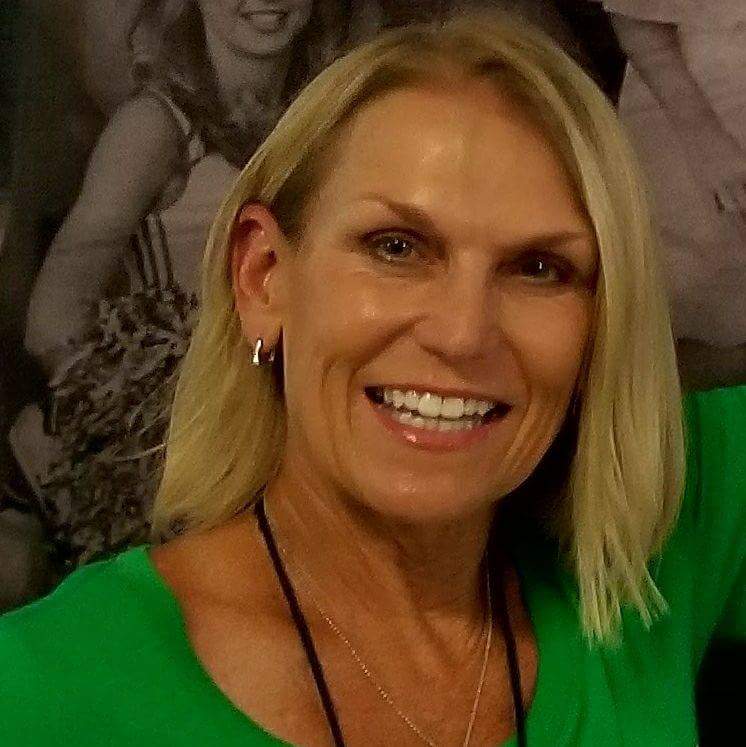 Sandi Lake – Retreat Leader & Concierge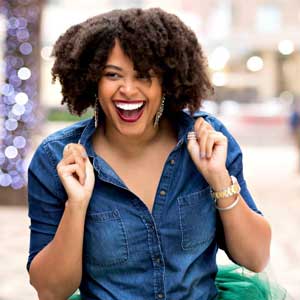 Colet Williams – Retreat Leader & Social Media Maven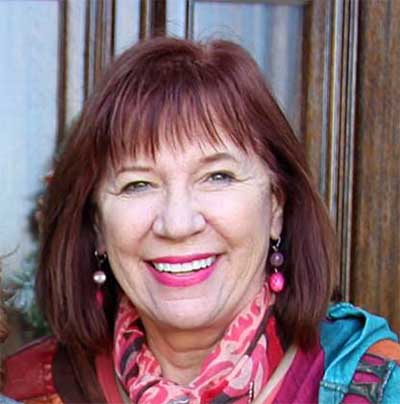 Linda Schwader – Retreat Leader & Strategist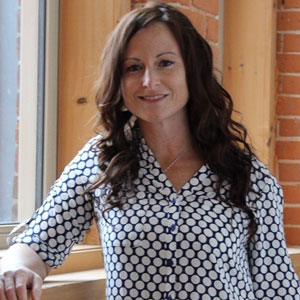 Mel Ireton – Director of Customer Happiness & Programs Expert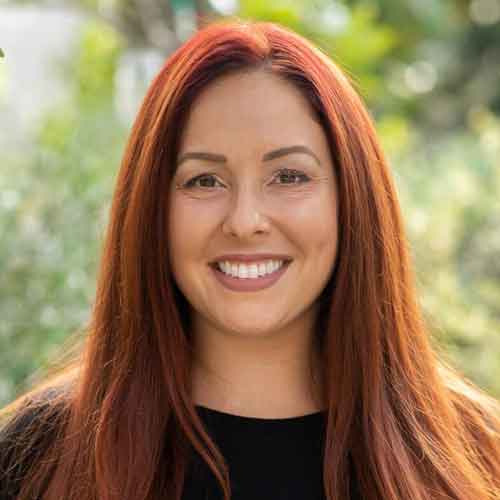 Leslie Field – Customer Service & Retreat Leader