FINALLY! The blueprint for creating a retreat that actually sells AND that teaches you how to avoid all the pitfalls that cause most coaches, authors, and facilitators to lose money on their retreats.
Here's what you'll learn…
…in the Plan, Fill & Profit Retreat Blueprint program with me!
Module One – Design Details
In this module we're going to cover the details of creating an amazing retreat that's deeply transformational, absolutely unforgettable, and nets you a GREAT profit! We'll dive deep into:
The finer points of what it means to create a deeply transformational event that is a retreat, not just a workshop in a pretty place.
We'll help you nail down your juicy theme, a clear promise, your ideal client, their pain points & your retreat benefits to excite your audience!
How to align your dream location with what you're teaching.
…and so much more!
Module Two – Retreat Requisites
In this module we're going to focus on the behind the scenes secrets that most people aren't even aware of – the little things that add up to making a huge difference in how you design and run your retreat. We're going to explore:
Negotiating your retreat center contract (you've gotta watch how you structure your payments!)
Those special activities + unusual experiences folks will never forget!
Extra touches that will make your retreat AWESOME!
Avoiding cultural misunderstandings overseas (a critical issue)
The benefits of using a travel agency or tour operator so you feel comfortable booking your retreat worldwide!
…and so much more!
Module Three – Pricing Procedures
Pricing your retreat correctly is bar none the most important and critical factor in making the kind of money you deserve from your retreat. You can't afford to miss this module! My system teaches you:
The PROPER formula for pricing your event (so you don't LOSE money)!
How to add in room + board, transportation costs, advertising & all your expenses the correct way!
Creating your cancellation policy (this can save you thousands!).
How to figure your net so you get paid what you're worth in the world!
…and so much more!
Module Four – Promotional Practicalities
Once you price your event unless you can promote and sell it – it's dead in the water. This module will give you the tools to create a MARKETING PLAN for your retreat so it can SELL-OUT! You'll learn:
What information belongs on your trip page (to sell your retreat + to protect you)?
How to creating scintillating sales copy that inspires & sells!
If you should you list your pricing or have an application?
Sixteen ways to market your retreat (simply advertising your retreat won't do it!)
Monetizing your event (to upsell your participants into your high-ticket programs)!
How to use Facebook ads… and so much more!
Module Five – Establishing Excellence
In this module we're going to cover how to show up for your event, how to deal with your state of mind, and your clients limiting beliefs and emotional process. We'll explore:
How to show up for your event + give your very best.
What to do when participants get emotional + project outwardly.
Your client's beliefs and emotional processes (it can get messy sometimes).
Dealing with yourself when you feel resistance to a participant.
How to learn from your experience + create excellence!
…and so much more!
Module Six – Business Basics
You can design the greatest event but what about the LEGALITIES? Do you have the proper insurance to protect you? And are you using legal forms that cover you? I hope so! We'll cover:
Professional Liability Insurance (are you coaching without this? I hope not).
General Liability Insurance (when do you need this?).
Trip Cancellation + Medical Insurance (you never know what's going to happen…).
All the crucial legal forms for your trip (this is worth the entire cost of the program)!
How having a corporate business structure can help protect you!
…and so much more!
Not To Be Missed Killer Bonuses!
I'm giving you ALL the worksheets that I've been using in my biz for the past 15 years!  Plus my list of retreat centers, villas, and boutique hotels worldwide. AND even crazier, if you take FAST ACTION and register in the next 3 days you'll receive all my legal forms – for FREE – which you can take and get customized for your business!
Here's what you'll receive:
Retreat Centers Worldwide – a fabulous resource saving you HOURS of time
My Pricing Worksheet – you CANNOT price a retreat without this
Cancellation Policy Worksheet – priceless tool that can save you thousands!
Retreat Reconciliation Worksheet – a great tool that keeps you on top of your money
Retreat Participants Worksheet – everything you need to know about your participants in one place!
Payments Worksheet – make sure all the money due in has come in!
Retreat Planning Calendar – a fabulous little tool for laying out your retreat
Retreat Website Templates – to make it easy to create a great trip page
Retreat Countdown Checklist – lays out exactly what you need to do and in what order before, during, and after your retreat
Participant Registration, Health, & Information Forms – that your clients are going to fill out and refer to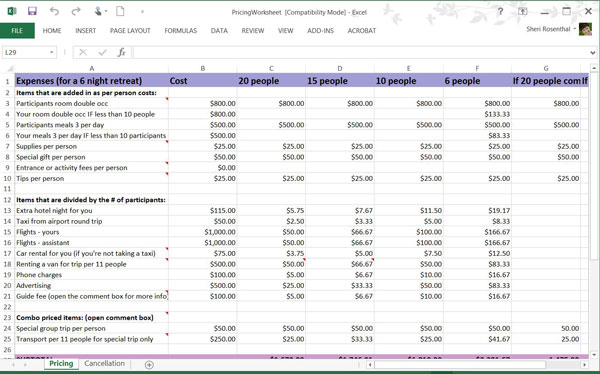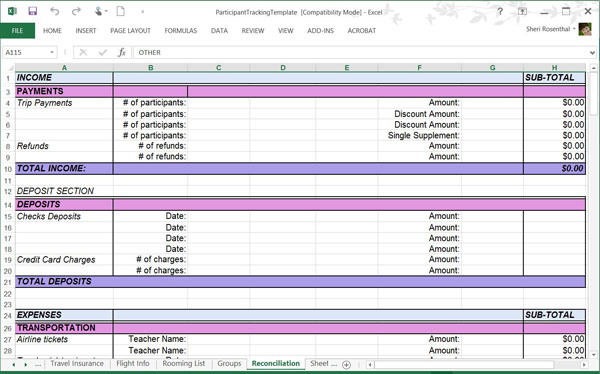 Sheri, how are you going to deliver the six course modules? (Plus the LIVE classes!)
Even though I had already led two very successful retreats to Costa Rica, I had no idea how to handle the legal, disclosure, and insurance details. Not only did this cause a lot of stress, but it ended up affecting my bottom line. By taking the course, not only do I have access to all the "done-for-you" templates that I absolutely need, but to my surprise I also learned how to do powerful Facebook Ads so I can fill my retreats with ideal clients. I also have much more clarity about how to create beautiful, jaw-dropping retreat copy that will have women saying, "I have to do this!"
Katana Abbott, CFP®, CSA™
When you sign-up for "Plan, Fill & Profit Retreat Blueprint," you'll receive:
Z Access to one year of 26 LIVE coaching classes! (all recorded, just in case you miss one).
Z Six course modules you can watch anytime (you have lifetime access to the online course modules).
Z Transcripts for each video course module.
Z One year access to our Facebook group and community, where you can share ah-ha's, resources, ideas, and revelations — AND get answers from us.
Z All our CRAZY bonuses, my proprietary forms & worksheets!
Z As soon as you register, you can start the online course and work at your own pace.
Z You can print out the video transcripts and worksheets if you'd prefer to work offline.
Z Our LIVE coaching calls alternate times to accommodate different time zones.
Z And for taking FAST ACTION: And you'll get my liability forms FREE if you register in the next 3 days!
Let's take a moment to review what you're receiving in this course…
My personal vault of Retreat Specific Legal Forms that have safely covered my back-end from Panama to Tibet (signup in the first 3 days).
VALUE: $3000
All my worksheets for pricing, working out your cancellation policy, tracking participants' payments, flights & info, your reconciliation worksheet, the retreat planning calendar, and more!
VALUE: $500
All my participant registration, health, and information forms that your clients are going to fill out and refer to.
VALUE: $200
My Ultimate List of over 2000 Retreat Centers, Villas, & Boutique Hotels Worldwide — a fabulous resource that will save you HOURS (if not DAYS) of time.
VALUE: $500
One year of 24 LIVE coaching classes designed to give you the confidence you need to create the retreat of your dreams!
VALUE: $3500
One year membership in our private Facebook group, where we'll be answering questions and helping you year round.
VALUE: priceless
That's a total value of $9700!
But I'm NOT going to ask $9700 for this course (although I could) because I'm passionate about travel & transformation — and I believe you are, too, or you wouldn't be here!
…I'm offering the course to you for only $9700 $1997!
$25,000 IN ONE MONTH!
I have invested over $100,000 in coaching programs and trainings over the years, and NOT ONE has been as effective, helpful, and thorough as The Retreat Blueprint Program.
The level of individual care, insight, and expertise that Sheri and Meghan offer in the program has made all the difference — not just on my retreats but also in my coaching and healing business.
After taking this course, I netted over $25,000 on my retreats in one month, making back my investment many times over. If you want to plan a destination retreat, don't hesitate to sign up today. You'll get more than you possibly can know!
Julie Lewin
100% NO RISK GUARANTEE
30 Day Money-Back Guarantee
Everyone here at Wanderlust Entrepreneur is 100% committed to you offering successful and profitable retreats within your business. We know our program is the best on the market and it works. That's why we give 30 days to review and use the first 4 course modules. If you do the work and don't feel we've delivered on our promise, we'll happily refund 100% of your tuition.

To be eligible for a refund, simply submit your completed homework from Module One on private facebook page to show us that you did the work. We do this because we want committed, action-taking retreat leaders and travel professionals in our course and in our community!
So what's the bottom line? The bottom line is the bottom line! I started working with Sheri about 10 years ago. To say the least, she's amazing, and she REALLY knows what she's talking about. When I planned my own retreats, I always lost money.
Sheri has always created retreats for me that sell — and more importantly, THAT GENERATE A PROFIT!
I have only one suggestion: TAKE THIS COURSE. Or have her design your next event. Better yet, do both!. Sheri has a huge heart and explains things in an easy-to-understand way that makes sense!
Susan Gregg
Sheri, I've got questions….
Q: I want to know why this program is so special!
Simple.
There aren't any programs out on the market right now like it –
period
.
Sure there are a couple of courses out there that teach how to create & fill a workshop, but nothing focusing specifically on retreats that gives you all you need to plan, fill & profit from your retreat, or for that matter all the forms & goodies you need to create your event (like your pricing worksheet, legal forms, cancellation policy worksheet, and all your done-for-you forms).
Q: I don't plan on creating a retreat for at least year. Can't I wait until then?
Absolutely NOT! To fill a retreat properly and do all your planning I recommend giving yourself a year out to plan for your event. That way you can create a launch strategy that will guarantee that your destination retreat will sell-out. In addition, you will give yourself enough time to work through the course and be able to learn and apply the concepts – plus have the time to do your research without feeling rushed.
Q: What if I miss one of the mastermind sessions?
No problem! We know everyone has a busy schedule. Each of our mastermind sessions will be recorded and placed in our private site so you can review it at your leisure. Of course, you'll get the most benefit from showing up live to get your questions answered, but the material will always be available for review afterward.
Q: It's just me. Can I plan a retreat all on my own?
Yes you can, I've done it for years! 
However – once you learn the system I do recommend you eventually get help with the areas you truly do not enjoy doing or that you feel are not your genius. We do address this issue in the course. In fact, my travel company, Journeys of the Spirit® has a special program where
we can take over the management of your retreat for you
 so you can focus on teaching if that makes you feel better. What is really important though is that YOU learn everything so that you fully understand the financials, legal issues, and marketing so that you can properly inform and teach your
future
staff.

Q: Sheri, what if I fall behind?
No worries! The online modules have forever access. So once you join you can always go back into the course and watch the videos at any time.
PLUS you have one year access to the 26 LIVE coaching classes that run all year long as well as our amazing Facebook mastermind group. Keep in mind that this is not a course group for folks just to meet each other – it's where you post your homework and trip pages for us to comment on and help you with. This is one of the most powerful aspects of our course. I don't know of any online course that offer our level of one-on-one interaction and we're proud of that. If after the year is over and you want to continue with the live coaching and Facebook group you will have the option to join our membership program!
Also, we're not going anywhere and you can take your time in learning the material.  We're not looking to stress anyone out here – after all this is about creating relaxing, transformational retreats!
Q: Am I on my own here? Will you be able to help me with my retreat?
There will be 26 LIVE coaching classes where you can get in the "hot seat" and we can work one-on-one with you on your retreat ideas! Even when the course is over you'll have the support of the Facebook private group where you can ask questions and get help and ideas from each other – plus from me and my team. No one is leaving you to fend for yourself here. You also have the option to have private time with me or my team to discuss and plan your retreat if you need it – and that can be arranged at an additional cost.
I had done retreats before, but they were isolated events in my business that took a lot of work to create and caused a lot of stress.
I wanted to have a system in place where I could ensure the success of my retreats while turning them into a seamless, profitable extension of my business. Sheri's course really hits the mark on all these points!
She's a caring, knowledgeable, and experienced guide who will lead you through all the ins and outs of crafting your retreat, and she will share so much that will boost your business as a whole!
I highly recommend it for anyone struggling with creating and filling their retreats.
Mariko Hirakawa, E-RYT, B.A.M.S.
I'm Sheri Rosenthal, and I've been a serial entrepreneur and world traveler my entire adult life.
So back in 1999 I was really struggling in my life. I had gone through two divorces and was working hard each stress-filled day as a podiatrist (a foot doctor) and surgical residency program director.
I always loved the idea of having my freedom and being able to travel more than my 3 weeks of vacation time every year. But I had no idea how to make that a reality so I buried my dreams and kept my head down.
Finally, depressed, unhappy, and hating my life and business, I decided to sell my practice and everything I owned – including my boyfriend – at the time. (Well, I really didn't sell my boyfriend, but I would have liked to if I could.) My family and the medical community were horrified at my decision.
Yet in my heart of hearts I knew I had a greater purpose and was meant for so much more than living a mediocre life. It was a drastic leap of faith – and yes, it was very scary.
During this time, I received the New York Times bestseller The Four Agreements by don Miguel Ruiz I saw that he had an upcoming retreat to the sacred pyramids of Teotihuacan Mexico during the exact time I normally took my vacation.
I had never been on a retreat in my life – but I took a chance and went anyway despite my doubts. The retreat ended up being a pivotal moment where the trajectory of my entire life changed direction. It was SO much more effective than therapy! 
While in Mexico, I met incredible friends from around the world, opened my heart and mind, and experienced a truly magical part of Mexico – all in just 6 days! Plus my point of view, perspective, attitude, direction, level of self-awareness, confidence, self-love all shifted!
Well, my practice finally sold, I moved to California, started studying with don Miguel, and serendipitously began running his retreats, workshops and his overall business.
Now I just want to digress from my story for a moment to point out something extremely critical to you about the power of retreats. I want you to understand that from that one initial retreat don Miguel gained a student for 8 years who attended every workshop, program, and retreat that he created.
Think about that for a second from a business perspective – I easily spent around $75,000 on follow up programs with him over the following 8 years and I would do that again in a skinny minute for the changes it made in my life!
Now multiply that by all the other participants on that retreat who continued to work with him too – and there were around 50 on that trip, so that probably added an additional million dollars or more to his bottom line over the following years! (And we want the same for you!)
Fast forward to 2014… By this time, I had been running my own retreats and helping hundreds of heart-centered facilitators run their amazing retreats since 2003 through the boutique travel agency that I created, Journeys of the Spirit.
I was totally smitten with retreats and the effect they had on the participants – not to mention that YOU as the retreat leader also grow in your own self-confidence in what you share with the world and your ability to stand in your power. Gosh I get so emotional about this.
Then it finally dawned on me that I could help others much more effectively if I created a program to help my retreat leaders end their troubles with filling their retreats AND start making the kind of money they should be making.
And that's how and why Wanderlust Entrepreneur and the Retreat Blueprint Program were born.
We've had participants add tens of thousands of dollars to their income and take their clients on their first retreat to a place they've always dreamed of going. And others have doubled the number of people who have attended their retreats.
In our course, we'll explain how you can avoid the most common mistakes retreat leaders make – and this applies to both newbie retreat leaders and highly experienced ones – and of course ALL the solutions to fixing these.  I hope you join us!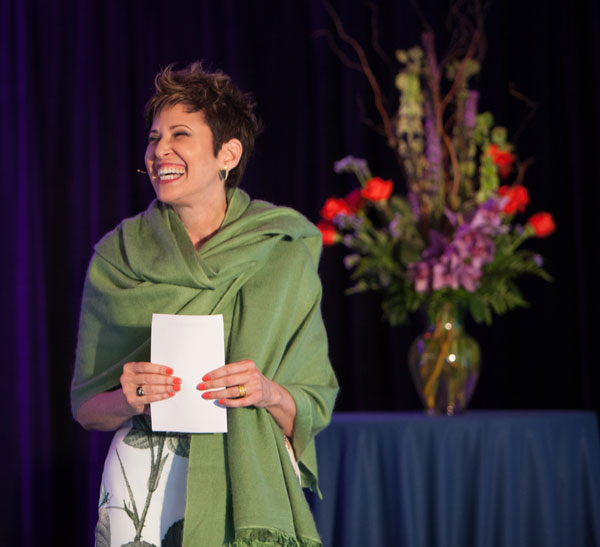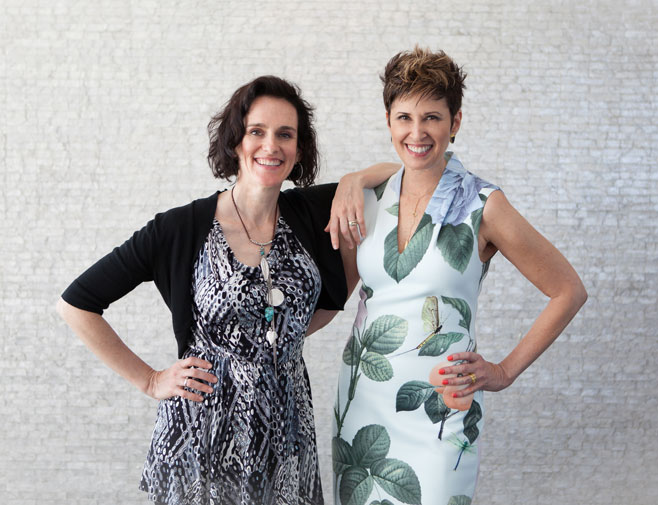 You'll learn our proven strategies to design, promote, sell out, and monetize your transformational retreats so you can:
Design the destination retreat or journey of your dreams.
Create the perfect retreat page that sells.
Have a specific system to price your retreats so you never lose money.
Create a marketing plan to get your retreats filled + never have to cancel.
Have the proper legal forms to protect you + your company.
Understand how to deal with the crazy issues that come up on retreats.
Monetize your events so that you add 10k, 50k or even 100k extra to your bottom line!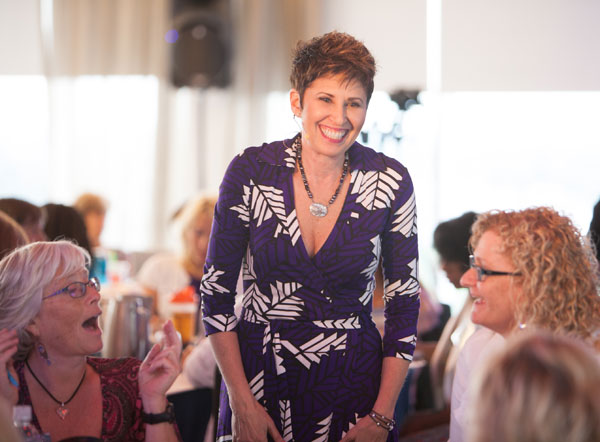 Want to fill your retreat?
Keep your marketing "on task" with our nifty Promo Calendar - the exact tool we use to manage all our marketing for the year!