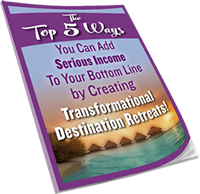 Get our TOP strategies for adding serious income to your bottom line!
LEARN HOW TO CREATE LIFE-CHANGING,
LUCRATIVE RETREATS THAT CLIENTS RAVE ABOUT!
I love Mexico. I've run sooooooo many retreats there over the years, and my personal experience has always been that the people are easy to work with and the prices are pretty darn good! And how can you beat that? That said, there's a really cool villa that caught my...