No one wants to sound like a bumbling fool when contacting a retreat venue or hotel to inquire about booking your retreat, right?
And you want to make sure that you ask all the right questions so that you don't get yourself into a bind with the contract, room reservations or hundreds of tiny details that go into pulling off a well-planned retreat.
After all, the location that you pick will set the vibe from your group's experience! No one wants to stay in a fleabag motel or one that looks better in the photos that in real life.
So let's make sure you know the 10 Questions to Ask Before Booking Your Retreat Venue so you can sound like a pro and have all the info you need.
First things first. Before you reach out to the retreat venue, you'll want to do your homework.
Do take a good look at your potential retreat venue's website and see which of the following questions you might be able to answer yourself – venues won't want you wasting their time with questions that are readily available.
Yet surprisingly, many retreat venue's websites lack a lot of basic information so you'll most likely need to ask for it in an email to their group sales department, if they have one, or to the retreat venue owner/manager.
Then you'll want to make sure that the venue you are scoping out is one that's worth your time in making inquires. So do make sure you check out the their reviews on a website like Trip Advisor. You can figure out if the place rates or is not as nice as you think by reading what other travelers have to say.
Alright, now on to the questions you'll want to ask via email. And don't forget to include the dates you are considering and the number of guests that you estimate will come on your retreat – it's frustrating to them when you forget to include that critical info!
1. What are your group room rates for both single and double occupancy?
Time for a quickie tutorial on industry lingo. The "rack" rate at a venue is the full standard rate for a room aka the price they quote to the public. Yet most venues also offer a group rate for a block of rooms that is discounted to travel agents or group leaders. So make sure you are inquiring about group rates.
Also, if the retreat venue's website doesn't specify, you'll want to know exactly how many single and double rooms they have to make sure they can accommodate a group your size. Most retreat attendees do NOT want to share a king size bed with a stranger – so you better be crystal clear on what the bed situation is!
Finally, you'll want to pay special attention to whether your room rates are quoted as per person or per room because that makes a huge difference in your pricing!
2. Do you give the retreat leader free room and board?
Here's a hot tip! Many retreat centers and even some hotels will give the retreat leader free room or free room and board (food) especially if you are bringing either 10 or more participants or booking 10 or more rooms. Every venue has a different policy – and this also matters for your pricing, so make sure you ask!
3. Do you have a group meeting room available?
Having a private space for your group to meet so you can teach for a few hours or facilitate a group sharing circle is often vital for your retreat. If you're offering yoga retreat, creative retreat or even if you are doing a business retreat, you'll obviously need a space that works for those situations.
Make sure you ask them if it's available during your stay and if so, is the cost for that included or separate?
So ask for what you want and need and don't be shy about requesting a photo of the space if it's not on their website so you can make sure it has plenty of light, space, access to the outdoors – or whatever features are important to you.
4. Can you arrange transportation to and from the airport?
Most retreat venues can help with transportation, but sometimes you do need to arrange your own for your group. And you'll need to know the cost for that so you can include it in your retreat budget and pricing if they don't include this cost in your group pricing, right?
5. Can you accommodate my group's food needs?
More and more retreat participants have special food needs these days so it's important to know if your venue can accommodate vegetarian, vegan, gluten-free, dairy-free or other food allergies if you are planning to eat at the venue.
Not all venues, especially in other countries, are equipped to cater to special dietary requests but most are, so ask and be in the know.
6. What is your required deposit amount and payment schedule?
Now let's move into money matters. You must know how much your deposit amount is – typically between 10-50% and also when your next payments are due. Every venue has a different policy.
You'll want to know this so you can either have enough cash on hand upfront or make sure you are receiving enough payments from your retreat participants to make your venue payment schedule. You don't want to get into a cash flow crunch!
And remember, you can always try asking for different terms if their deposit or payments are deal breakers for you. If you don't ask, you won't get!
7. What is your cancellation policy?
Knowing your cancellation policy is crucial so you can state it on your retreat website (this is a legal requirement). Knowing it also means you can keep an eye on your numbers to make sure your retreat is going to fill. You need to know when you would have to cancel by, if you don't have enough participants.
You'll want to read the fine print and know the attrition policy – which is the number of rooms you can add or drop as your retreat date gets closer and as you finalize your numbers. Depending on the venue, this can apply to meals as well.
Finally you must understand if your deposit and payments are non–cancellable and non–refundable (most likely) or if they are refundable or transferable to a different date.
8. How far in advance do you suggest booking my reservation?
Some venues are sizzling and if you don't book a year in advance, you'll never get in. Others have more flexibility, but depending on your group and venue size, you may still need to book 6 months to a year in advance.
9. Can you suggest any group activities that would relate to my retreat's theme?
If you've been hanging around us for any length of time, you know that we are big believers in aligning what you teach or share with your retreat location and activities. So if you explain the name, theme and add a brief description of your retreat, then your venue is more likely to be able to make some unique suggestions of activities in the area.
I'll never forget the time I asked the retreat owner for ideas for my "Stand in Your Power Retreat" to the pyramids of Mexico. She kindly shared with me how to access a recently unearthed and little known tunnel within the nearby archaeological site, suggested a side trip to the little known local hot springs and waterfalls, and told me about a sacred cave only the locals knew about. Even though I had been going to this location for years, these were all new to me and added a lot of transformation and value to my retreat.
10. Do you have any ideas for a cool lagniappe for my group?
One way you can create a really welcoming and memorable feel on your retreat is to include a "lagniappe," which is simply an extra free gift that your participants weren't expecting. If you can tie this into your trip's theme, all the better!
So for example, if you were doing a health + nutrition retreat in Italy and wanted to send your peeps home with recipes, wouldn't it be a lovely touch to also include a bottle of olive oil and balsamic vinegar that is from a local vineyard? Of course it would!
Other special touches might include, say, a special meal with a local indigenous family or welcoming reception or flowers in your meeting room. Make suggestions or ask the venue what ideas they might have for taking your retreat to the next level.
Finally, ask yourself: how's the communication with your venue?
Now that you're armed with the questions that can make or break your retreat, pay attention to what kind of reply you receive – does the venue seem helpful and cooperative? Did they send a timely reply?
While other countries may have a different speed of response in doing business than you're used to, you can tell a lot about how smoothly your retreat will go from your interactions with the retreat venue.
Carefully doing a little research and then asking for details and ideas will help you choose the perfect destination for your next retreat – one that you and your participants will enjoy!
And if you'd like to learn practical strategies for planning and marketing a successful, profitable transformational destination retreat, then you must join  The Retreat Blueprint Program. There you'll learn the fine art of creating retreats that sell-out and change lives in a profound way.
To your wanderlust life, Sheri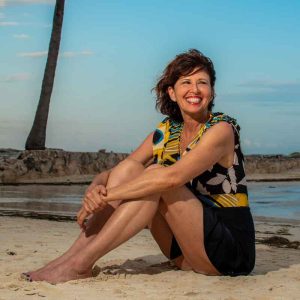 Dr Sheri Rosenthal is known as one of the most sought after retreat strategists for coaches, speakers, and authors — and is the owner of Journeys of the Spirit Travel®, a boutique agency specializing in the planning and management of group travel.
Through her Wanderlust Entrepreneur Community and her signature course, The Retreat Blueprint Program, she has taught thousands of facilitators how to design exceptional retreats that allow them stand out in their niche. She is famous for helping clients plan, fill, and profit from transformational retreats that change lives in a huge way while adding serious income to their bottom line!