I love Mexico. I've run sooooooo many retreats there over the years, and my personal experience has always been that the people are easy to work with and the prices are pretty darn good! And how can you beat that?
That said, there's a really cool villa that caught my eye recently in Oaxaca that I HAVE to share with you!
Now, keep in mind that Oaxaca is both a city AND a state in Mexico, and I don't want you to get confused.
Today, I'm not talking about the city of Oaxaca (which I absolutely adore), I'm talking about a stunning villa called Casa Niku on Playa Plataforma, a 30-minute drive from Puerto Escondido Airport (PXM) on the Pacific coast in the state of Oaxaca. ¿Entiendo?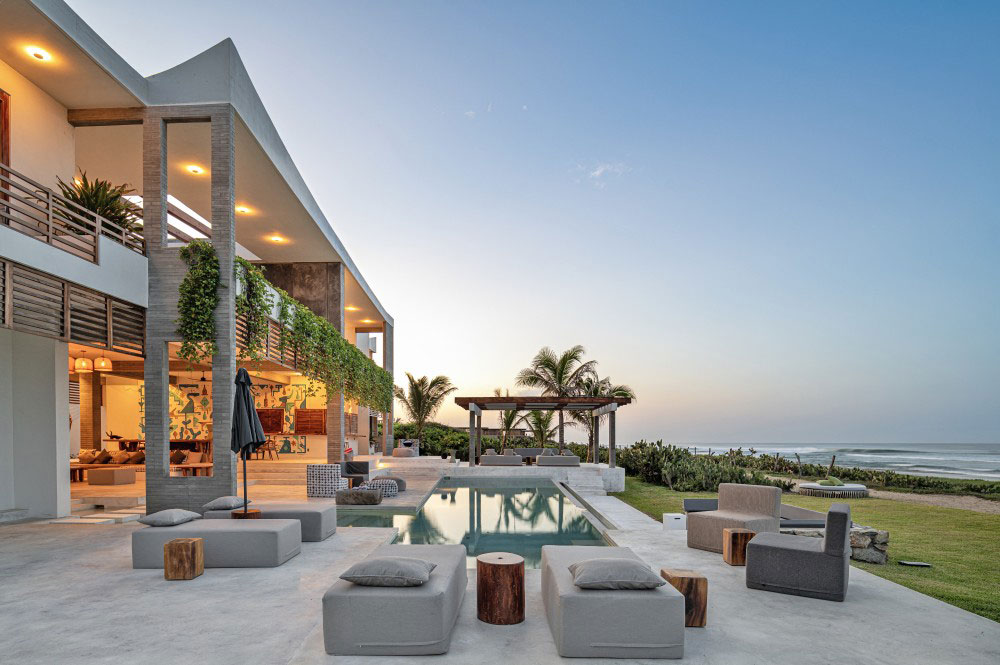 Obviously this villa's not going to fit a 30 person retreat, but it will certainly work for 8-10 people. Here's the room layout:
Suite 1: 2 Queen Beds, Oceanview, Bathroom, Terrace
Suite 2: 2 Queen Beds, Oceanview, Bathroom, Terrace
Suite 3: 2 Queen Beds, Oceanview, Bathroom, Terrace
Suite 4: 1 King Bed, Oceanview, Bathroom, Plunge Pool, Terrace
Suite 5: 2 Queen Beds, Oceanview Bathroom, Terrace
That's a pretty nice looking suite – plenty of room, great view, simple and clean lines – PERFECT!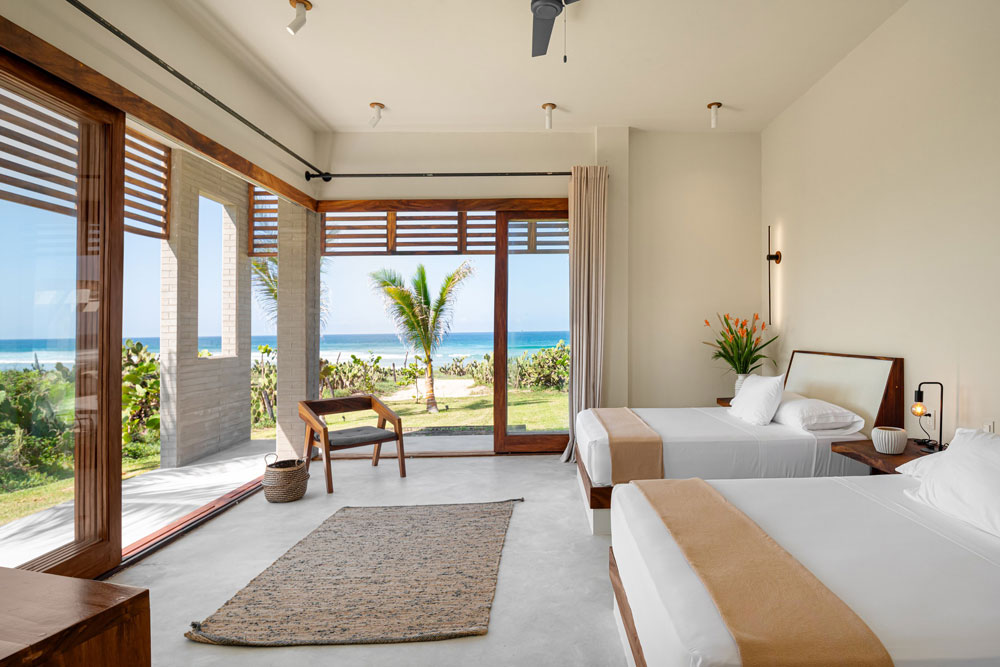 You might not know this, but Puerto Escondido is one of the world's most sought-after surfing destinations and one of the best spots in Mexico for deep sea fishing. 
I find the architecture to be damn sexy and the interiors artfully designed. And the setting is picture perfect with NO neighbors to be seen on Playa Plataforma. 
From sunbathing at the oceanfront infinity pool to enjoying a cocktail at the sunset terrace or fire pit, to surfing the waves directly in front of the estate, this is the perfect place for your peeps to find calm and escape distraction. 
I find it interesting that the word "Niku" means the process of being reborn or reincarnated in the Oaxacan Mixtecan dialect. Isn't that what we look to accomplish on our retreats?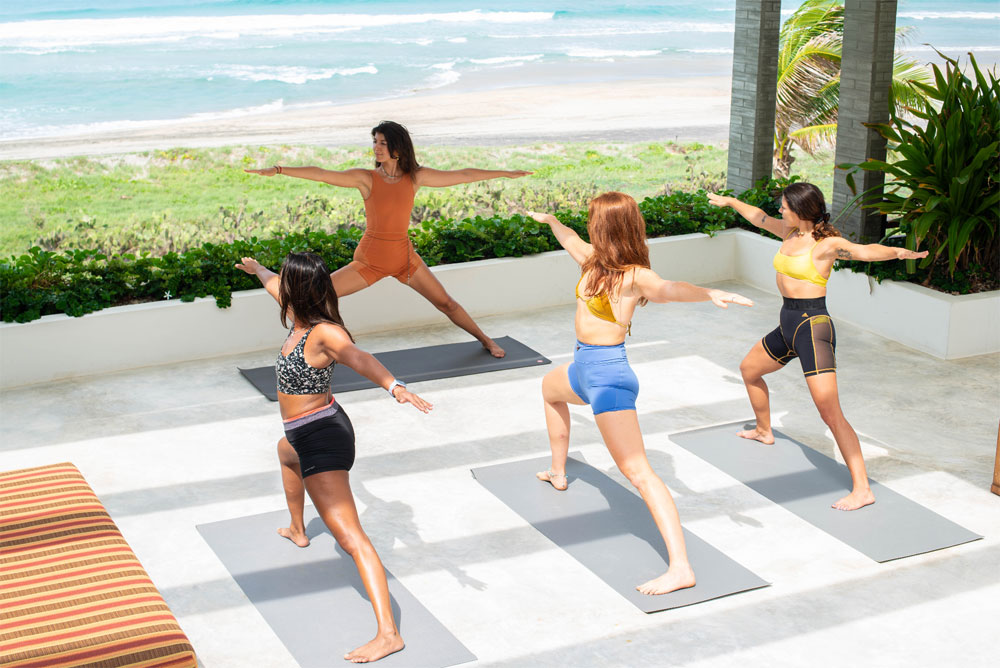 Curious about the food? You and your group will savor authentic Oaxacan cuisine (some of the best food in Mexico), crafted by their dedicated culinary experts, as you take in the raw beauty of the Pacific coast and listen to the rhythmic dance of waves meeting sand.
Catering to parties of up to 12, Casa Niku uses the freshest of ingredients, including seafood freshly sourced from local Puerto fishers and artisanal desserts.
With breakfast, lunch, and dinner service covered in your stay, they are well-versed in catering to dietary needs, offering options like gluten-free, dairy-free, and sugar-free meals, along with alternatives for various allergies. Which as you know these days, is critical!
They also make custom-made cocktails by their in-house mixologist, perfect for sipping by the pool or while soaking up the panoramic views from the elevated sunset terrace, where the mountains, shoreline, and vast ocean converge. Ahhhh……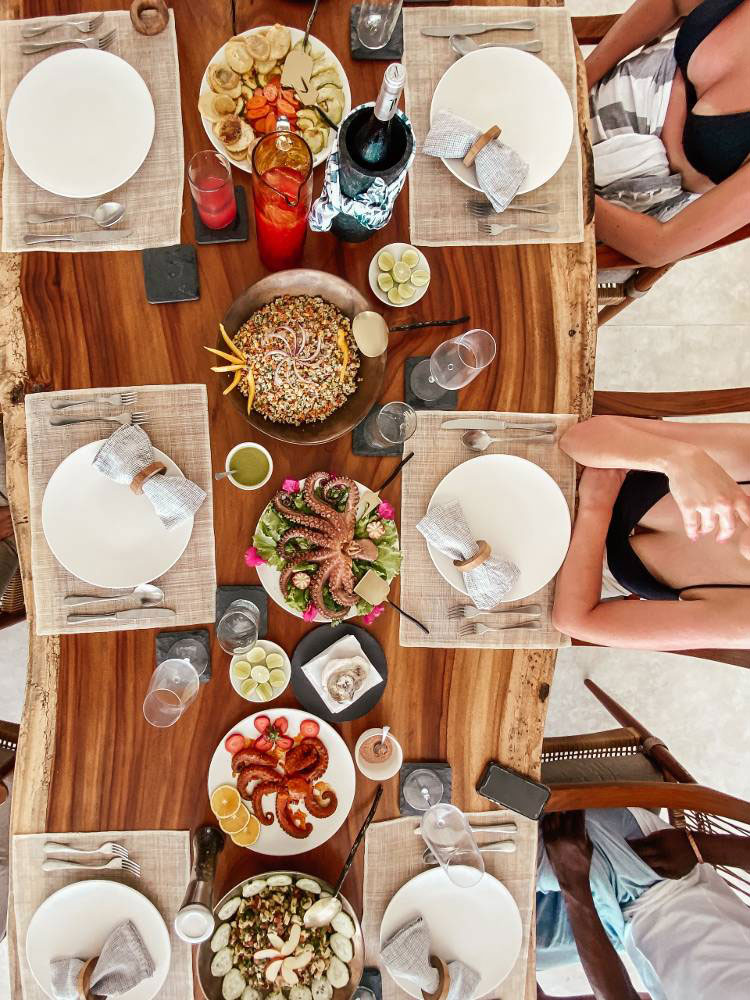 And don't forget that you can explore beyond Niku House, the surrounding area has vibrant nightlife, and globally acclaimed dining options. Whether you're drawn to the call of the magic of whale watching (at certain times of the year), or the charm of Oaxaca's coastal bohemian hamlets, Niku House can craft for your group any number of adventures outside of their gates.
Here are some choices right at the casa:
On-Site Horseback Riding
On-Site Surfing & Surf Lessons
On-Site Mezcal Classes & Tastings
On-Site Yoga Sessions & Massage Therapies
On-Site Personal Trainer
Deep Sea Fishing Dolphin Watching Experience
Sea Turtle Hatching & Whale Watching Expeditions (seasonal)
All in all, this is a nice option to have in your back pocket if you are creating a small, intimate retreat.
If you're wondering about costs, here is what they've got for 2023:
High Season: $2,525 USD per Night | 4-Night Min. | November-April
Low Season: $1,695 USD per Night | 4-Night Min. | May-October
It's not cheap, but it isn't the most costly villa I've seen out there either! Let me know if you've been there and what you think!
To your wanderlust life & biz,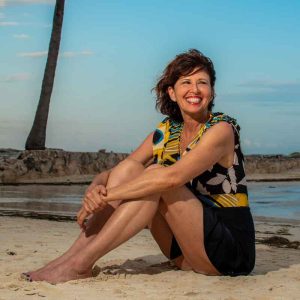 Dr Sheri Rosenthal is known as one of the most sought after retreat strategists for coaches, speakers, and authors — and is the owner of Journeys of the Spirit Travel®, a boutique agency specializing in the planning and management of group travel.
Through her Wanderlust Entrepreneur Community and her signature course, The Retreat Blueprint Program, she has taught thousands of facilitators how to design exceptional retreats that allow them stand out in their niche. She is famous for helping clients plan, fill, and profit from transformational retreats that change lives in a huge way while adding serious income to their bottom line!