Sitting on a little hill in the bucolic Mexican countryside, Casa Adela is the perfect little "home away from home" for your next retreat. If you're not familiar with the charming town of San Miguel De Allende (one of my favorite Mexican colonial towns) – you should be! It's bursting with creative energy, awesome food, fabulous people, and tons of fun activities.
Plus, the town is quite hilly (and at altitude), so you'll come home in excellent shape from all your exploring! And I know from personal experience after living there for a month – my legs and butt haven't been the same since! 🙂 
Located 15 minutes from the center of town, you get the best of the quiet countryside and the bustling city. They have a complimentary shuttle to the San Miguel city center so you don't need a van. Wifi is available as well as a delicious hot breakfast every morning. Other meals can be arranged with the chef.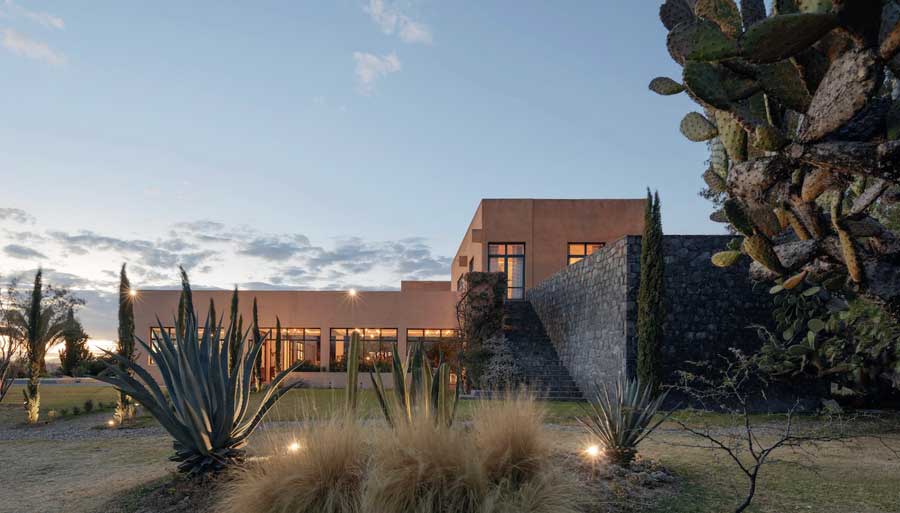 Speaking of food…perhaps you might be interested in the baked portobello stuffed with spinach, roquefort cheese or tofu, with toasted almonds, roasted zucchini and asparagus? Or maybe the prehispanic soup is more your style, an umami flavorful bowl of rich mushroom broth, chilacayote (a local squash), pumpkin, chile poblano slice, roasted corn kernels, and epazote (a local medicinal herb)?
Keep in mind that all the food is lovingly designed by executive chef Vanessa Nava – and it's all filled with locally sourced and carefully crafted deliciousness.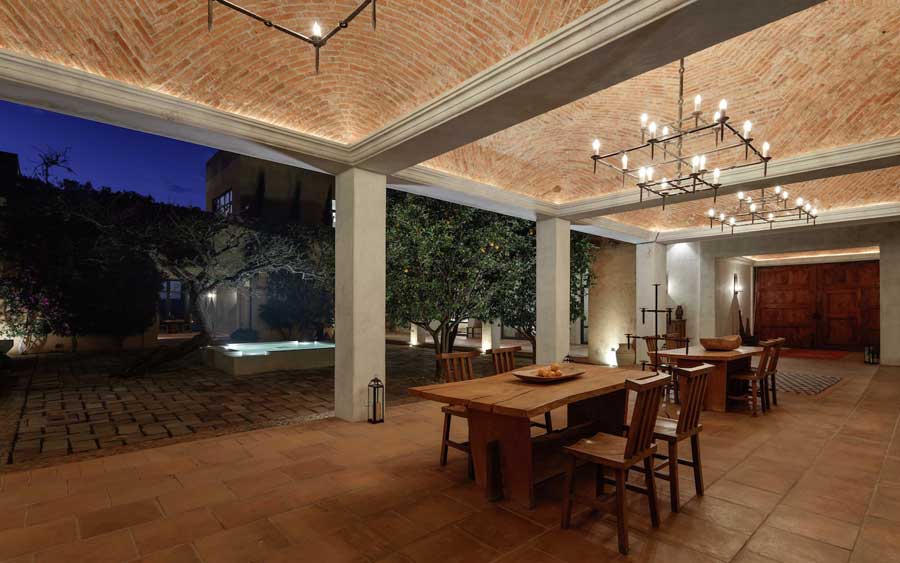 Wondering about the rooms? There are 5 spacious suites accommodating up to 12 guests and this is how the rooms breakdown keeping in mind that the king beds can be split into two twins:
Suite #1 = King Bed (2 Guests Max)
Suite #2 = King Bed (2 Guests Max)
Suite #3 = King Bed (2 Guests Max)
Suite #4 = King Bed (2 Guests Max)
Suite #5 = Family Suite; 2 Twin Beds; 1 Double Bed (4 Guests Max)
Extra Room with Separate Full Bathroom Down Hallway Available Only for Private Buyouts = King Bed (2 Guests Max)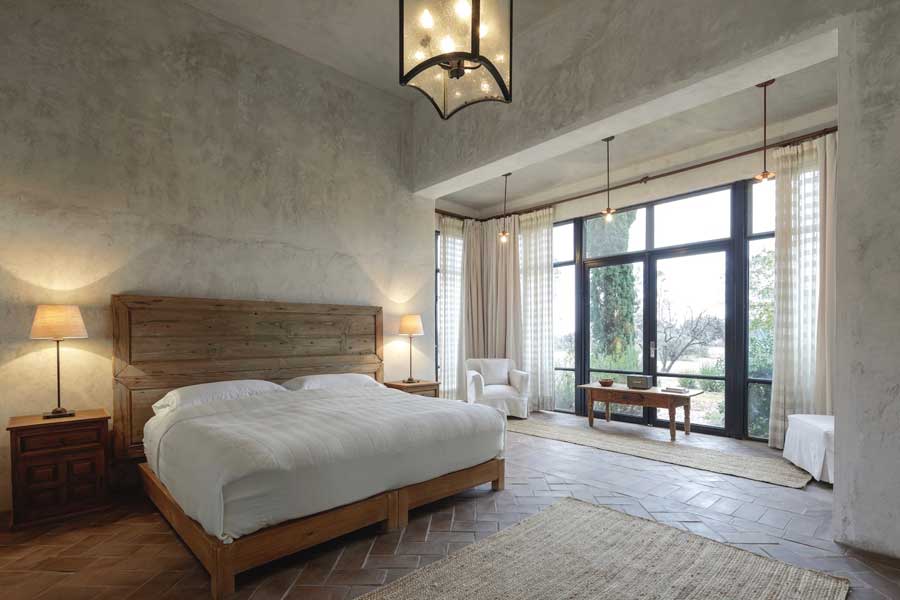 And activities? Well, San Miguel is certainly one of the most creative hot spots right now and so there is no shortage of things to do with your group. Visiting local artisans is amazing as well as exploring ancient ruins, both can be perfect for opening the creative channels. Have an active adventurous group? No problem. You can go cliff rappelling, ballooning, canyon horseback riding or even mountain biking!
Looking to just unwind? Okay fine. The pool is the perfect place to do so especially after visiting some of the local wineries. At the end of a fabulous day exploring in town you can enjoy either of the outdoor or indoor fireplaces – the perfect spot for group sharing and relaxing. And speaking of chilling out – Casa Adela sports a mineral rich pool fed by a soothing hot spring plus, they offer massage, watsu, and yoga.
So let me know what you think? Have you been wanting to visit San Miguel? I sure hope so!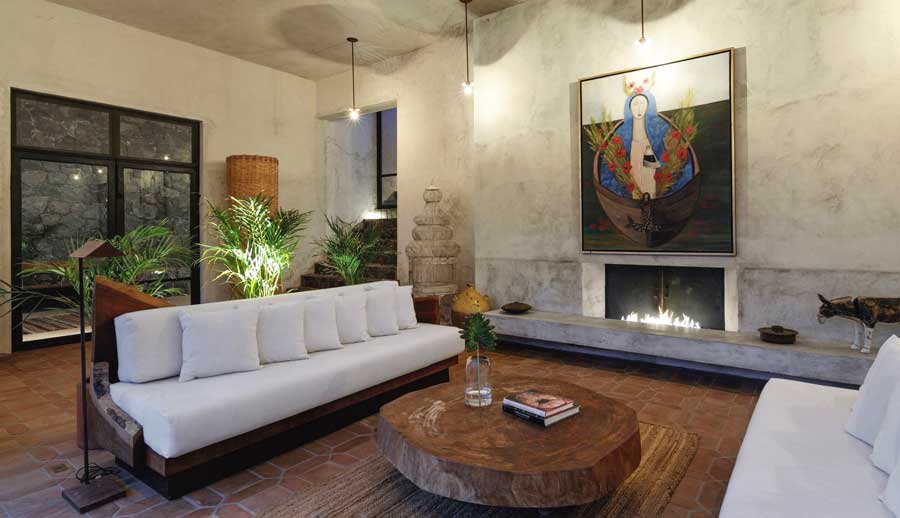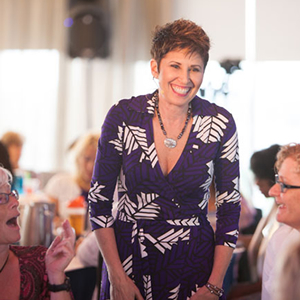 To your wanderlust life & biz, Sheri
Dr Sheri Rosenthal is known as one of the most sought after retreat strategists for coaches, speakers, and authors — and is the owner of Journeys of the Spirit Travel®, a boutique agency specializing in the planning and management of group travel.
Through her Wanderlust Entrepreneur Community and her signature course, The Retreat Blueprint Program, she has taught thousands of facilitators how to design exceptional retreats that allow them stand out in their niche. She loves helping clients plan, fill, and profit from transformational retreats that change lives in a huge way while adding serious income to their bottom line!
Want to learn MORE about picking your perfect location?
Then you'll DEFINITELY want to grab our "Top Tips for Nabbing the Perfect Digs for Your Sold-Out Retreat!" 90 minute class so you avoid making the painful errors so many of our retreat leaders make.
So what do we cover?
The #1 question you MUST ask to choose a magnetic location. (There's nothing sadder than a cancelled retreat!)
Where are the WORST places to run a retreat? (Don't make these rookie mistakes!)
How to scope out a spot you've NEVER been to before! (No, you do NOT have to visit first!)
Boutique Hotels, Retreat Centers or Villas – which is BEST? (Hint: There IS a reason for each)
How to know if a hotel is a superstar or a disastrous dud! (Our secret trick for finding out!)
If you're concerned about your retreat location (and you should be!) – you won't want to miss this special training!
Everyone registered will receive a password-protected replay page to listen to at their leisure. The tuition is ONLY $57 USD!