Think about this for a moment. I believe that to truly be in the flow of abundance, you have to be a bit crazy, bold…and…audacious.
In Seth Godin's ebook Graceful – he mentions a speech that Jeff Bezos, the founder of Amazon gave at Princeton University. Jeff asked some interesting questions that I feel really gets to the heart of this idea of audaciousness.
When you read his questions below – take a moment to be ruthlessly honest with yourself. Here goes….
Will inertia be your guide, or will you follow your passions?
Will you follow dogma, or will you be original?
Will you choose a life of ease, or a life of service and adventure?
Will you wilt under criticism, or will you follow your convictions?
Will you bluff it out when you're wrong, or will you apologize?
Will you guide your heart against rejection, or will you act when you fall in love?
Will you play it safe, or will you be a little bit swashbuckling?
When it's tough, will you give up or will you be relentless?
Will you be a cynic, or will you be a builder?
Will you be clever at the expense of others, or will you be kind?
Perhaps the question we REALLY should be asking is this one:
Are you willing to go beyond your comfort zone and sit in a place that's going to make you squirm in fear to be able to access life's abundance?
Because keep in mind – fear believes in scarcity.
It's self-centered by nature and is narrow, limiting and lacking in creativity. 
You might be thinking why am I talking about this subject today – so I'd like to a few moments to share a little bit about my journey. If anyone knows about a life of mediocrity it's me. I followed the typical life path my family set before me.
The idea that I would go to college, have a fabulous career, meet a partner, get married and have two kids, a house and a dog – I bought that story lock, stock and barrel. I went to medical school, got married, grew a practice and made money – but I wasn't happy and couldn't figure out why.
I felt guilty for not being happy since I had what many would consider a good life – it seemed to be abundant because I had lots of friends and money – but it was an illusion of abundance because I always felt bereft and needy.
What I didn't realize was that abundance is not simply lots of friends and money. Abundance comes from alignment with one's integrity and life's path. And if you're ignoring your true path for the comfort of the known – then you're living in lack, limitation and fear.
At first I thought if everything outside of me changed, that would solve my problem and cure my pain, but it did not. I changed husbands twice, moved my medical practice three times – and in the end sold my practice not having a clue as to what I was going to do with my life. That's how miserable I was.
Finally I ran into the teachings of don Miguel Ruiz and became an apprentice of his. That's when I realized the key to happiness is clarity and honesty. Having someone to reflect back to you the things that you are telling yourself that are not truth (as well as pointing out the justifications that seem so true to you, but are not) is the key to your freedom and integrity in life. 
I feel that it's time for all of us to step up and start trading safety for passion and inertia for true change.  In my case it looked like I was making lots of changes, but what I was doing was akin to a kid moving their vegetables around their plate making it look like something's changing – but I was fooling myself. Only internal change can truly affect what is external.
Why? Because we create our reality from the inside out, not from the outside in.
It's time to start loving what makes us feel uncomfortable and queasy rather than isolating ourselves in a cocoon of familiarity and what we tell ourselves is right based on a limited and self-centered belief system.
Look – fear is not a big deal. We all feel it. So what? As a doctor I can confirm that fear does not cause death. However a life of soul-degrading mediocrity most certainly can. It's time to trade mediocrity for audaciousness and everything we can do and be in this lifetime.
If you choose to take inspired action in life despite your fear – you'll actually train yourself to get excited when you feel fear. You'll recognize that something amazing is about to happen in your life and your world is about to expand in the most unexpected and delightful ways.
And that's the BEST feeling ever.
So let me know what YOU think. Post below and let me know if this is your experience.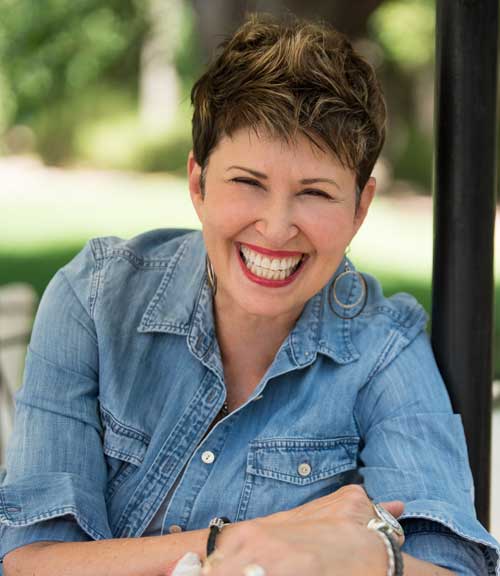 To your wanderlust life & business, Sheri
Dr Sheri Rosenthal is known as one of the most sought after retreat strategists for coaches, speakers, and authors — and is the owner of Journeys of the Spirit Travel®, a boutique agency specializing in the planning and management of group travel.
Through her Wanderlust Entrepreneur Community and her signature course, The Retreat Blueprint Program, she has taught thousands of facilitators how to design exceptional retreats that allow them stand out in their niche. She loves helping clients plan, fill, and profit from transformational retreats that change lives in a huge way while adding serious income to their bottom line!