Every once in a while, I stumble upon a place that gets me so excited that I almost want to keep it for myself – but of course I have to share it with you!
Last year I spent 5 weeks in Italy, two weeks at Lake Como and 3 weeks in Milan. It was simply heavenly although I have to say I was disappointed that George and Amal did not ring me up while I was there. ? But despite that, I found the lake region of Italy to be incredibly relaxing and stunningly beautiful.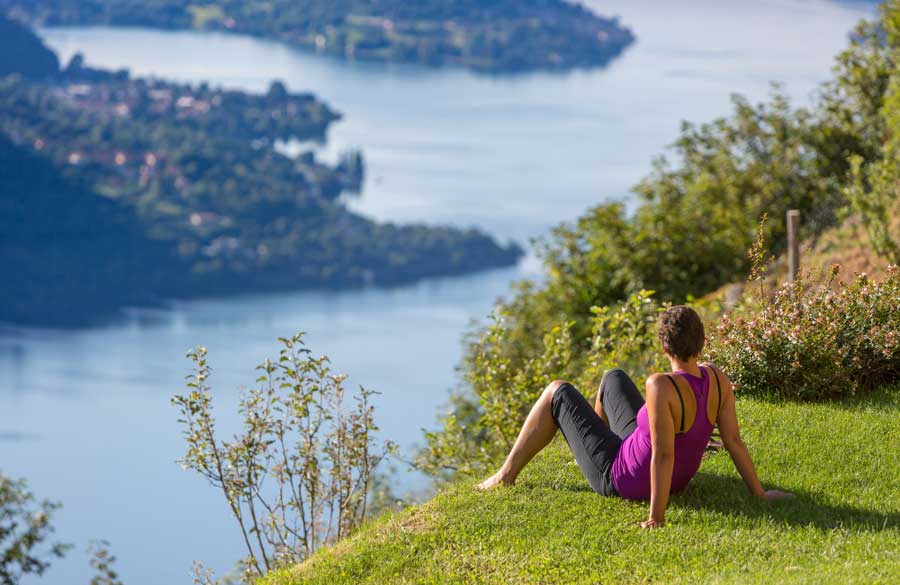 So imagine this. You're driving up the mountain from Lago d'Orta (west of Lake Como and one hour from Milan), around 22 hairpin turns (that IS a Ferrari you're driving, isn't it?), and you finally arrive at the most tranquil retreat center that is part medieval, yet gorgeously modern, overlooking the lake.
Stepping out of the car you take a deep breath and already you can feel the stresses and craziness of life melting away – and you haven't even had one of their spa treatments or been in the hot tub YET (yes, I'll be talking about that shortly!).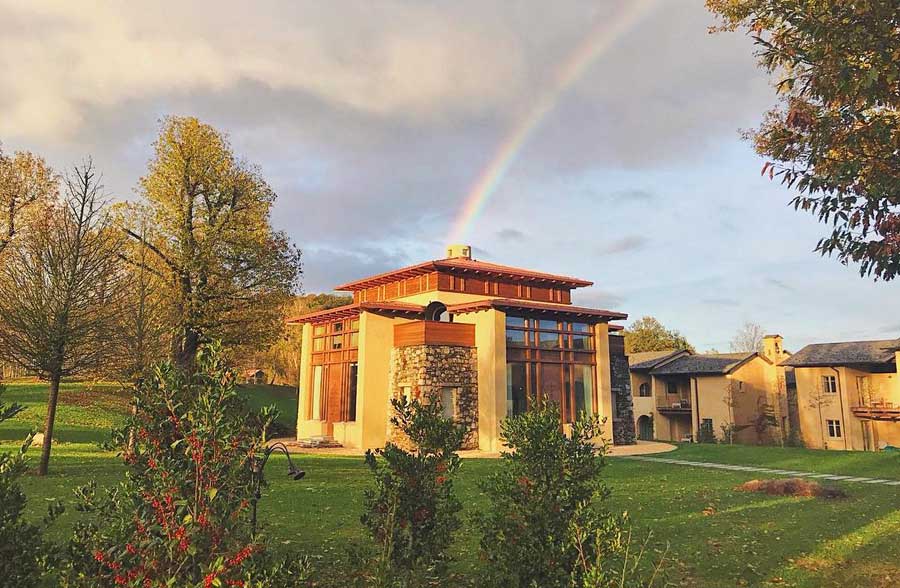 Yes, you've finally arrived at Mandali. Started by two entrepreneurial dudes who organized international dance festivals for years, Wouter Tavecchio and Wildrik Timmerman felt like it was finally time to make a change and create something more deeply spiritual and rejuvenating.
Specially designed to be eco-friendly, they use solar energy for most of their needs, and reclaimed wood and non-toxic materials for building. The food is vegetarian, organic as much as possible, and they are happy to accommodate any dietary needs you might have. This is Italy y'all – the food is nourishing, colorful, and thoughtfully presented – I mean seriously – would you expect anything less?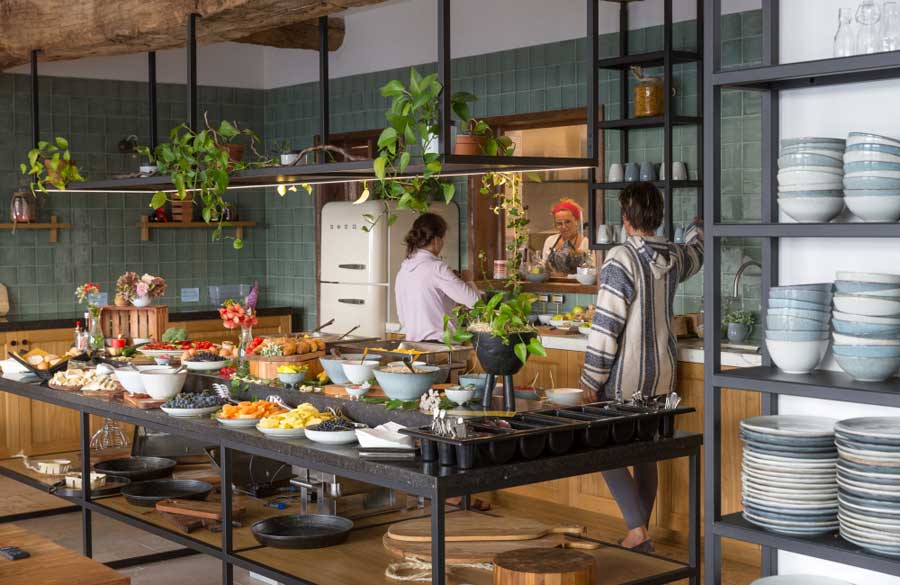 What is unique about Mandali is that they have a variety of room types. Nothing aggravates me more than retreat centers that only have king size beds and people cannot share to save money. So, the fact that they offer rooms with four bunk beds in them, rooms with two twins, AND rooms with king size beds for single and couples could not make me happier! Thank you Mandali for actually thinking about what your retreat leader wants and need!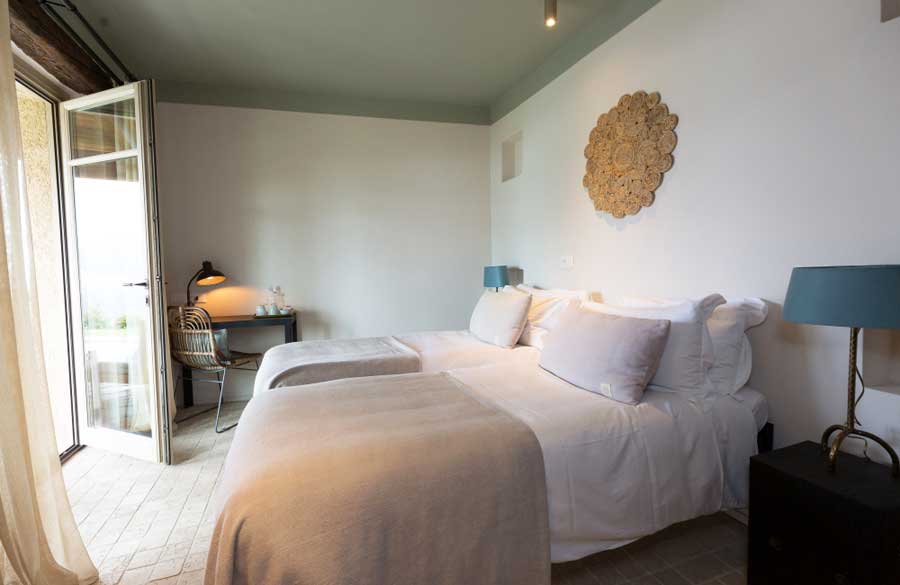 Speaking of which, they have several meeting spaces – the first and largest one is what they call The Temple, perfect for yoga classes, mediation, or any kind of group experience. On the second floor of the Temple in the dome area is a stunningly beautiful space (Madonna's dome) with a Venetian chandelier and wood floors. Plus, they have two private session rooms available up there too. Of course, you are welcome to meet with your group outside on the lawn too when the weather is nice.
Personal growth work requires us to move and process the emotions that come up – and to help with that Mandali has a hot-tub overlooking the lake (ahhhhhh……), a steam room, a swimming pool, and hiking. And yes, they also offer Lomilomi (Traditional Hawaiian), Deep Tissue Massage, Shiatsu, Ayurvedic, Shirodara, Thai massage and many more different therapeutic treatments.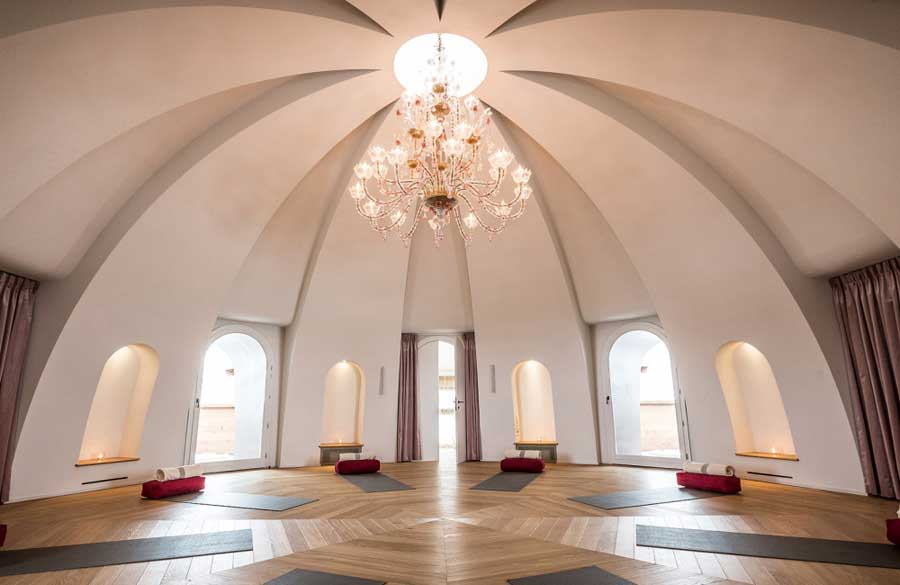 Wondering what to do with your group off-grounds? Well, it depends on what kind of retreat you are doing of course, but there are plenty of experiences available in the local area that would add special meaning to your retreat.
First, it is worth visiting the medieval town of Orta San Giulio on the lake. It is also home to the UNESCO heritage site of the twenty chapels of Sacro Monte, which are built into the slopes of the ridge overhead, telling the life story of St. Francis of Assisi. You could hike up there as a group in silence – that could make a lovely mini-pilgrimage.
If you happen to be there in June, you could take your group to the Cusio Festival of Ancient Music, where a series of concerts are given in the 18th century Casa Tallone, on San Giulio Island, by internationally famous musicians playing ancient instruments. These concerts of Italian and European medieval music are performed on stringed, wind and percussion instruments by groups from all over the world.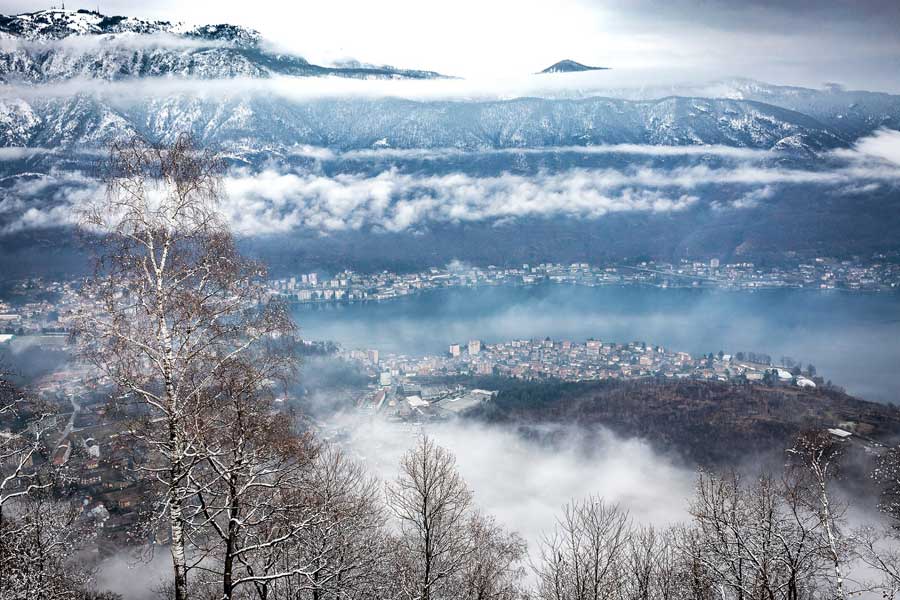 And in the middle of Lago d'Orta is a small island, San Giulio – which houses a monastery of Benedictine nuns. There are no cars on the island and just walking the quiet streets can be an actual meditation. The boat ride there and back is beautiful, and you get a nice view of the lake and local life.
And last but not least, you can walk to the nearby villages right by the retreat center – both of which are famous for making saxophones and are utterly charming.
So, if you are looking for something different and out of the box – Mandali might just be your dream come true – it's definitely mine! Let me know by posting below if you love Mandali and want to visit. 🙂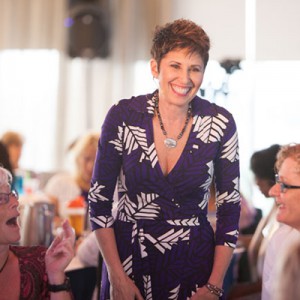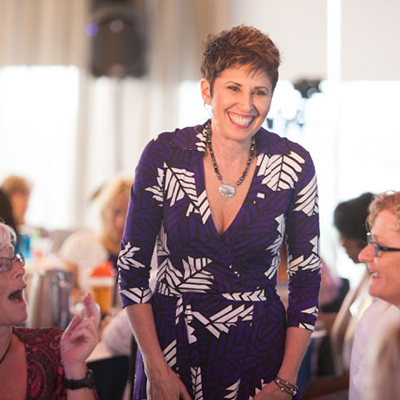 Dr Sheri Rosenthal is known as one of the most sought after retreat strategists for coaches, speakers, and authors — and is the owner of Journeys of the Spirit Travel®, a boutique agency specializing in the planning and management of group travel.
Through her Wanderlust Entrepreneur Community and her signature course, The Retreat Blueprint Program, she has taught thousands of facilitators how to design exceptional retreats that allow them stand out in their niche. She loves helping clients plan, fill, and profit from transformational retreats that change lives in a huge way while adding serious income to their bottom line!
Want to learn MORE about how to pick your location?
Then you'll DEFINITELY want to grab our "Top Tips for Nabbing the Perfect Digs for Your Sold-Out Retreat!" 90 minute class so you avoid making the painful errors so many of our retreat leaders make.
So what do we cover?
The #1 question you MUST ask to choose a magnetic location. (There's nothing sadder than a cancelled retreat!)
Where are the WORST places to run a retreat? (Don't make these rookie mistakes!)
How to scope out a spot you've NEVER been to before! (No, you do NOT have to visit first!)
Boutique Hotels, Retreat Centers or Villas – which is BEST? (Hint: There IS a reason for each)
How to know if a hotel is a superstar or a disastrous dud! (Our secret trick for finding out!)
If you're concerned about your retreat location (and you should be!) – you won't want to miss this special training!
Everyone registered will receive a password-protected replay page to listen to at their leisure. The tuition is ONLY $57 USD!