OK, I've kept this quiet long enough. It's time to tell you about one of my favorite retreat centers in the whole, wide world!
The place is called Domaine Les Fougeres (that's French for "Domain of the Ferns"), and it's a bucolic spot right out in nature, at the gateway to the gorgeous Drôme Provençale region of southern France.
This is no ordinary retreat center, either; it's a stately, solid, 13th-century farmhouse built almost entirely of stone. Its three-foot-thick walls keep the place cool in summer and cozy in winter (especially with its huge stone fireplace). And as you peruse its hallowed hallways, you can easily be awestruck by the many generations of French families it's nurtured and protected over the centuries.
But how do I know about this place, and why do I love it so much? Because I've done about 10 transformational retreats there in the past 15 years (usually with groups of 10-20, though it can handle up to 32). And because during those years the owners, Patrice and Frederick Decouchon-Laforet, have become two of my dearest friends.
With this delightful and supportive couple at my side (Frederick is a warm, enthusiastic woman who also speaks fluent English), I've spent hours and days inside with groups gathered in comfy circles, led sun and moon ceremonies on the grassy hillsides, built and run sweat lodges at the edge of the adjoining woods, and even done a fire-walk one summer with a runway of red-hot coals spread out in the front driveway.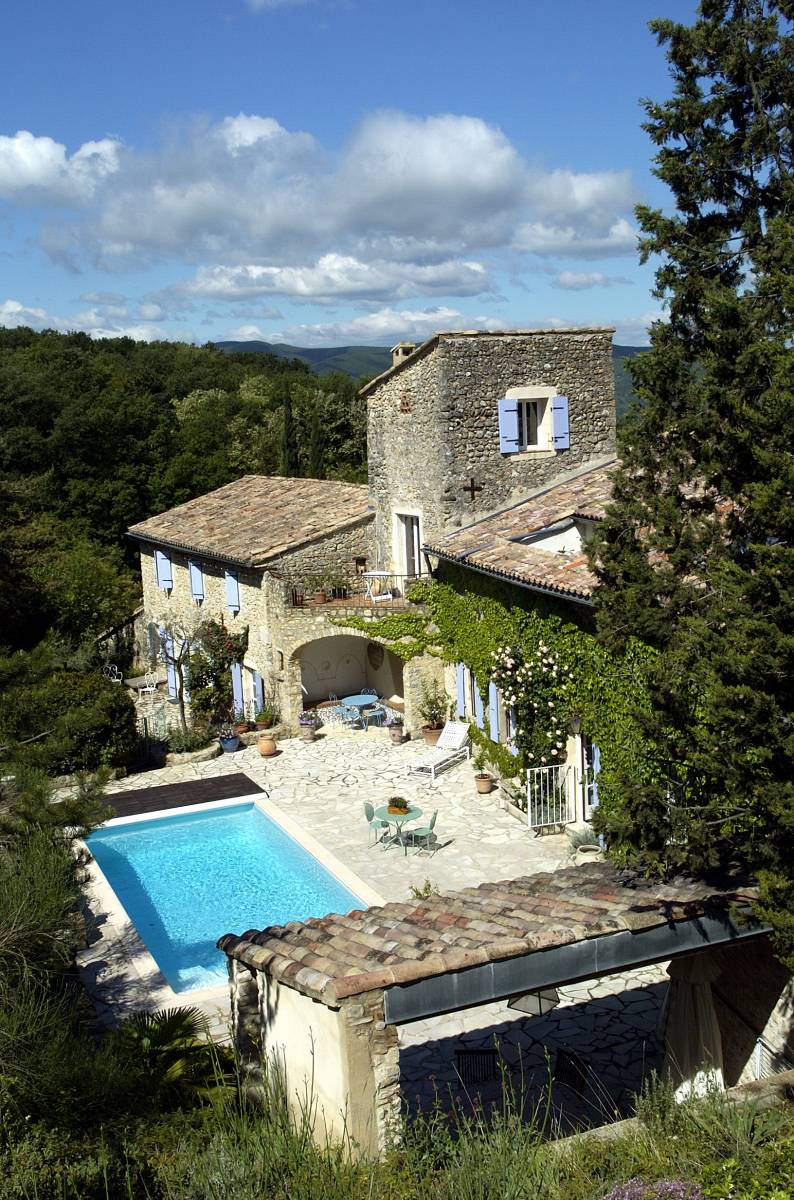 And where will you be staying within these beautiful stone walls? Your peeps can pick from a variety of comfy rooms of varying sizes, most with leafy outdoor views and each uniquely decorated with its own character and interior design.
They'll also enjoy quaint, colorful apartments with living and kitchen spaces that can accommodate three to six people each. Altogether, the center can sleep groups up to 32. The way this works is: 18 people in double rooms with private bathrooms, 3 people in single rooms with a shared bathroom, and 10 people in an individual room with private bathrooms.
Whatever you want to share with your people, you'll find an ideal place for it at Les Fougeres. The three "working rooms" in the main building include the sweet, zen-like "Dojo Room," ideal for hosting small, intimate groups — especially for physical activities such as yoga and tai chi; the bright, peaceful "Upper Room," a great teaching space for groups from 8-16; and the "Reception Room," a spacious, welcoming room with in-floor heating that can handle groups up to 80 for events like weddings and birthdays.
(Yes, of course, if you need tables, chairs, mattresses, projector, sound equipment, cushions or carpets, all you have to do is ask!)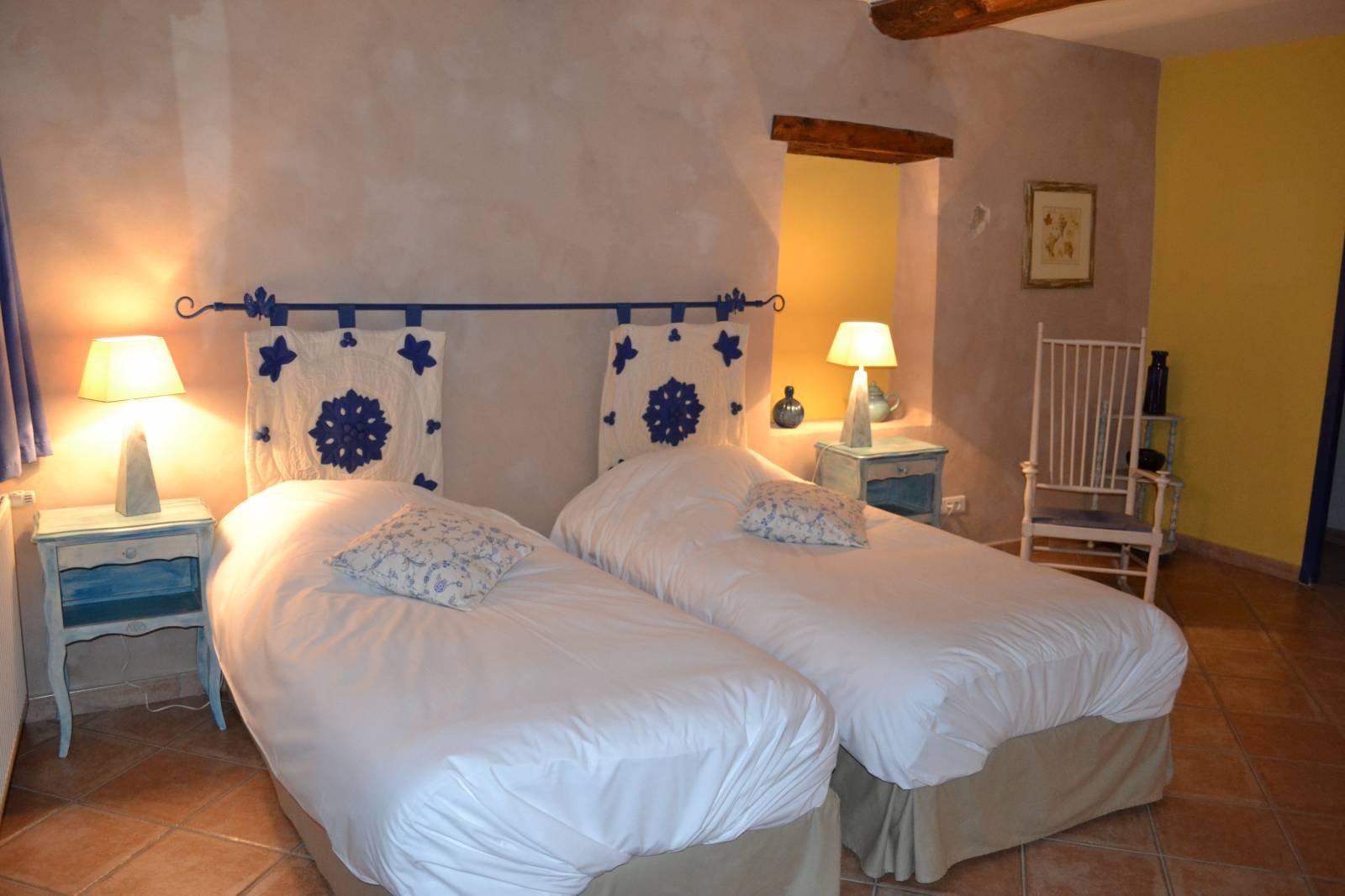 But while we're on the subject of space, let's not forget the great outdoors! At Les Fougeres, the rolling lawns, hills, pathways and thick, lovely woods offer an endless landscape of possibilities for exploration and discovery. And did I mention the sunny terrace with adjoining swimming pool and sauna? Yours for added pleasure and exercise anytime you want!
If you're interested in even wider exploration, less than a kilometer away you'll find the little hilltop village of Mirmande, with its narrow cobblestone streets, hilltop church, four restaurants and a quintessentially French bakery. And if you're doing a retreat that's even remotely art-related, you'll want to stop in and visit some of the well-known carvers, painters and other accomplished artisans of Mirmande.
It's been a few years since I've been to Les Fougeres, but I can't even think about the place without my mouth starting to water! Why? Because the meals there are — how can I say it — incroyable! Which is French for "unbelievable!"
I don't say that lightly, either. I remember countless festive gatherings where Frederick and Patrice and their hand-picked local chefs regaled my groups with six- and seven-course meals, each one topped off by delectable French desserts, cheeses and coffees — each meal a work of art and a work of love.
Frederick assures me the spirit and culinary artistry are still the same. Most of the meals are served buffet style in the main dining room, and they always use fresh, local and seasonal foods. Just let them know beforehand, and they'll cater the menu to your desires — anything from traditional French (beef bourgignon, anyone?) to international, regional, or strict vegetarian or vegan — but their specialty these days is Fusion, a mix of cuisines from all over the world.
From Indian, Chinese and Thai to North African, American, Latin American and more, your wish is their command. And of course, they'll gladly accommodate anyone who's on a lactose-, gluten-free or other special diet.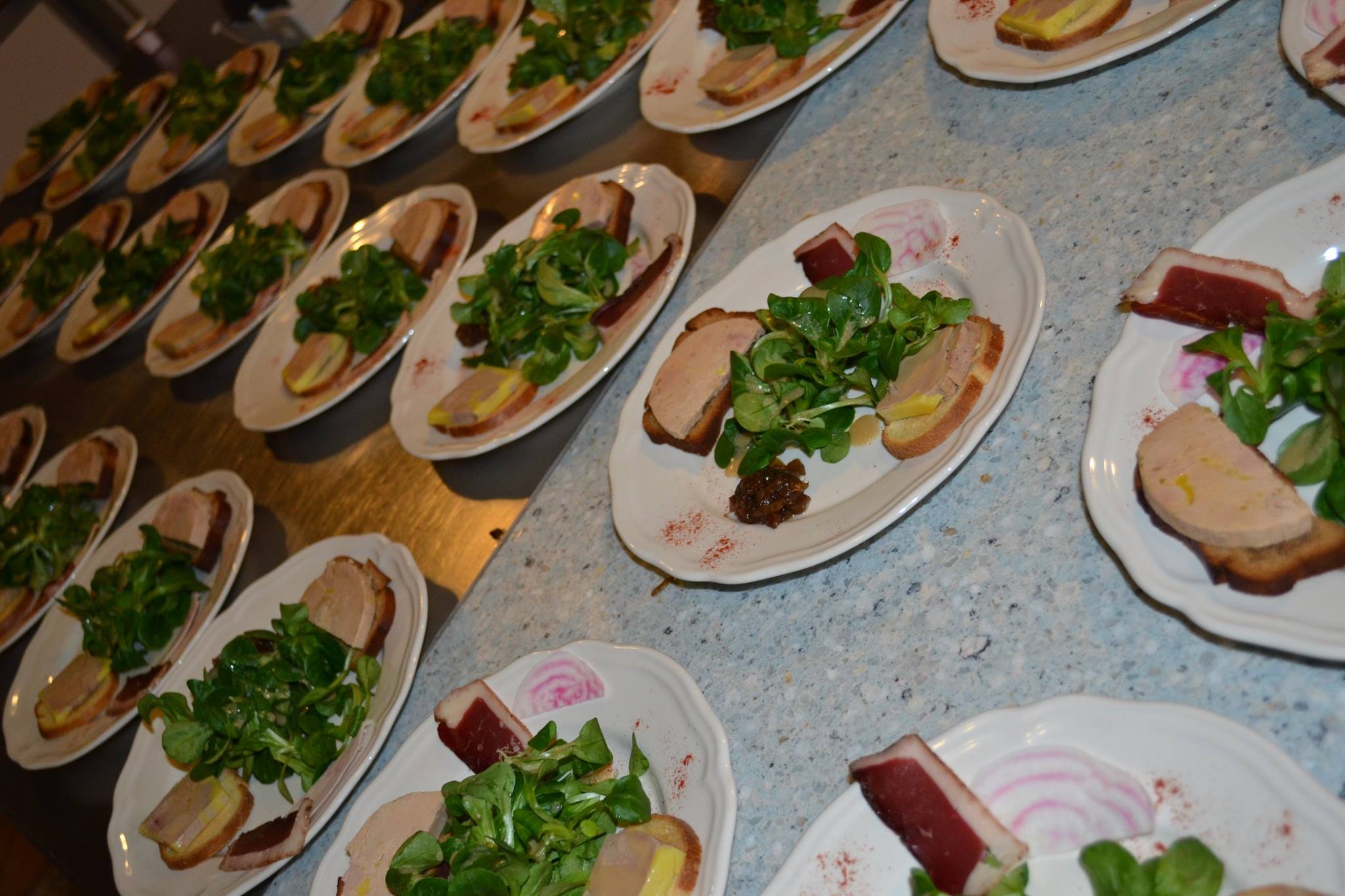 And when's the best time to book? Actually, right now! Owing to all the rescheduling from the coronavirus pandemic, Les Fougeres is already half booked for 2021. If you're quick, though, you might still find a spot for your group — and if you're really quick, you might even be able to land a reservation for late 2020.
You'll enjoy your stay at Les Fougeres anytime, but the best weather is from April through October, with September having the most comfortable temperatures.
As for accessibility, Les Fougeres is rural but easily accessible from all over the world. From the Lyon international airport, it's just a 25-minute ride by high-speed train to Valence, where Frederick will pick your group up and deliver you to your new retreat home.
And if you're looking for extraordinary activities in the region, you never have far to go. In less than an hour's drive, you'll find historic villages, castles and towers; wide-open forests and imposing geologic wonders; a variety of sporting events (from canoeing and hiking to ballooning and skydiving); cultural activities such as jazz and classical music festivals; even a chocolate factory and a palace of sweets!
For more information on this delicious, delightful retreat center, click on this link: http://www.domainelesfougeres.com/.  And for questions and booking, send an email to Frederick Decouchon at info@mirmande-fougeres.com.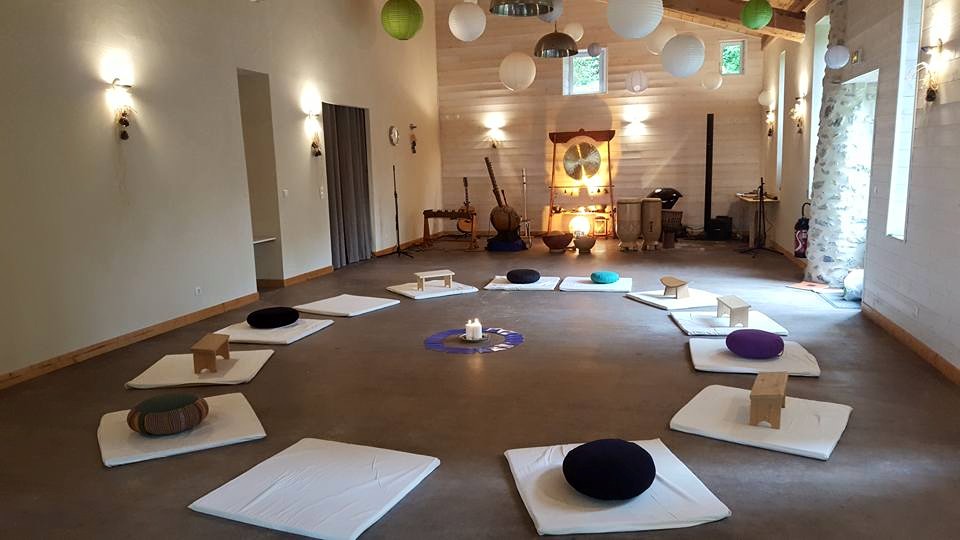 Want In-Depth Training On How To Plan, Lead & Profit From International Retreats?
If you're struggling to get your retreat up and running, check out our Retreat Blueprint Program. It will give you the edge in creating the kind of retreat that will have you standing-out and selling-out
So what do you get with the Retreat Blueprint Program?
Access to one year of 26 LIVE coaching classes! (all recorded, just in case you miss one).
Six course modules you can watch anytime (you have lifetime access to the online course modules).
Transcripts for each video course module.
Forever access to our Facebook group and community, where you can share ah-ha's, resources, ideas, and revelations — AND get answers and feedback from our retreat coaches.
All our CRAZY bonuses, proprietary forms & worksheets!
As soon as you register, you can start the online course and work at your own pace.
You can print out the video transcripts and worksheets if you'd prefer to work offline.
And you'll get our liability forms which you need to protect yourself when running retreats!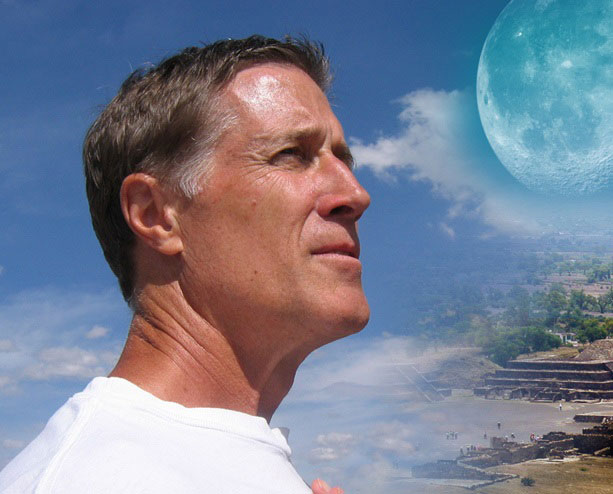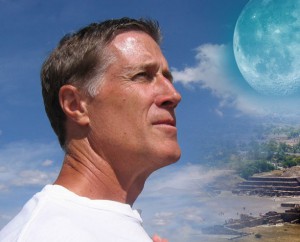 To your wanderlust life,
Brandt Morgan, Wordcrafter Extraordinaire & Retreat Strategist @ The Retreat Blueprint Program
During his 30-year career as a professional writer and editor, Brandt has written nine successful books plus hundreds of lively and informative articles for a wide range of publications.
In addition, as a spiritual teacher and Toltec Mentor trained by don Miguel Ruiz, he has designed, marketed and facilitated dozens of his own international retreats.