Imagine leading a hike through the Canadian Rockies on a misty gray day. Just as you emerge from the dark trail to reach the summit, the sky clears, revealing the most spectacular rainbow.
A few months later, you're in Japan, enjoying a tea ceremony among the cherry blossoms, soaking in the importance of tradition. Next you're off to Belize, where you'll don scuba gear with your clients to explore ancient shipwrecks.
This isn't an extended vacation or a break from your job. This is your life. Not quite there yet? Consider adding transformational destination retreats to your business to make this dream schedule a reality.
So much more than a workshop, a transformational destination retreat is a life-changing experience. You'll lead a group of people to a jaw-dropping, inspiring location, then challenge their beliefs so they can evolve and grow. Instead of just learning about your message, your clients experience and act upon your teaching.
1. Break out of the mundane
Get up, go to work, hit the gym, make dinner, veg out, sleep. Get up, go to work, hit the replay button … you get the picture. Maybe you live this way, substituting "veg out" for helping with homework, working a side hustle or daydreaming about travel.
Even if you're the master of your own schedule, you can get stuck in a rut. If you feel like you're on autopilot, building a retreat-based business could be the catalyst to change your life.
Travel changes lives. Not just for your clients, but for you, too.
Travel can make people more well-rounded, tolerant and intelligent.
By adding destination retreats to your business, you'll expose yourself to different points of view, cultures, traditions and food. Challenge your comfort zone, add meaningful experiences and connect with people around the world. Understanding others rather than fearing them creates a definitive step towards world peace and tolerance.
2- Design your dream life
Retreats are your ticket to creating the freedom-based lifestyle you want. If you're ready to ditch the brick-and-mortar office and jet-set full-time, adding retreats to your business is the natural next step.
Retreats allow you to create a flexible schedule with the added allure of travel. But don't think you need to catapult yourself around the world 24/7. No matter what phase of life you're in, you can make destination retreats work.
Some parents with young children work from home most of the year, but host retreats in stunning locales each summer, bringing their kids overseas to expose them to different places and cultures in the process. What an experience!
And plenty of empty-nesters and young professionals live in one part of the world for a few months at a time (like myself), hosting retreats and events, periodically returning home to regroup before they head off to another stunning part of the world.
While many entrepreneurs host multiple retreats each year, some focus on just one a year, spending the rest of their time working from home as online coaches. The retreat business is flexible, and you can design your retreat offerings to your needs.
3- Make an (even bigger) impact
If you're currently coaching or leading workshops, you've already seen proof of your impact on your clients. Now amplify your impact!
Workshops teach theory, but retreats bring your teachings to life. You could talk to your clients on the phone about their place in the world, or you could lead them to the Northern Lights where they could experience first-hand the vastness of the universe.
When you host a destination retreat, you're planting your clients in an environment conducive to transformation and growth. To plan a successful retreat, choose a destination relevant to your juicy retreat promise. Then, you can choose a venue with special features or activities to drive your teachings home.
Instead of hosting a workshop in a conference room to discuss business innovation, you could bring your clients to the hottest businesses in Los Angeles and chat with the owners about their process, success and challenges. Your retreat will wow your clients and stimulate their creativity, making a big transformational impact they won't ever forget. 
4- Bring home more money
For most heart-centered entrepreneurs, making money isn't the reason they wake up every morning, so focusing on income can be tough. But increasing cash flow while doing what you love doesn't hurt, especially when funding the lifestyle of your dreams.
Designing a money-making retreat takes careful planning, but a single retreat can easily net $10,000. Follow-up programs can increase income into six figures. Here's how adding retreats to your business can boost your income in a big way.
Let's say you've filled your retreat with 15 people. With well-planned pricing, you'll net at least $700 per participant. I'm talking about $10,500 profit after your expenses are paid. Then, you offer a follow-up group coaching program at $2,000 per participant, with 10 participants signing on. Right there's an additional $20,000.
In-depth private and group coaching, day-long intensives tacked on to the beginning or end of your trip, private sessions during your retreat, workshops, seminars and even follow-up retreats can all add to your bottom line. When you combine multiple ways to work from the road, you can increase your income and add lots of opportunities for your clients to interact with you at different price points.
Transformational destination retreats can become the foundation of your business, affording you the lifestyle of your dreams and creating life-changing experiences for your clients. By designing retreats to get your clients thinking, talking and acting, you'll change their lives — and they'll remember you for the role you played in their transformation.
If traveling more, making a bigger impact and increasing your income sound appealing to you, consider enriching your life and your business with transformational destination retreats. And if you're feeling perplexed by complicated retreat pricing and you're ready to make a SERIOUS profit on your retreats, consider taking your retreat education to the next level by joining us either in the Retreat Blueprint Program or Retreats Made Easy where you will learn how to PROPERLY plan, price, promote and monetize your transformational retreats.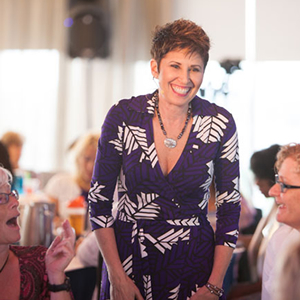 To your wanderlust life, Sheri
Dr Sheri Rosenthal is known as one of the most sought after retreat strategists for coaches, speakers, and authors — and is the owner of Journeys of the Spirit Travel®, a boutique agency specializing in the planning and management of group travel.
Through her Wanderlust Entrepreneur Community and her signature course, The Retreat Blueprint Program, she has taught thousands of facilitators how to design exceptional retreats that allow them stand out in their niche. She loves helping clients plan, fill, and profit from transformational retreats that change lives in a huge way while adding serious income to their bottom line!