Nestled on the Pacific coast of Baja California Sur, Todos Santos is a delightful gem or "Pueblo Mágico" as the Mexicans call it – a serene retreat that exudes an intoxicating blend of rustic authenticity and quiet elegance.
Emerging from the stark contrasts of the Baja desert, Todos Santos is a verdant oasis, providing a delightful respite for the weary retreat participant. The town has a rich history, which is woven into the very fabric of its charming streets, stately colonial buildings, and vibrant cultural scene.
Creativity seems to bloom everywhere in Todos Santos, with its thriving art scene drawing artists and art enthusiasts from around the world. The town is dotted with galleries showcasing works from local and international artists, covering a broad spectrum of styles and mediums. It also hosts the annual Todos Santos Art Festival, an event that further illustrates the town's dedication to promoting cultural expression.
But the allure of Todos Santos extends beyond its cultural richness. It's a place that invites you to immerse in nature's splendors. From the sweeping views of the Sierra de la Laguna mountain range to the captivating beauty of the Pacific Ocean, the town is a haven for those seeking outdoor adventures.
Hiking, surfing, whale watching (so cool!!!), or simply basking on the pristine beaches—are just some of the activities that your peeps can enjoy in Todos Santos.
So now that we've chatted a little about the area itself – I want to share a spectacular venue that really turns ME on – Paradero Todos Santos!
Paradeo Todos Santos hotel is more than just a place to rest your head; it's a high-design landscaping project that seamlessly blends luxurious suites into the captivating beauty of the Baja's natural environment.
​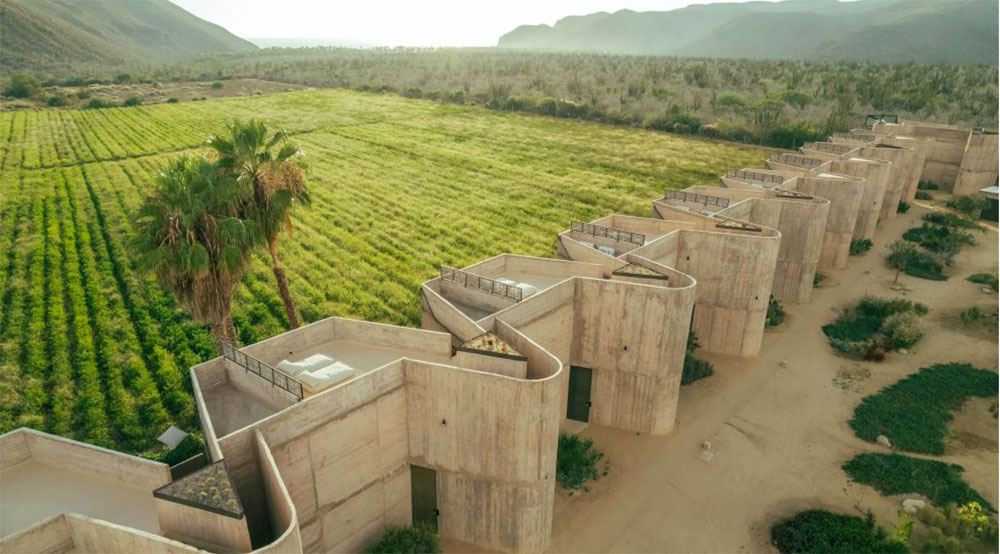 ​Each suite's interiors flow seamlessly into contemplative outdoor seating areas amidst a unique landscape of cactus-studded desert and farmland. It's a place designed to inspire, astonish, and deliver sensory experiences like no other.
Paradeo Todos Santos hotel also focuses on re-establishing connections; with your inner self and nature. Through mindful activities that keep you present, adventures that push your boundaries, and tranquil moments with nature, Paradero empowers you to rediscover lost elements of your life and explore the unexplored. Perfect for a spiritually-minded retreat or even a heart-centered business mastermind.
At the heart of these wellness journeys is the Ojo de Agua Spa/Wellness Center, a sunken oasis inspired by a secret watering hole in Todos Santos. The hotel offers daily mindfulness experiences such as yoga and temazcal ceremonies, deeply rooted in spirituality and native traditions.
Be it an invigorating massage, a chakra balancing treatment, or participating in a sound healing ceremony, each experience is designed to heal and rejuvenate.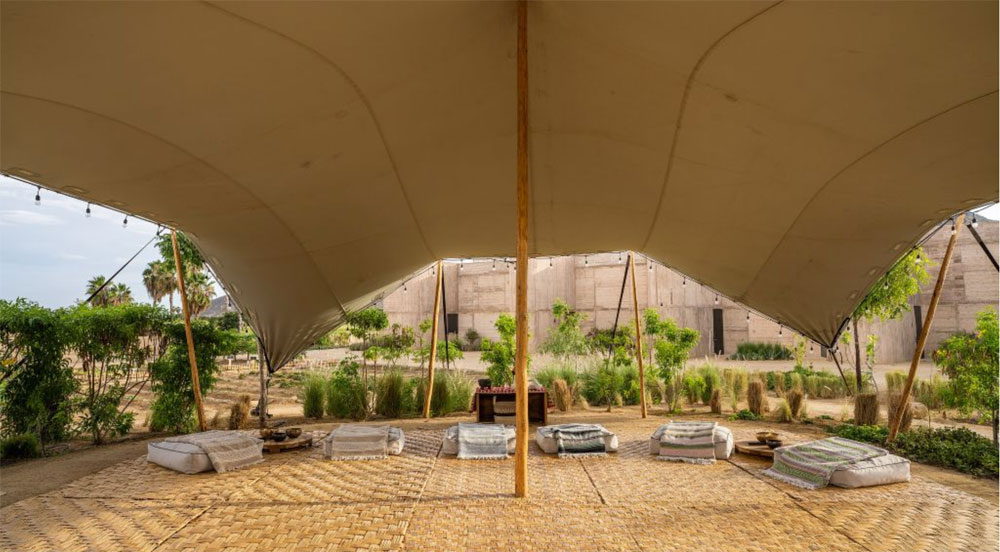 The culinary experience at Paradeo Todos Santos reflects their philosophy that true health is grounded in nature. Their kitchen serves simple Mexican dishes with a strong sense of place, created from fresh products sourced from local farms, their organic garden, the Pacific Ocean, and the Sea of Cortez.
Their restaurant, designed as a theatrical stage for cooking, invites guests to a fine-dining experience like no other. Seating wraps around an open-fire kitchen featuring a traditional Oaxacan clay oven, offering a unique opportunity to observe chefs as they craft simple yet sophisticated dishes showcasing modern Mexican coastal cuisine.
The restaurant's ever-changing menu reflects the garden-fresh produce (yes, they have 160 acres of farm land), combined with fresh ingredients from the Pacific Ocean and the Sea of Cortez (seriously, you have to check out the menu!).
It embraces the Pericúe vibe: The Pericúe (also known as Pericues, Cora, Edues) were the aboriginal inhabitants of Los Cabos Region, the southernmost portion of Baja California Sur, Mexico. They have been linguistically and culturally extinct since the late 18th century (I did not know this!).
Their cocktail offerings are equally inventive, each made from fresh-pressed juices and elixirs from local shrubs (total YUM!), perfect for sharing stories and making memories around their communal table. I would order the "Romeo y Julieta" made with mezcal, rosemary, and chili, thank you.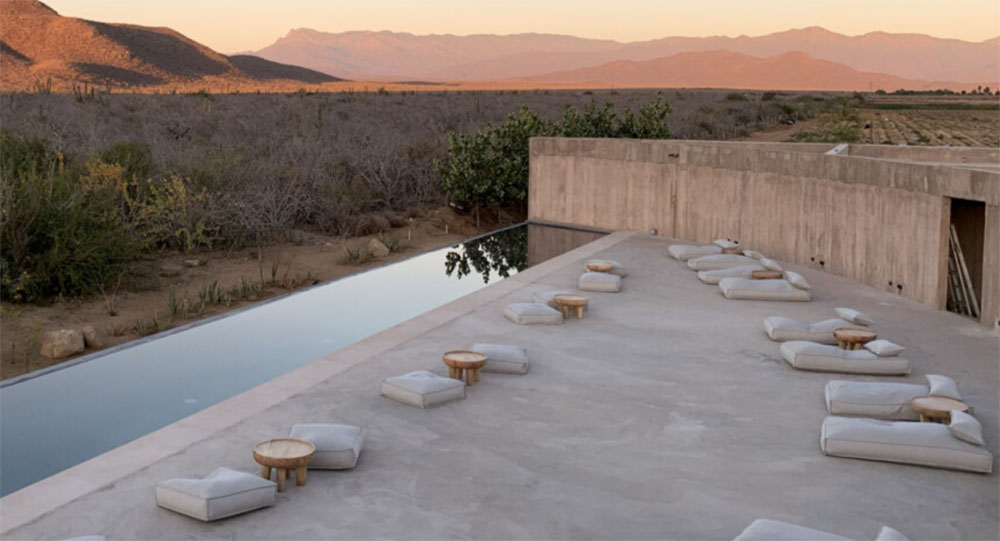 ​The Paradeo Todos Santos hotel honors the healing potential of water through its breathtaking infinity pool. Designed to appear as if it flows into the surrounding desert-meets-oasis landscape, the pool draws upon the centrality of water to this unique location.
Shaped like a half-moon, the pool's sensual geometries complement the stark lines of the surroundings. Here, guests can enjoy barefoot luxury with cool stone floors, relax under a shade-sail parasol, swim up to the bar for a mezcal martini or a glass of champagne, and warm up around a fire pit at night.
FYI: Guests have exclusive access to a custom-built 46-foot luxury sail-powered catamaran, providing an unparalleled opportunity to sail through the mesmerizing waters of the Sea of Cortez. It's not just an afternoon sail; it's a transformative journey that complements your stay at this extraordinary hotel. Stunning.
With awe-inspiring views of high-desert mountains and the distant Las Palmas Beach, the Paradeo Todos Santos hotel is more than a destination – it's an experience that captivates the senses, nurtures the spirit, and redefines luxury. So if you're looking for a high end retreat location – you can't beat this!
Let me know what you think after watching the video!
To your wanderlust life and biz, Sheri xox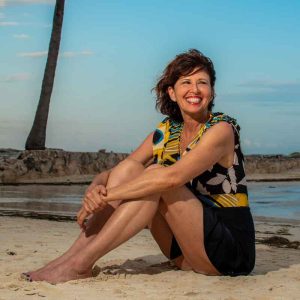 Dr Sheri Rosenthal is known as one of the most sought after retreat strategists for coaches, speakers, and authors — and is the owner of Journeys of the Spirit Travel®, a boutique agency specializing in the planning and management of group travel.
Through her Wanderlust Entrepreneur Community and her signature course, The Retreat Blueprint Program, she has taught thousands of facilitators how to design exceptional retreats that allow them stand out in their niche. She is famous for helping clients plan, fill, and profit from transformational retreats that change lives in a huge way while adding serious income to their bottom line!