When I'm in the creative process of designing a retreat one of the critical aspects is choosing a location that is rarely used and makes my retreat stand out from the thousands of others out there. That is part of the mystery and appeal, and it builds value too. Who doesn't want to go to a stunningly remote location that very few folks have been to that is deeply Instagramable (if you're into that kind of thing, of course!).
I've had the opportunity to travel to this part of the Mexican Yucatan several times for my own retreats. It gets very few tourists and the ones that do visit, are mostly from Mexico or Europe. This is not party central like Cancun! And while everyone is doing the Tulum thing in droves, you'd be chilling in some of the most crystal-clear blue waters with a white sand bottom that you can imagine.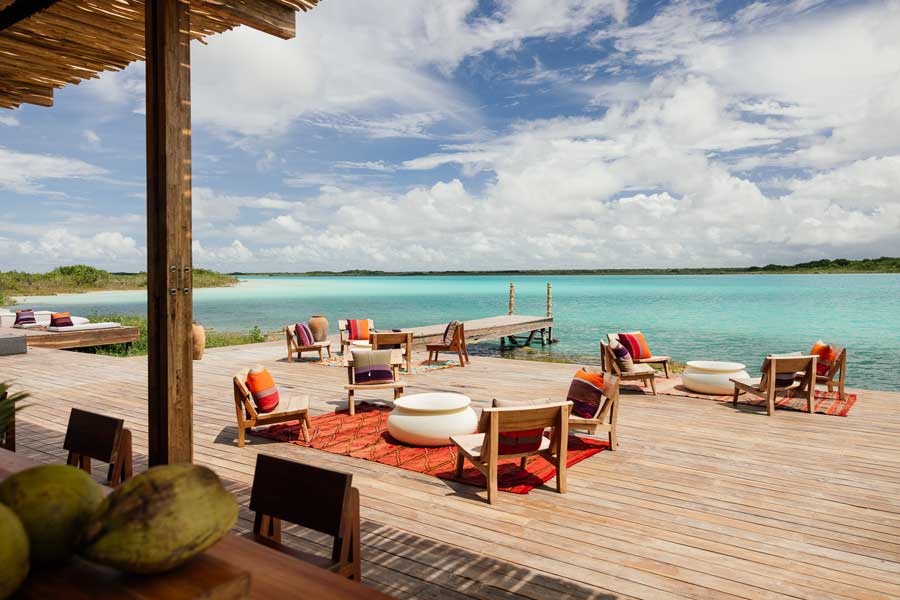 So where is this dream location? Right outside of Chetumal not far from the border of Belize on Lake Bacalar. What's interesting about this lake is that it is fed by underground rivers and from the ocean. Since the Caribbean Sea is right there – the water seeps through the underground waterways, gets filtered, and ends up in the lake totally pristine with just a teeny tiny bit of salinity that you can hardly notice.
In fact, in the words of the hotel: "In Bacalar, the ancient force of the lagoon exudes an energy that exists beyond words, transforming into a feeling of strength and resilience. Wading in its crystalline waters lives part of our Earth's wisdom: stromatolites. Dating back 3.4 billion years and considered our planet's oldest life form, these rock-like microorganisms released oxygen over time, transforming our atmosphere and allowing life to exist as we know it today. They are a rare gift of nature given to Bacalar.⁠" Truly these are healing waters!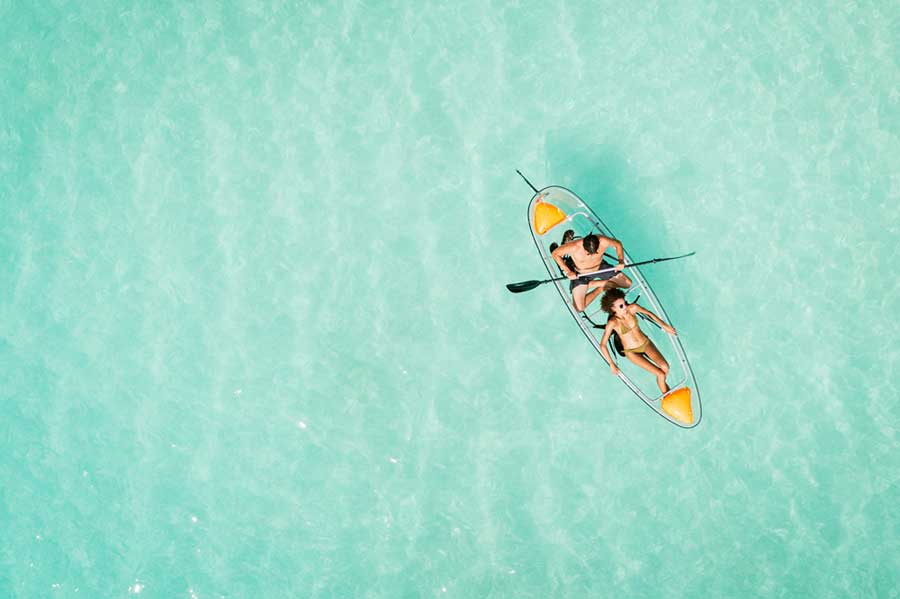 It's said that this lake has seven colors depending on how the clouds float by and how the sun hits it. And I can attest to the truth of this. So where do I recommend you stay at? It's the Habitas Balcalar which opened with 35 rooms July 2021 (keep in mind prices on the website are in Mexican pesos). Yes, there are other places on the lake which I have been to – but this one is definitely more upscale, so if you are looking for that kind of vibe in the jungle, this could be your next big find.
The rooms are beautiful, with some facing the lake directly and others back in the jungle. They are all A-frame tented rooms, with spacious earth-inspired interiors. There's a large wood platform along the water with areas to lay down and chill on as well as an outdoor bar that you can order light snacks from.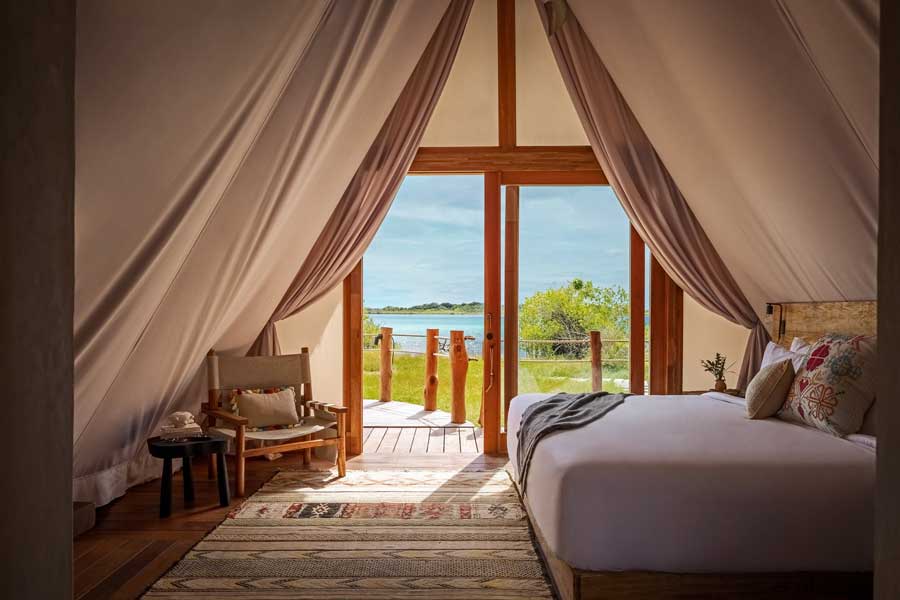 As for the "comeda," they believe food is medicine" so you will find a variety of seasonal offerings from local farms that will please the eyes and feed the soul.
For breakfast, consider the green bowl containing kale, moringa, pineapple, avocado, celery, green apple and pumpkin seeds. Or how about the Cacao & Banana Bowl with banana, cacao nibs, peanut butter, almond milk, peanuts, and cacao granola?
For lunch, you could dive into fish or local pumpkin tacos, an eggplant sandwich, a cucumber & watermelon salad, a quinoa bowl, ceviche, or even mushroom tostadas. Are you drooling yet?
They have tons of plant-based options, for example, at dinner they have roasted mushrooms with hazelnut romesco. And for meat eaters, organic chicken and 12-hour cooked wood-fired Yucatan pork. Seriously, I'm fainting…
Me, I'd be at the bar enjoying a craft cocktail – perhaps the "Local" made from raicilla (from agave), celery, xtabentún (an anise liqueur), Yucatecan lime, agave.
Or maybe a "Frida Khalo" made with mezcal, orange liqueur, fresh lime juice, serrano essence, and coriander.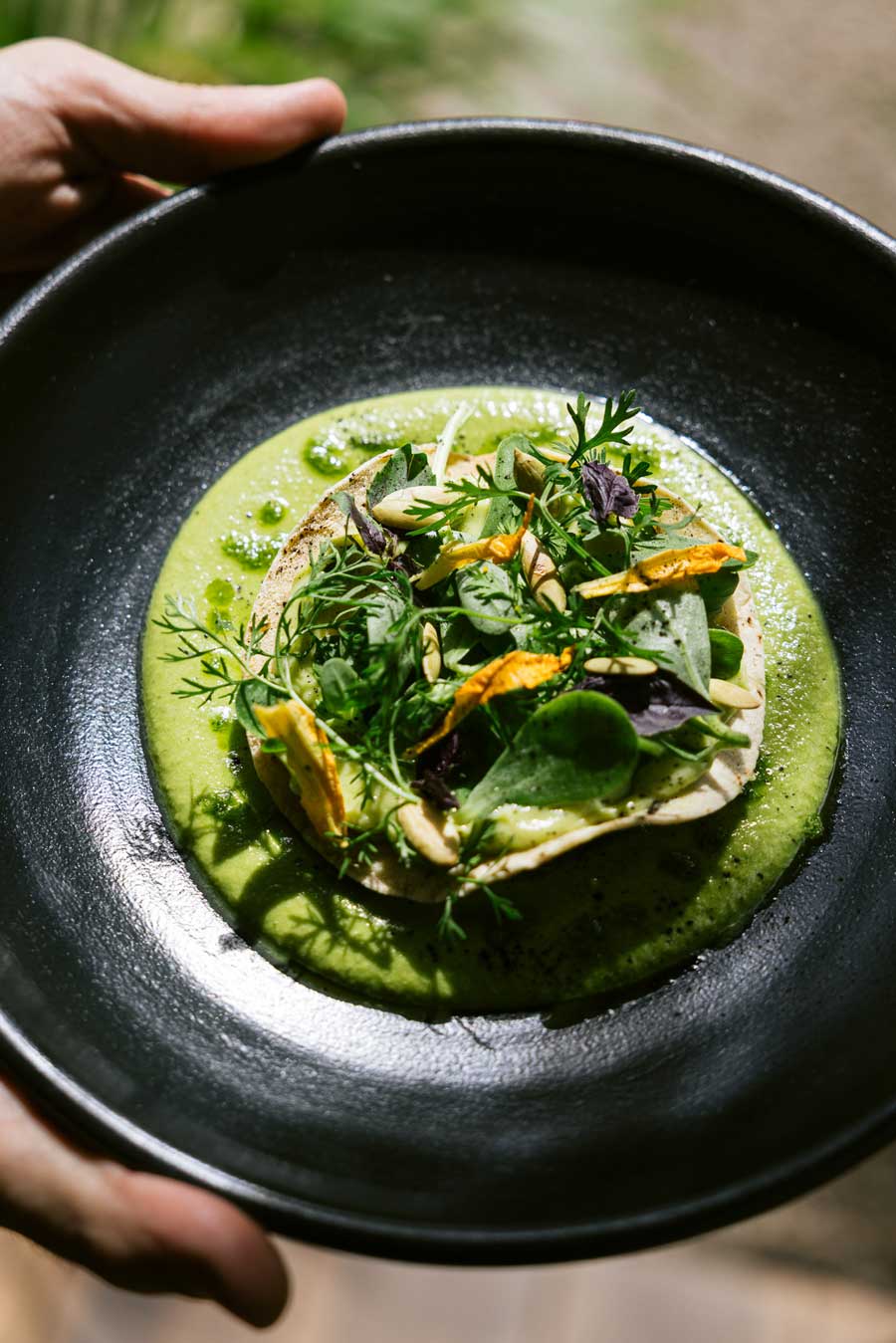 So that said, what is there to do with your group other than swimming in the water and spa services? Well, you can book a sailboat experience for your group, go on the SUP's or visit the nearby sacred ruins of Kohunlich, Becan, Chicanna, or Dzibanche. I've been to all of them and each time I've been there only a few folks were on the grounds – which is unbelieveable considering the number of daily visitors at Tulum.
The pricing is pretty reasonable for a 'higher-end" resort. Lagoon rooms are around $4100 pesos per person double occupancy per night or $212 USD at the time I am writing this. The Lagoon Breeze Rooms are $3150 pesos per person double occupancy per night, and the Jungle rooms are $2905 pesos per person double occupancy per night. Not bad really! If you want to check out the competition, you can look at the pricing for Rancho Encantado, and Akalki.
Let me know if you've been to the area, I love it, and I'm curious to see what you think.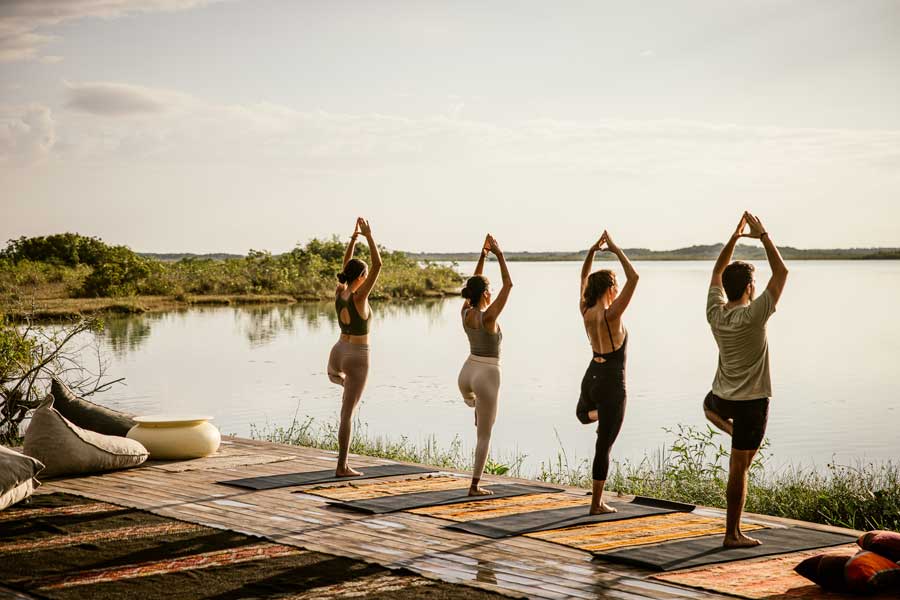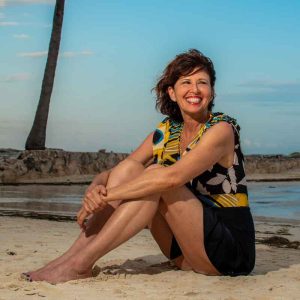 Dr Sheri Rosenthal is known as one of the most sought after retreat strategists for coaches, speakers, and authors — and is the owner of Journeys of the Spirit Travel®, a boutique agency specializing in the planning and management of group travel.
Through her Wanderlust Entrepreneur Community and her signature course, The Retreat Blueprint Program, she has taught thousands of facilitators how to design exceptional retreats that allow them stand out in their niche. She is famous for helping clients plan, fill, and profit from transformational retreats that change lives in a huge way while adding serious income to their bottom line!