One of the biggest problems I see in our retreat community are poorly constructed retreat pages. What's really interesting to me is that most folks think that they have a marketing problem because they put their retreat out to their list and social media and not much happens – so they assume they need to learn better marketing skills or that they should be advertising their retreat.
It is true that all of us could use better marketing skills (but not the need to advertise except in rare cases). What the real issue behind the lack of sales and interest is that there is no beautiful page compelling folks to sign up which is actually one of the very first steps in your marketing process. That is assuming of course that you have actually designed an amazing experience in a location that aligns with what you are teaching!
So I'd like to share a stellar trip page with you that was just recently done by Jenna Tasker, one of our wonderful students in our Retreat Blueprint program. What I love about her retreat is that she focused on creating a deeply transformational, fun and experiential retreat for her gals.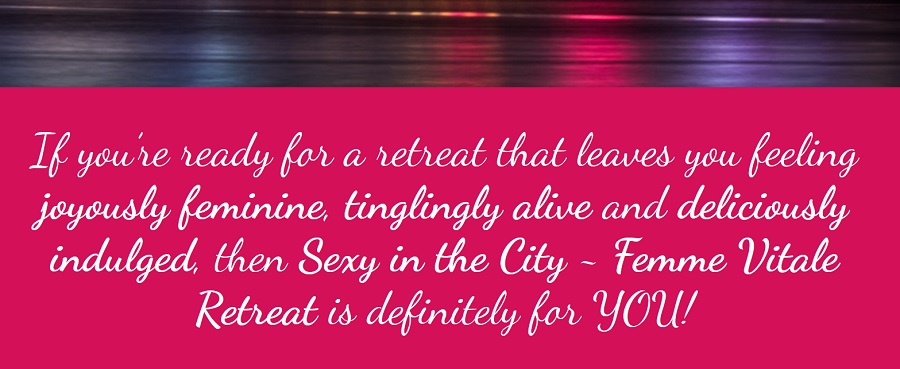 First of all she's got a great title that's a play on words
that starts out teasing the reader and pulling them in (Femme Vitale vs. Femme Fatale). Between the header and the statement directly below the reader already has an idea about this trip and either they are going to leave or continue reading on. We call this a qualifying statement and I often use these at the top of a page to let folks know immediately what this is about so I don't waste their time or mine. Also she clearly states where this trip is and when.
Next Jenna starts to connect with her audience by sharing some of the concerns that her gals might be feeling but perhaps not voicing out loud.  We call these pull questions. If your answer is yes, of course you are going to read on. The most powerful aspect about her questions is that she's immediately narrowing down her audience. After all, she doesn't want anyone and everyone on her retreat – she just wants her gals, the ones that are going to really love this experience!
Then she pulls you right into the feeling of the retreat so you can actually start to experience what it would be like to attend her event. In addition, she's starting to share some of the most fabulous aspects of her retreat – like having a well-known boudoir photographer take stunning pictures of you and knowing a make-up artist will be there to make sure you look like a movie star!
I also love that she is subtly addressing her gals concerns about their size or shape since we can see in her pictures that there are gals of all sizes and shapes from thin to Rubenesque.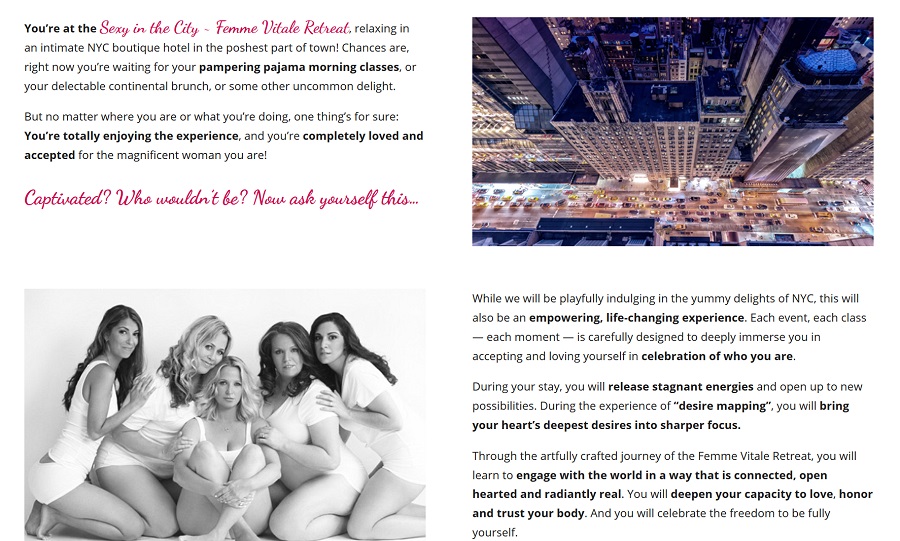 Then we get a taste of the food and the venue of the retreat – and
this text is not copied directly from a restaurant page, retreat center or hotel website.
Jenna took the time to consider the experience and write about it from her own perspective as it aligns with her retreat theme. You mouth waters just reading about the food – that's what makes the copy so fabulous!
She continues on to share all the pleasures of the retreat – not as boring bullets that make me want to immediately leave the page – but as delicious text that compels me to read on. She also could have simply listed the places the group is going to eat at as lackluster list – but she's focusing instead on the sensual aspects of the dining experience as per her retreat theme.
The highlights of each part of this trip are described in a separate paragraph or two so that you start to get really excited about everything she has put together. She shares about the photo shoot, lingerie shopping, spa experience, drag show dinner, and the burlesque dance class! What I really appreciate is the time Jenna put into crafting this particular combination of activities.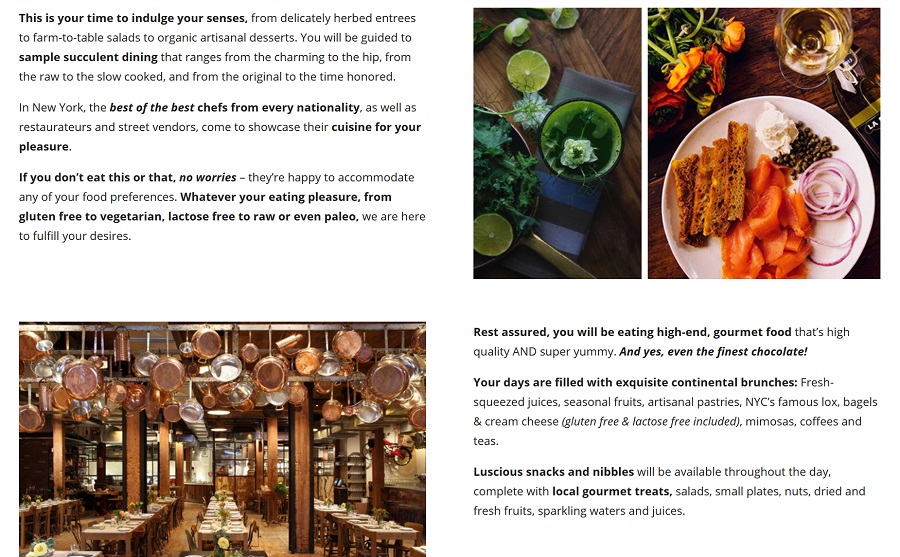 And then if the activities aren't enough,
she drops into the transformational aspect of the retreat and shows what her gals are going to come away with from this retreat
(besides the obvious photoshoot and lingerie purchases). Since she knows what her "avatar" or audience is concerned about – she can answer those concerns in her benefits section which she does in a really heart-felt way.
In addition, she's also covered herself legally by clearly stating what's included in this retreat and what's not as well as posting a clear cancellation policy that people can see before they actually pay. I also like that this is ONE page, and the only other page is her registration page. She isn't making folks look all over the place for additional information plus her top navigation follows you all the way down the page which makes it very easy to find any section you want to read a second time.
Many folks build their retreat pages with themes that do not have moving navigation – so the reader scrolls down to the bottom of the page and then leaves because there seems to be no more information and their questions still haven't been answered. It's important to understand that a retreat page is a SALES page and it should be one long page with anchors so that folks can simply pop back and forth to the info they want to read.
Last of all, notice that this trip is not about Jenna and all her long list of qualification – it's about YOU the trip attendee. No one really cares about YOUR qualifications to start with or what techniques or methods you are planning to use to help them out. On a retreat it's all about the experience and that's what needs to stand out first and foremost and I feel Jenna did a stellar job of getting that across on this page.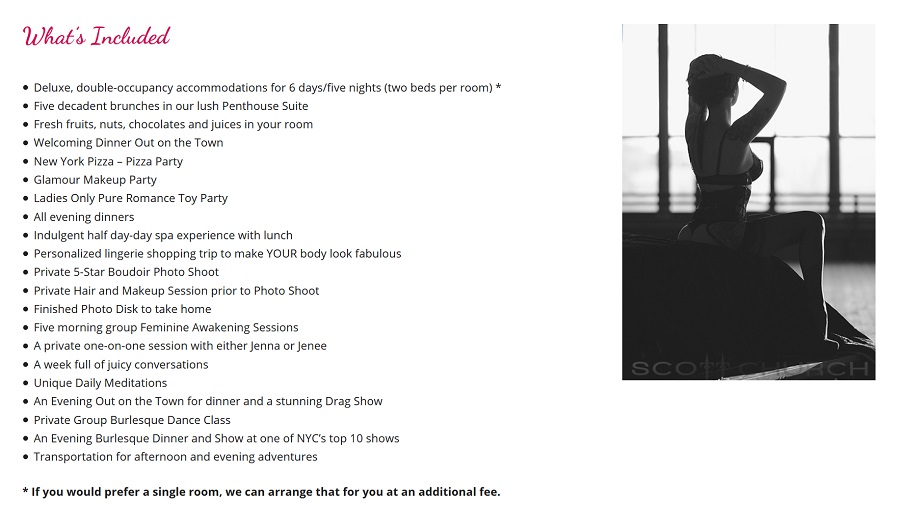 So I hope this helps you consider what you are offering to your tribe more deeply and that it encourages you to be creative and original. And as always, when we are sharing the beautiful work of our community, it goes without saying that we are respect each others ideas and copyrighting.
Please don't forget to post below and let me know what you think of Jenna's page and if it has given you some ideas on why your retreat page might not be doing well and how you might improve it.
To your wanderlust life, Sheri
Want to learn how to create a killer Retreat Sales Page?
Then you'll DEFINITELY want to check out our "Retreat Blueprint Program" – the industry-leading in-depth training for retreat leaders that will entirely transform how you plan, lead & profit from international retreats.
So what do you get with the Retreat Blueprint Program?
Access to one year of 26 LIVE coaching classes! (all recorded, just in case you miss one).
Six course modules you can watch anytime (you have lifetime access to the online course modules).
Transcripts for each video course module.
Forever access to our Facebook group and community, where you can share ah-ha's, resources, ideas, and revelations — AND get answers and feedback from our retreat coaches.
All our CRAZY bonuses, proprietary forms & worksheets!
As soon as you register, you can start the online course and work at your own pace.
You can print out the video transcripts and worksheets if you'd prefer to work offline.
And you'll get our liability forms which you need to protect yourself when running retreats!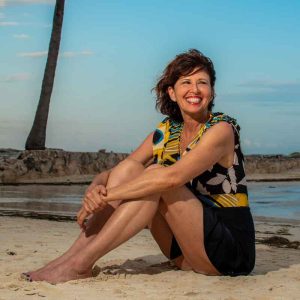 Dr Sheri Rosenthal is known as one of the most sought after retreat strategists for coaches, speakers, and authors — and is the owner of Journeys of the Spirit Travel®, a boutique agency specializing in the planning and management of group travel.
Through her Wanderlust Entrepreneur Community and her signature course, The Retreat Blueprint Program, she has taught thousands of facilitators how to design exceptional retreats that allow them stand out in their niche. She is famous for helping clients plan, fill, and profit from transformational retreats that change lives in a huge way while adding serious income to their bottom line!