I'm always on the look out for new, exciting, and out-of-the-box places to share with my amazing community and I think you are going to LOVE this one!
The reason so I'm intrigued with Palmaia in Playa del Carmen in the Mexican Yucatan is that you can not only run a retreat here – but you can also use it to stay at as a digital nomad, which really excites me (more on that coming!).
Palmaïa has 314 guest rooms, four gourmet restaurants, a food truck, an al fresco beach bar, a jungle spa, and an incredible beachfront location on Riviera Maya. Wow.
On their website they state that they don't see themselves as a hotel but as "A community built on a bedrock of genuine participation, sustainability and the sanctity of life. A retreat that goes beyond definition to create new categories of integrated, natural experiences."
Okay, so what does THAT mean?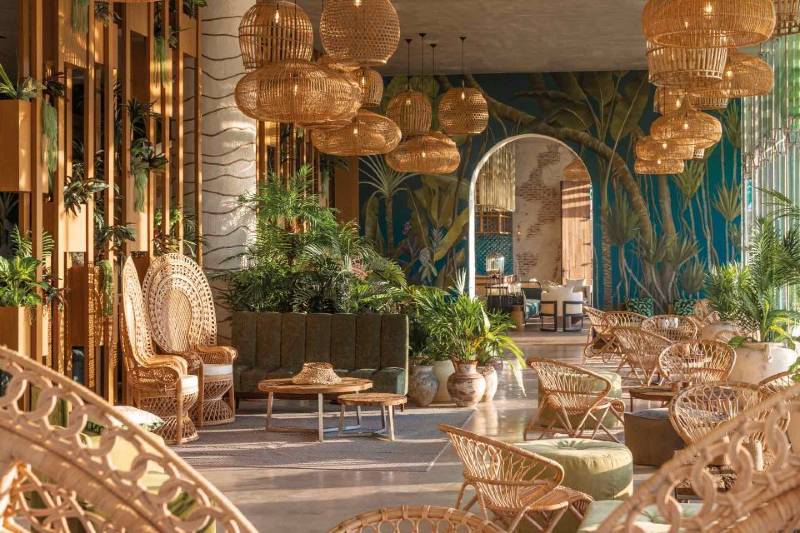 It's the little things that contribute to the vibe of the place – for example: no plastic bottles here! They supply you with their own refillable bottle and access to fresh water for you to use.
When landscaping the property they didn't clearcut the fauna like most hotels do – they maintained the mangroves and selectively planted around them.
Plus, they're working at becoming one of the first carbon neutral resorts – and right now they're using 50% less energy than the average resort.
Palmaïa also operates a Waldorf-inspired, children's activities program. They feel this allows each child to be recognized and received as a spiritual being in their own right which is perfect if you are running a family retreat or allowing participants to bring their children.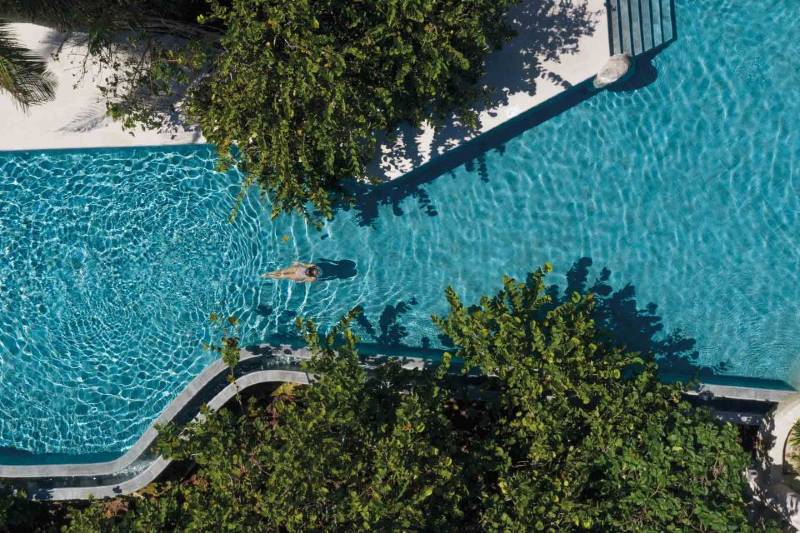 Now let's talk food (my favorite!!). All their menus have plant-based ingredients – so no worries if your peeps are vegetarian or vegan. However, they also offer delicious and nutritious non-vegan options too. So no one is going to starve!
For example, here are a few plant-based choices (YUM):
Soy-marinated, watermelon poke bowl
Smoked-carrot toast
Palmaïa burger with sweet potato fries
Pb-cheese and mushroom quesadillas
Now let's focus on activities. At Palmaia they want you to be able to experience the physical, emotional, intellectual, and the spiritual as a fully realized soul.
Which means that they offer classes for the mind such as:
Meditation
Mind Control
Gravity Control
Meditative Concert
Mantras
Talks with the Shaman
Art Classes (they have resident artists)
Movement Activities:
Pranayama
Tai Chi
Primal Movement
Therapeutic Yoga
Geometry of Power
Hatha Yoga
Ancestral Dance
Vinyasa Yoga
Chi Kung
Ceremonies & Rituals:
Tibetan Bowls
Gong Bath
Awakening Ritual
Cacao Ceremony
Ritual of Transmutation
Gratitude Ritual
Circle Soul Reading
Mayan Cleansing Ritual
Plus they also offer:
Purification of the Soul
Transpersonal Astrology
Sound Healing
Astrology Partner
Tarot
Soul Reading
Temazcalli Ceremony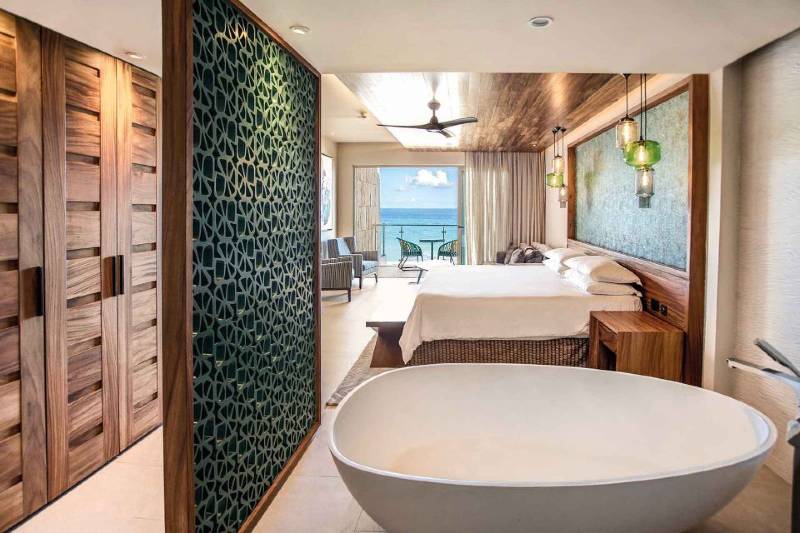 For you folks who want to create a container for folks and not necessarily TEACH or COACH your participants – you can utilize their staff and put together an amazing experience for your group. Keep in mind that this place in not cheap – but wow – it is a stunning place worth paying for.
Now let's talk about the Atlantis Spa. Since I trained with don Miguel Ruiz author of The Four Agreements (as well as my team coaches!) I absolutely LOVE their spa philosophy and its spiritual focus. You can see what they offer on this beautifully creative menu.
For all my digital nomads – you can stay on the property working remotely from a fiber-optic-powered suite on their natural, white sand beach. Of course your room will have a Nespresso machine and built-in Bluetooth speakers. A girl has to work comfortably you know!
In addition, you also have access to their Atlas Club which is their spacious, community oasis behind towering glass walls. You can grab something to eat their or hang at the juice bar and have use of the super fast internet.
Last thoughts… If you want to get a feeling for their perspective and vibe – hop on over to their SoundCloud account and listen to their playlist – SO FUN!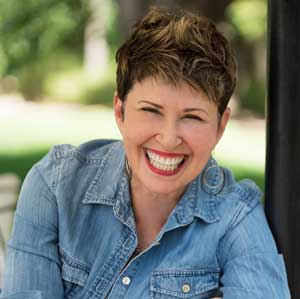 To your wanderlust life & biz, Sheri Rosenthal
Sheri is chief retreat strategist and CEO of Wanderlust Entrepreneur, where she's taught thousands of passion-driven entrepreneurs how to design experiential transformational retreats that allow them to stand out in their niche, change lives, and make an incredible income. She's also the owner of Journeys of the Spirit Travel®, a boutique agency specializing in the planning and management of group travel.
Going Virtual for Retreat Leaders: How to Take Your Retreats Online!
These are not easy times. Many of our retreat leaders who had retreats booked have cancelled their events – ours included! So what do we do in these situations?
We pivot. We make lemonade from the lemons. If you can't be with your peeps in person – then make your retreat virtual. If you're not sure how to convert your retreat to a virtual retreat we get it. That's why I created this 2 hour training.
You'll Learn:
The best ways to repackage your live retreat into a virtual online experience
How to transform your content to be effective virtually
Ways to price your virtual retreat with consideration & sensitivity to these times
Our top techniques for facilitating on camera
The exact technology you need to have in place
We'll share case studies of virtual retreats that will inspire you, we'll talk about the steps to cancel or postpone your in-person retreat without suffering financially. This mini-class is "pay-as-you-wish" during the COVID-19 times to support our community.
We also have a fabulous BONUS one hour training for those of you who don't feel like your tech skill are up to par:
"How to Share Your Message Using FB Live, IGTV, YouTube Live & Zoom During the COVID19 Outbreak"