I'm always on the lookout for unusual venues and experiences for retreats and this time I think I've found one of the ALL TIME most unique travel experiences out there.
Imagine this, flying to Antarctica (the south pole y'all!) on a private plane with your group and staying in the most remote part of the world for a week hanging out with Emperor Penguins.
AAAAAAMAZING!!
No, you won't be staying in some military-like structure, suffering the cold – but in luxury pods with luxury 5-star dining while enjoying a cocktail made with 1000-year-old ice. That's right.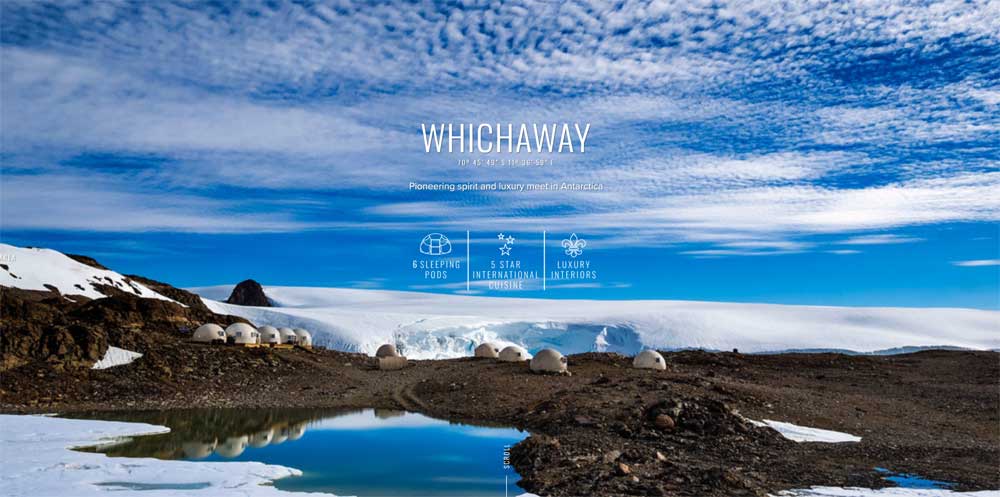 So here's the scoop. Robyn and Patrick Woodhead started White Desert Antarctica after an expedition there back in 2004. They realized that although folks visit the periphery of the continent – rarely do folks get to experience the interior, which is shame.
BTW, Robyn is an avid global explorer, having traveled to over 90 countries on her last count. And Patrick is a Prince's Trust ambassador and a fellow of the Royal Geographical Society. Oh, and he was also part of the youngest and fastest team to ever reach the South Pole in 2002, And then he went on to lead the first ever east to west traverse of Antarctica, covering 1850km in a total of 75 days.
This is one CRAZY active power couple for sure! But then again, it takes visionary people to create extraordinary experiences!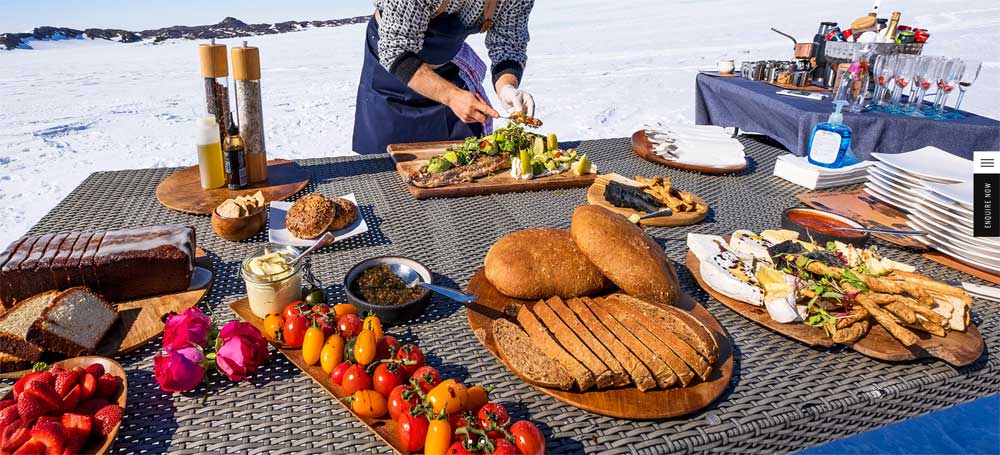 First and foremost, Patrick and Robyn are avid environmentalists. They have been carbon neutral since 2007, they use solar air heaters in their pods, Sustainable Aviation Fuel (SAF) for their planes, and everything they use is biodegradable, and all waste is shipped back to South Africa for processing.
After your flight from South Africa to Antarctica, you'll land on the blue ice at Wolf's Fang Runaway, and then transfer to one of three camps: Whichaway, Wolf's Fang or Echo.
Whichaway (pictured above) sits on the shores of one of the freshwater lakes of the ice-free Schirmacher Oasis. It has 6 sleeping pods and communal pods.
Wolf's Fang is in the mountains of Queen Maud Land and has 6 heated tents plus the communal area.
And Echo (pictured below) also have 6 pods (plus the communal area) and sits in quiet solitude encircled by pitted rock formations. It's like being on the moon.
As with all White Desert's camps, they are designed to be dismantled, leaving no trace on the Antarctic landscape.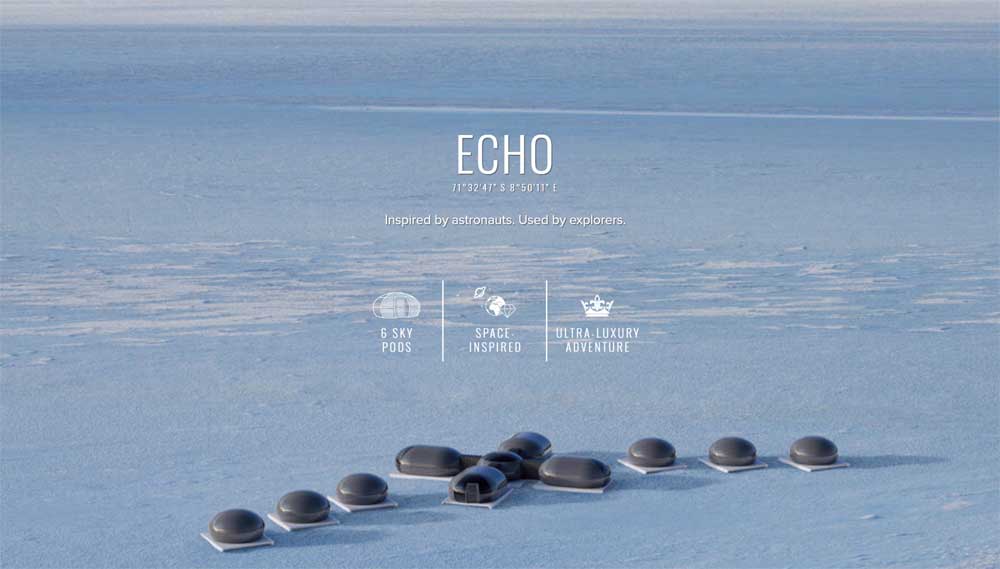 Wondering what activities you can do in an area that has sun 24 hours a day?
Well, you can go fatbiking, cross-country skiing, abseiling (rappelling) off of sheer cliffs, hiking/mountaineering to summits, explore ice tunnels, zip lining, ice climbing, riding skidoos (snowmobiles), and even climbing nunatak (glacial islands)!
And even MORE amazing – you can spend time with the Emperor Penguins! WHAT??? Take a two hour flight from their main camp and you can be with more than 14,000 penguins and their young chicks.
Both are totally unafraid of humans and will come within a few meters of your group, immersing you in the noise, commotion, and the sheer beauty of it all. This is one of the greatest – and least observed – wildlife events on the planet.
They even have trips that visit when the penguin babies are taking their first steps from under their parent's feet! Sooooooo cute!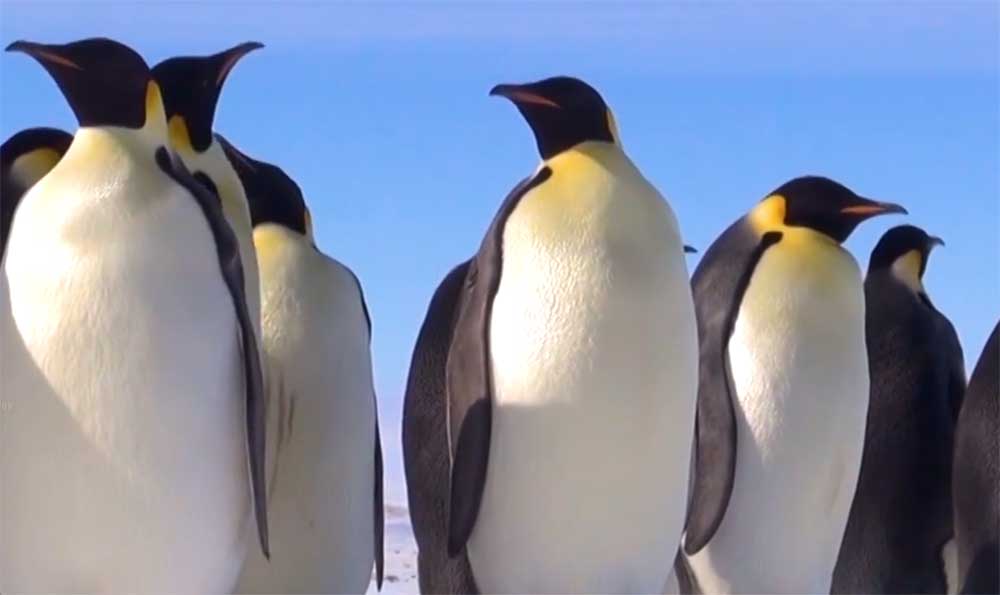 So you might be wondering – what DOES it cost per person to go on this once in a lifetime adventure? Well, for a week trip it's around $98,000 USD per person.
Oh yeah. You heard me right.
However, it does include EVERYTHING – from your special flight to Antarctica from Cape Town and then your flights when you arrive to the camp and activities – plus your food, drinks, guides, activities, adventures, etc.
I'm putting this on my vision board as something I'd love to do before I die. I find this experience to be absolutely amazing – how about YOU?? Let me know by posting below!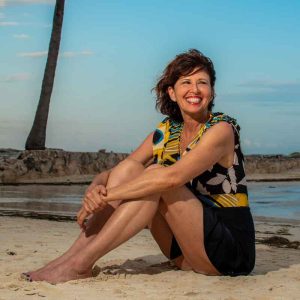 Dr Sheri Rosenthal is known as one of the most sought after retreat strategists for coaches, speakers, and authors — and is the owner of Journeys of the Spirit Travel®, a boutique agency specializing in the planning and management of group travel.
Through her Wanderlust Entrepreneur Community and her signature course, The Retreat Blueprint Program, she has taught thousands of facilitators how to design exceptional retreats that allow them stand out in their niche. She is famous for helping clients plan, fill, and profit from transformational retreats that change lives in a huge way while adding serious income to their bottom line!