For the last two months I've been traveling (feeding my wanderlust soul) AND running my business at the same time. Since so many of you asked how I did it – I thought it would be fun to share about my experience so that hopefully you can do the same!
And if you are wondering WHY I do this – just quickly – I realized that if I waited to have a proper vacation that would never happen in my business. Traveling this way allows me to really feel what it is like to live in a different country AND work at the same time. For me this is so much better than trying to see every site in a city in 3-4 days and end up feeling exhausted.
On this particular trip, I started out with a cruise for digital nomads from Grand Canaria to Lisbon. Once there I stayed for 3 weeks at a co-working, co-living facility (more on that shortly), then 6 days in Barcelona at an Airbnb, followed by almost 2 weeks in Morocco where I ran my Retreat Mastermind event for a week, then off to Florida to visit my parents for a week in Florida. Whew!
First of all, it's critical to get your business totally online. It took me around a year to do because I am so OLD SCHOOL! Meaning I have files with paper in them. Very organized files mind you, but paper files just the same.
When you travel abroad you need to file everything in your computer and be just as organized. Training myself to do that was definitely a process – one that I am still improving on. 🙂
It helps to have all your bills being paid automatically – that is huge. Whereas most folks have their bills paid directly from their bank account – I NEVER do that because all my credit cards get mileage and I rather do automatic billing direct from my credit cards.
That's how I get around a half a million miles a year which I use for business class flights, hotel rooms, and more in my travels. I would not do this any other way.
Any other bills that I cannot or do not want to pay automatically I have in my calendar set with reminders so I can simply pay that bill online on that day. I also use Quickbooks online for all my personal and business accounting so that everything is accessible no matter where I am in the world.
Since I live in the woods, all of my team is virtual – so that works perfectly when I travel since they don't live near me anyway. On this trip because I was in Europe, I was able to work an hour or so first thing in the morning over coffee and then go out and explore every day before my team was even awake.
Since there was either a five or six hour time change, this worked perfectly! I got to tour and have fun and then by the time I got back to my room my team was coming online and I would put in another few hours of work before my late European dinner time.
My whole team uses Slack to communicate (I HATE email) so even when I was not at my desk my team could ping me and ask a question at any time, and I simply answered from the app on my phone.
In fact, I have an app for everything in my business on my phone in case I need it: One Drive for all my files, InfusionSoft, ZenDesk, Acuity, Asana, Quickbooks, and of course all my social media apps.
So those are the main basics regarding business, now let's chat about the travel part.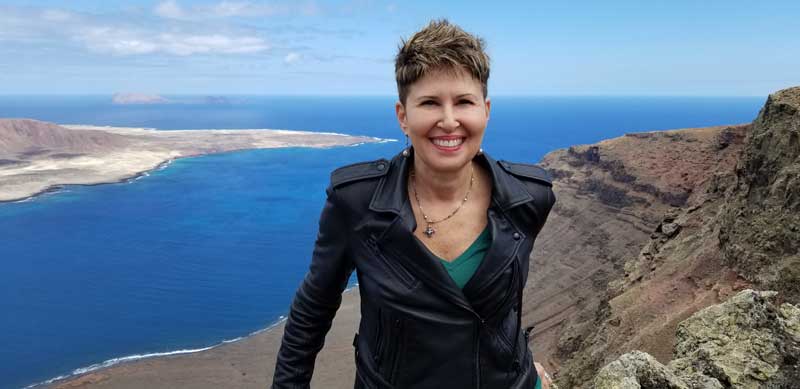 Most folks are concerned about the costs and can they live abroad that long financially. And rightly so – but there are many tricks to make this as inexpensive as possible. First, if you do what I do and get mileage – you will save a small fortune in flights and hotels. I had a LOT of flights for this trip and a few hotels too – I estimate they would have cost me around $8000 USD – but I paid nothing because I used my miles.
I did something different this time and instead of staying at an Airbnb in Lisbon, I stayed at a co-living and co-working place called Outsite. It was quite inexpensive, and you had a built-in group of folks to go to dinner with or tour around with if you wanted company. That's why these kinds of places are becoming so popular. Plus having a place to work that has good internet – is key! (Some Airbnb's do not have good internet and if your business is online you need that.)
It was a bit dorm-like if you ask me, but very clean. They had a maid in there every day to clean the common spaces and the bathrooms which was nice since I'm a clean freak. The common areas were the living room, kitchen and bathrooms on each floor. This place had 4 floors each having 6 bedrooms with various bed arrangements (I had a single, but others had a shared room), and 3 bathrooms on each floor which were never occupied at the same time.
There was another place nearby called Selina's, which had a restaurant, bar and pool which was really nice, but it would have been too much of a party scene for me. I chose to just go over and visit a few times. Keep in mind that every one of these places is run differently, has a different vibe, and offers different amenities – so even if you have visited one place that will not reflect your experience at another.
Would I stay at this kind of place in the future?
Well, to be honest I'm a bit of a loner and an introvert (yes, I know I don't seem that way but take my word for it I am). In general, I prefer an Airbnb where I have the whole place to myself and don't have to talk to anyone. So perhaps in the future I would ONLY use the co-working space to meet folks (and pay more attention to the Meet-Ups for digital nomads).
You have to try it yourself and make your own assessment.
Let's get back to the money again.
You can rent out your place while you are gone if you want to make some extra bucks. As far as food goes, I actually did not spend much more in food than I normally do at home. I had my breakfast at the co-living place and kept salad stuff there too if I did not want to go out for dinner. If I was out exploring, I could always grab something pretty inexpensively for lunch.
When I got back home, I added up all my expenses from the trip and I only spent around $3000. Of course, that does not include the cruise the first week or the food when I was teaching at my retreat (because the food was included) or the time I was at my mom's (she's an awesome cook!). So to be fair, let's say that the $3000 was for around 5 weeks overseas. And to me that's really reasonable.
I actually talk about all of this on a Facebook Live if you want to listen to the longer version here: https://www.facebook.com/Sheri.Rosenthal.Coaching/videos/318217269129139/
And in case you were wondering – the Morocco retreat was AWESOME, and the gals were AMAZING. What a fabulous group of powerful and brave women! We worked, cooked, toured, chatted, shared, laughed and cried together. (We also learned how to cook a tajine which you can see in the picture below.)
It doesn't get better than that.
In conclusion, if you think that traveling and working overseas is difficult – I can wholeheartedly say that is NOT true. You can do this – it just takes careful planning and your wanderlust dreams can come true.
To your wanderlust life & business, Sheri xoxoxo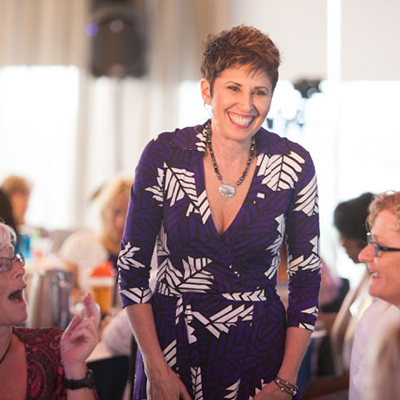 To your wanderlust life & biz, Sheri
Dr Sheri Rosenthal is known as one of the most sought after retreat strategists for coaches, speakers, and authors — and is the owner of Journeys of the Spirit Travel®, a boutique agency specializing in the planning and management of group travel.
Through her Wanderlust Entrepreneur Community and her signature course, The Retreat Blueprint Program, she has taught thousands of facilitators how to design exceptional retreats that allow them stand out in their niche. She loves helping clients plan, fill, and profit from transformational retreats that change lives in a huge way while adding serious income to their bottom line!