Ahhhhhhh Facebook…. (and all social media for that matter). It's not hard to love it and hate it at the same time. But seriously, if you have a business these days you must have a social media presence. Period. Every reputable business can be found on the platform and for good reason.
People want to be able to reach the companies they do business with easily and publicly. Years ago, if you had a problem with a purchase you would simply call the company and speak with custom service. Today people go right to the company's Facebook page a post a complaint there. And if the company is reputable, the customer will get an answer right away – one that anyone can see for social proof.
Now I totally understand that Facebook business pages hardly get any traffic these days – and yes, your personal page will absolutely get a lot more interaction – but that's not an excuse to avoid having a business page too.
So what does all this have to do with retreats?
Well, consider this. If you were thinking about going on a retreat, and you were about to spend over $1000, wouldn't you want to check and see if the person you were about to travel with was for real? That they had a professional presence on the web? I sure would!!
Exactly.
Most curious folks would normally Google your name first to see if there were any complaints against you and check out your website. Then they would most likely check you out on Facebook and see how many "likes" you have and what you've posted, and then see if you have any YouTube videos so they could see your style of teaching and if they like your vibe. Really serious people might even check to see if you have a business license too.
And honestly, I believe that people have the right to check you out if you're taking money from them. However, at the same time you need to consider VERY carefully how you are presenting yourself to the public.
So let's dive into a few suggestions for making yourself more trustworthy on Facebook
and also throw in a few great tips for how to use the platform to promote your retreats.
Present yourself professionally
If you have a business, you know people are going to look at your personal and business profiles. So please don't put anything on it that you don't want a potential client to see. That picture of you passed out on top of a pile of beer bottles – I would remove that. And calling yourself "Miss Hot Stuff Whatever Your Name Is" is not going to empower someone to spend a few thousand dollars to travel with you to Bali.
On your personal profile I recommend you use your REAL name, the one you use in business. My name is Sheri Rosenthal and that is the name on my personal page. Clean and simple.
Have a great picture of you on your personal profile
Please have a professional picture of yourself in the little round circle ladies – not one with your "tatas" hanging out. And men, unless your business is related to working out, please keep your shirt on! You don't want folks to question what you're REALLY selling.
I get it, we don't often think about how people see us – but if you want to have a real business, one that does well and makes a profit, then you'll want to take your image seriously. That doesn't mean you should put forth something fake, not at all! It simply means to put forth your BEST self.
Connect your personal page to your biz page
Since folks are going to probably find your personal page first – it's best to take the time to totally fill in the as much as you can in the info area. If you edit the "about" section, you will see a "work and education" section and that's where you can connect your biz page to your personal page.
Don't make it hard for folks to find out more about you or locate your business page. You can also put in all the links to your other social media channels there too. If you're not sure how to do this just look at my personal page here.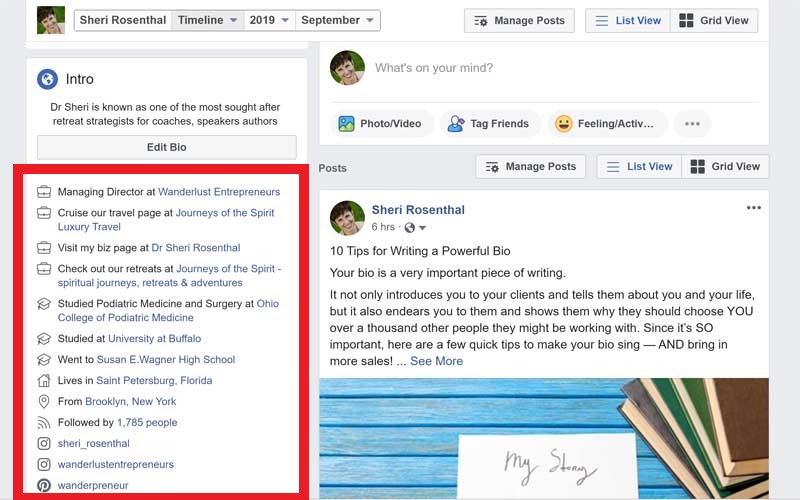 Make the best use of your header image
If you have a retreat coming up and you have a picture of your dog on your personal header – that is not the best use of this space! I like to put whatever event, retreat or program that I have going on at the moment in that header space and I put the same image on my business page.
I also make sure that it says "click here for more details" on the image. When they do click on the header – the picture will open in a light-box with text and you can put your URL to your retreat page or any sales page in there. So here's the picture that's in my header space now and this is the message you will see if you click that image:
"I'm very excited to announce our new event VORTEX, May 2-7th, 2020 in Michès Playa Esmeralda, Dominican Republic! More news coming soon – but if you want the deets you can get them here: https://www.wanderlustentrepreneur.com/vortex-caribbean-event/"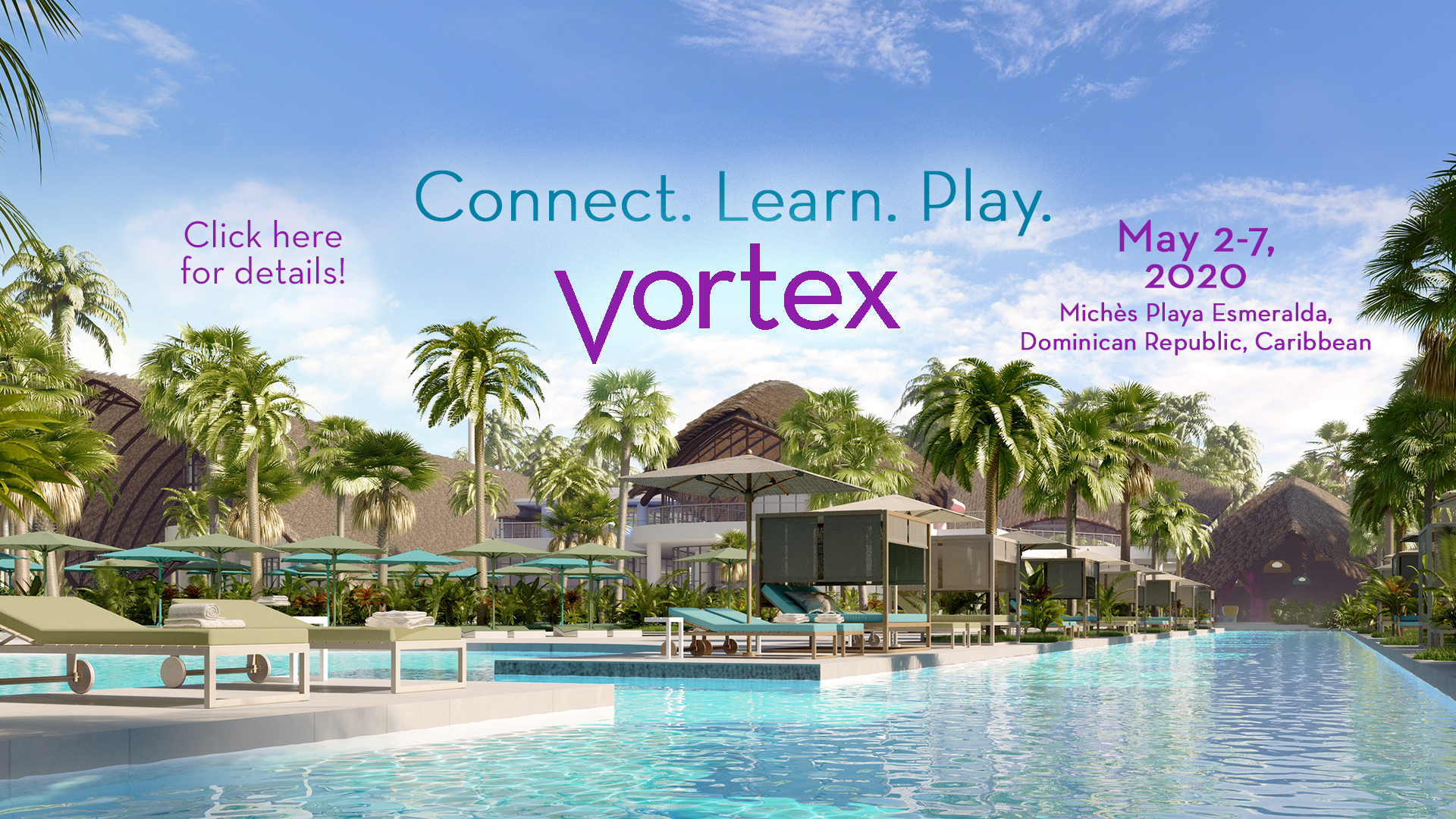 Create a sign-up button under your header on your business page
Facebook gives you the ability to have a "Call to Action" button under your business page header. They have a few choices you can pick from so go ahead and choose the one you want and put your retreat webpage URL in there (or whatever you are promoting right now or even a link to your freebie)! It's critical for folks to be able to easily go to whatever you are selling or giving away.
Do Facebook Livestreams
Truly, this is the next best thing to sliced bread for your business. Chatting with your peeps and sharing great info will build your list and help sell your retreat. Do this ALL. YEAR. LONG. Make them short and sweet and then ask them to download your freebie, sign up for a webinar, your video series or grab a strategy session – whatever!
Create a private Facebook group for your community (& retreats)
If you've got something to share with your tribe then you need to have your own private group. Do your best to interact with your peeps like we do in our main Retreat Group. And not everyone opens emails, so you want to reach people in as many ways as possible. 
Also make sure you have a Facebook group for each retreat you run. It's critical to have a place to have folks meet each other and for you to share fun information to keep them excited until departure time.
Consider uploading your list to Facebook for Facebook Ads
Direct ads on Facebook to a trip is the worst strategy EVER! Why drive traffic to a page that you're not collecting emails from? It is madness, yet we see this all the time.
The smart way is to upload your list (it needs to be at least 1000 people for this to be effective) to Facebook and create a custom audience and market to your peeps ONLY. It's cheap and very effective! Always use tracking pixels on your trip page and on the confirmation page that they see after placing their deposit so you know the effectiveness and conversion rate of your ads.
Also, do NOT boost posts. You do not have enough control over your ads that way. Consider that like giving free money to Facebook.
Use juicy, scintillating and fun text in your trip posts
Nothing is more dreadful then posting about your trip over and over again "ad style." It looks terrible and is really boring. If you are going to post, get a great picture that stops folks in their feed and have fabulous text that captures their imagination about your adventure.
Would you rather read this:
Join me October 7th-15th for my trip to Thailand where you'll be able to connect more deeply with yourself and eat healthy food! There are only 8 spots left sign up here today!
Ugly picture under text.
Or would you rather read this:
Taking your first bite of the most fragrant and tantalizing Pad Thai that you have EVER tasted has you thinking: "Why have I waited so darn long to visit Chang Mai, Thailand!?" OMG if you want to enjoy amazing healthy food as well as have the time to de-stress, refocus the direction of your life, and spa out – then join us for 7 amazing life-changing days. Get the details here.
Mouth-watering picture of Pad Thai under text.
See the difference??
I just shared a lot of suggestions and I would take the time to execute each action until you have completed the list. All together, it will make a HUGE difference in your marketing.
Post below and let me know what you think – and feel free to share your favorite actions to take on Facebook to promote your retreats!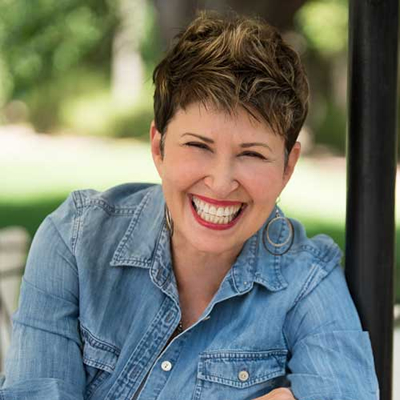 To your wanderlust life & business, Sheri
Dr Sheri Rosenthal is known as one of the most sought after retreat strategists for coaches, speakers, and authors — and is the owner of Journeys of the Spirit Travel®, a boutique agency specializing in the planning and management of group travel.
Through her Wanderlust Entrepreneur Community and her signature course, The Retreat Blueprint Program, she has taught thousands of facilitators how to design exceptional retreats that allow them stand out in their niche. She loves helping clients plan, fill, and profit from transformational retreats that change lives in a huge way while adding serious income to their bottom line!